FCA cracks down on Chris Scanlon's Nvayo Limited

Christopher Scanlon's Nvayo Limited has been hit with a number of regulatory restrictions by the FCA.
On August 8th, the FCA imposed six restrictions on Nvayo Limited's business operations:
Navayo Limited is prohibited from providing electronic money services without prior written consent from the FCA;
Nvayo Limited is prohibited from disposing, withdrawing, transferring, dealing with or diminishing the value of its own assets and customer funds, without prior written consent from the FCA;
Nvayo Limited must "ringfence" all funds it holds in "designated safeguarding accounts", any transactions required to achieve this must be approved by the FCA;
Nvayo Limited must inform the FCA of compliance by August 15th; and
Nvayo Limited is prohibited from destroying evidence "relating to electronic money services", and said evidence must be provided to the FCA by August 15th
Sometime after August 8th, Nvayo Limited informed customers of the restrictions placed upon it.
Dear Valued Member,

We are writing to inform you of important regulatory developments concerning Nvayo Limited.

E-money issuance, payments, and card services are provided solely by Nvayo Limited authorised by the Financial Conduct Authority (FCA) under the Electronic Money Regulations 2017 for the issuing of electronic fiat money and payment instruments for Club Swan.

Following recent discussions, we are required by the FCA to immediately suspend all activities in relation to Nvayo's Electronic money authorisation.

What does this mean to you:

1 Nvayo cannot accept any form of payment to load on to a customer's e-money wallet or prepaid cards.

This includes:

a Receiving funds via bank transfer/wires.

b Liquidating any digital assets to load your e-money wallets.

c Loading your e-money wallets via Credit or Debit card.

2 Nvayo prepaid cards will no longer be functional for the following purposes:

a Payments for goods and services.

b ATM services; such as withdrawals.

3 Your membership will remain active, and you will continue have access to:

a Concierge and lifestyle services.

b Crypto Wallets to store, send and receive crypto.

c Instant Rewards.

d 24/7 live customer support, through the app or e mail.

4 If you wish to withdraw funds from your account please contact support via the concierge feature within your account.

a We will need to verify your identity

b In order to protect you, we ask that you provide bank details that are your own and in your name.

This also means that at this time, Nvayo is unable to accept and onboard new customers.

The above requirements will remain in effect unless amended or withdrawn by the FCA.

We would like to reassure customers that their money remains safe and is held in UK banks in accordance with the FCA's safeguarding requirements.

We understand that this may raise questions and/or concerns. Please rest assured that we are committed to complying with these requirements fully and are taking every necessary step to find a resolution. We appreciate your understanding and patience during this period.

Nvayo is working closely with the FCA to understand and resolve their concerns and hope to find a solution as soon as possible.

Further information will be provided as soon as it is available.
A support email address for Club Swan was additionally provided.
Nvayo Limited and Club Swan are both owned and operated by Chris Scanlon.
Scanlon was arrested by US authorities on May 25th. He has been charged with running an "unlicensed money transmitting business".
As per the Criminal Complaint filed against him, Scanlon's companies
operated as an unlicensed private bank for its customers and had operations in the United States and other foreign jurisdictions.
Known MLM clients of Scanlon's unlicensed private bank include BitClub Network, GSPartners, PLC Ultima and My Daily Choice (dba Akashx).
Club Swan's website fails to provide ownership or executive information. In the wake of Scanlon's arrest, Nvayo Limited has scrubbed any mention of him from its website.
Chris Jacklin and Amadeo Pellicce are cited as Nvayo Limited "interim co-CEOs".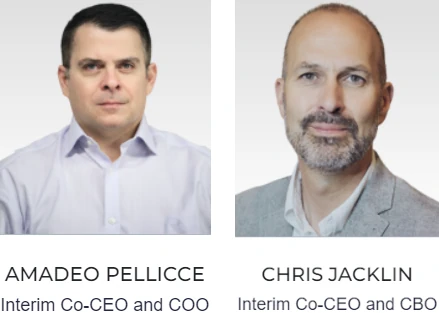 Jacklin and Pellicce are also interim co-CEOs of PMA Media Group and Aurae Lifestyle, both part of Scanlon's unlicensed banking racket.
Scanlon is thus far the only individual arrested by US authorities. The FCA's action against Nvayo Limited however confirms there are ongoing investigations.
Whether more arrests will follow, possibly extending to Scanlon's MLM clients, remains to be seen.