Richard Maike sentenced to 10 years in prison for I2G fraud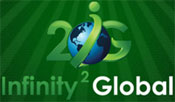 Infinity2Global Ponzi founder Richard Maike has been sentenced to 10 years in prison.
Maike will also pay a $100,000 monetary fine, with restitution to be determined next year.

Infinity2Global was an MLM Ponzi scheme Maike (right) launched back in 2013.
Long after I2G had collapsed, Maike and several top I2G promoters were indicted in 2017.
The DOJ pegged I2G investor losses at "at least $16 million".
Following lengthy delays for a number of reasons, Maike's trial finally kicked off on July 12th.
On September 7th a jury convicted Maike of conspiracy to commit mail fraud, money laundering, tax evasion and securities fraud.
Maike's sentence follows a denied eleventh hour motion for acquittal and a new trial. The restitution component of Maike's sentence is to be determined at a February 2nd, 2023 hearing.
If Maike serves the full length of his sentence he'll be 65 at time of release.
Maike was found guilty alongside co-defendants Doyce Barnes and Faraday Hosseinpour.
Barnes is scheduled to be sentenced later today. Hosseinipour's sentencing status and/or schedule is unknown.
Update 6th January 2023 – Richard Maike has filed an appeal against his sentencing.
Update 4th February 2023 – Restitution is looking to be a bit more complicated than a one-off hearing.
The February 2nd restitution hearing was held as scheduled. The US has been given till February 23rd to file a restitution brief. After that Maike, Barnes and Faraday have three weeks to file a reply (~March 16th).
Sometime after that the court will issue a restitution order. I don't know exactly when that'll be but I'll continue to monitor the criminal dockets for updates.
Update 24th February 2023 – Maike's appeal is on the rocks, following withdrawal of his attorney.
As of February 14th, Maike has thirty days to retain new counsel or elect to continue as a "pauper".
Separately, the DOJ filed proposed restitution orders for Maike, Hosseinipour and Barnes on February 23rd. Unfortunately the filings were made under seal so we don't know what's in them.
This was detailed in the February 4th update above. The scheduling continues.
Update 27th May 2023 – Maike's appeal was dismissed on May 10th.