Rick Maike criminally charged with mail fraud and structuring

On April 12th the DOJ filed a criminal complaint against Richard Maike.
From on or about and between February 6, 2013, and continuing to on or about October 31, 2014, Maike induced individuals to participate in a pyramid and Ponzi scheme known as the I2G Infinite Opportunity plan.
In the criminal complaint, the DOJ accuse Maike of engaging in mail fraud, structuring and engaging 'in monetary transactions in criminally derived property of a value greater than $10,000'.
"I2G" stands for Infinity 2 Global. BehindMLM reviewed Infinity 2 Global in September, 2013, and concluded it was extremely likely newly invested funds were being used to pay off existing affiliates.
Maike gave investors in I2G the impression they would receive a substantial return on their investment from revenue generated through online casino gaming.

Maike stated that in the first few months of the program, three people had made over $200,000, thereby enticing people to invest and to further promote I2G.

During a conference call on or about January 1, 2014, with I2G members, Maike stated that I2G was going to pass $300 million in sales in 2014.

He also stated that I2G was going to pay out hundreds of millions of dollars a year in commissions.

In reality, I2G's "revenue" was comprised nearly entirely from people who had joined I2G at the Emperor level, and paid $5,000 with Maike's assurance that they would share in casino revenue without having to recruit any new members.

Monies generated from the sale of the I2G Touch, the sole product offered by I2G during the relevant time period, were de minimis.

Maike omitted to disclose that any program like I2G's binary compensation plan, which relies on the continued recruitment of new individuals into the program to perpetuate the commissions earned by earlier participants, is destined ultimately to collapse, causing later participants to lose their investment.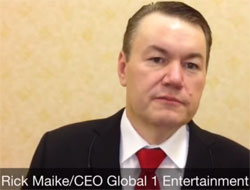 Maike (right) also told affiliates that Infinity 2 Global was purchasing a casino. As far as the FBI can tell, this was baloney.
During a conference call with I2G members on or about February 4, 2014, Maike claimed that I2G was in the process of purchasing a $500 million land based casino.

These statements falsely left investors with the impression that the company was already generating a significant amount of its revenue from the I2G online casino which would be returned to investors.

In fact, there is no evidence that I2G ever had funds available to purchase or build a casino of this magnitude or had taken any steps to do so.
Between June 2013 and July 2014,
Based on Maike's false and fraudulent representations and promises about I2G's Revenue Share program, Maike received over $12 million in investor funds between June 17, 2013 and September 30, 2014.
Around mid 2014 Infinity 2 Global began to collapse. This prompted Maike to relaunch as Global 1 Entertainment.
BehindMLM reviewed Global 1 Entertainment in July, 2014 and concluded it was more of the same.
On or about July 30, 2014, Maike made an announcement via a conference call to the I2G members that the company was being "rebranded" as Global 1 Entertainment.

He instructed the members not to give the impression when promoting the company that it was in the business of online gambling.

Maike then shut down the I2G and the l2G casino web pages.
Global 1 Entertainment flopped by September affiliates were reporting difficulty obtaining refunds.
Analysis of the bank accounts holding the $12.9 million I2G solicited from investors, reveals that approximately 60% was used to pay ROI and recruitment commissions.
Maike used 27% of invested funds (approx $3.5 million) to 'pay personal credit card bills and for the purchase of personal assets'.
From 3/12/2013 to 9/30/2014, Maike made payments from the I2G accounts totaling $536,707 to pay off charges on his American Express credit card.

Charges on this card include various travel expenses for Maike and his wife to various destinations such as Las Vegas, Hong Kong, Hawaii, and Fiji including a charge of $23,000 on 3/20/2014 for lodging in Hawaii.

It also includes personal purchases as well as an $11,788 charge at Ruth 's Chris Steak restaurant in Hong Kong on 1/18/2014.

Maike used approximately $3 million of the I2G investor funds to purchase two parcels of land in Kansas.

He purchased the first parcel by transferring the funds through several
bank accounts.

The multiple transfers of the money in just a few days has no other purpose other than to conceal the nature, source, location, ownership or control of the funds. These funds were used to close on the first parcel of land on November 27, 2013, at a sales price of $962,000.

Maike funded the purchase of a second parcel of land, again using funds he had received from people investing in I2G, in a similar manner.

Between February 27, 2014, and April 30, 2014, Maike made a series of wire
transfers from his Finance Ventures bank accounts containing I2G investor funds at Chase Bank to the HSBC Hong Kong account and then into (a) newly created RAW Ventures account.

Then, during the month of April 2014, Maike caused $2,292,971 to be transferred from the RAW Ventures bank account to the title company.

On April 30, 2014, Maike transferred $85,000 from a Finance Ventures account at 5th 3rd Bank directly to the title company.

In addition, bank records show Maike accessed the safety deposit box he rented at ESB Financial in late December 2013 on two separate occasions – 2/24/2014 and again on 4/30/2014.

On 4/30/2014, Maike deposited $420,000 in United States currency into the RAW Ventures bank account at ESB Financial and then wire transferred these funds to the title company.

He then closed on the purchase of the land on 4/30/2014 for the purchase price of $2,368,000.

Records obtained from the title company show that the two parcels Maike purchased in Kansas using funds from Finance Ventures bank accounts are comprised of approximately 1,800 acres of undeveloped land which can be used for farming.

The total purchase price of both parcels was $3,330,000, including $420,000 in currency, with no outside financing.

The monies Maike obtained from 12G members through false and fraudulent representations and promises constitutes criminally derived property, that is,
proceeds obtained from a criminal offense, specifically, mail fraud.
The structuring charge pertains to Maike's withdrawals made 'to evade the federal reporting requirements for amounts over $10,000'.
Over 2013 and 2014 Maike made twelve check withdrawals coming in at just under $10,000 each.
During a search of his residence on January 15th, 2015, $149,950 corresponding to the withdrawals was found stashed in a basement safe.
When asked why he'd been cashing checked under $10,000, Maike told an FBI agent,
"If I wrote the checks for over $10,000, I'd have to fill out the form."

Maike acknowledged that he knew the rules surrounding currency reporting requirements and purposefully avoided these requirements by structuring his withdrawals.
The complaint concludes by requesting an arrest warrant be issued for Maike.
A sealed document was filed on April 13th, which might be the warrant itself. In a motion to stay a separate civil defamation suit Maike had filed against an investor, the DOJ claim a warrant has been issued.
Whether Maike is in custody at the time of publication is unclear. I suspect we'll learn more next week after the Easter long weekend.
Update 20th April 2017 – According to the case docket, Richard Maike was arrested on April 17th.
He was released on an unsecured bond of $50,000. A preliminary hearing and review of Maike's bond conditions has been scheduled for April 24th.
Update 26th April 2017 – Maike's bond conditions have been amended to include the surrender of his passport.
An arraignment has been scheduled for May 25th.
Update 26th May 2017 – Owing to "potential evidence and witnesses" being "voluminous in nature", the government has been given until June 14th to present its case for indictment to a grand jury.
Maike's arraignment has correspondingly been rescheduled for June 29th.
Update 8th September 2022 – Richard Maike, Faraday Hosseinipour and Doyce Barnes have been found guilty on all charges.