OneCoin lose last bank account, unable to accept wires

Unable to use its own company name, OneCoin had been opening up banks with shell company accounts every few weeks.
As fast as OneCoin could open up the accounts, it didn't take long for them to trip money laundering filters and be shut down for fraud.
Here at BehindMLM we've been tracking these account closures for some time. Over the last few months OneCoin's accounts have been shut down with increasing frequency.
New OneCoin accounts opened up in October and November have lasted only days before it was shut down.
Throughout most of this OneCoin has always been able to fall back on its Bank of Africa account. Held in Tanzania, the account remained open despite over a dozen closures in different countries.
Today Bank of Africa finally took action and shut down OneCoin's account.
As it stands, OneCoin cannot accept bank wires from new and existing affiliates.
In a newsletter sent out earlier today, OneCoin brushed off being unable to open a bank account due to financial fraud as a "development".
The company advised that the only way affiliates can invest in OneCoin is to send money to the affiliate trying to recruit them.
As a next step in our development, OneLife will become closer to its members.

From today on, you will be only able to buy OneLife product gift codes from official OneLife distributors (of course, you can continue using the shop for your cash accounts and OneCoin accounts).
What the closure of OneCoin's bank accounts will mean for the Ponzi scheme going forward is unclear. Bitcoin is still an option but it is understood that bank wires formed the bulk of new investment entering OneCoin.
Another point to consider is affiliate withdrawals. With most withdrawal requests denied or perpetually marked pending, what OneCoin's bank account closures will mean for affiliates desperate to withdraw funds is unclear.
Ditto whether the company will be able to pay recruitment commissions.
OneCoin management meanwhile are in panic mode, with Stephan Steinkeller revealing an emergency meeting in Bulgaria to address the situation.
Please from now on out no more transfers, not even on the branch in Africa!!

Hello, everyone. Today some of us are in Sofia for solutions. For all of us!
Steinkeller promises affiliates will receive "good news" by the end of the week.
Newly appointed OneCoin CEO Pablo Munoz hasn't been seen or heard from in public since his appointment in October.
In related news Ted Nuyten and Business For Home have ramped up their promotion of OneCoin.
The latest sees Nuyten appear in a OneLife branded video to interview Andreea Cimbala.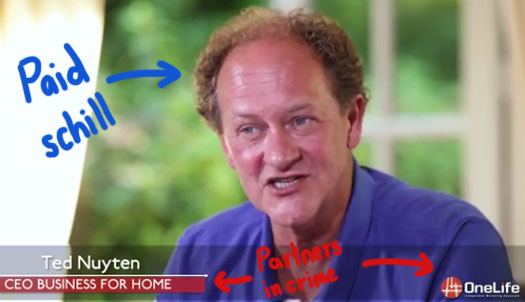 Cimbala and her husband, Igor Alberts, are top OneCoin investors. Earlier this year in May, Ted Nuyten wrote an article claiming Cimbala and Alberts were stealing $420,000 a month from OneCoin investors.
A few months ago in July, Igor Alberts was in Japan marketing OneCoin as an investment opportunity.
Last year BehindMLM revealed BusinessForHome charge at least $36,000 annually for positive coverage of MLM companies and their affiliates.
How much OneCoin is paying BusinessForHome is unclear. Nuyten does not publicly disclose how much he is paid by MLM companies featured on BusinessForHome.
Stay tuned for an update on OneCoin's banking crisis later in the week.