OneCoin lose Cyprus bank account, Bank of Africa & UOB remain

Four days ago we reported on OneCoin's Singapore UOB bank account appearing to be frozen. To continue to process affiliate investments, OneCoin opened up an account with Hellenic Bank in Cyprus.
Less than a week later, it appears Hellenic Bank has terminated the account.
The Hellenic Bank disappeared from the OneCoin affiliate backoffice sometime in the last 24 hours. The remaining accounts OneCoin affiliates can invest funds through are with Bank of Africa in Tanzania and United Overseas Bank.
OneCoin's Bank of Africa account has been used for some time, suggesting the bank is turning a blind eye to financial fraud. A new UOB account was opened after under a different shell company name after the previous one was frozen.
Affiliates wiring funds to the account are warned not to contact Bank of Africa or UOB about transactions, or to mention OneCoin in any wire transactions.
OneCoin had thought to fool Hellenic Bank with pre-filled proforma invoices (that don't mention OneCoin or OneLife), however that doesn't appear to have worked.
Proforma invoices are still being used with Bank of Africa and UOB however;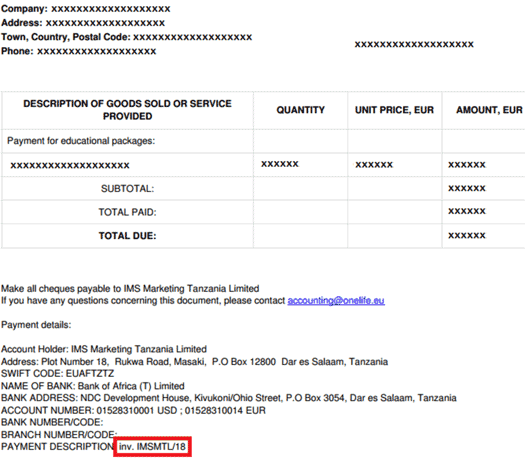 As above, OneCoin's Bank of Africa account was opened through the shell company "IMS Marketing Tanzania Limited". The new UOB account was opened using the shell company "Vernada Trading Pte. Ltd".
OneCoin cannot use it's own company name(s) to open bank accounts with, as it appears to be on one or more financial blacklists.