Top affiliate promotes OneCoin as an investement in Japan

On July 15th OneCoin held a recruitment event in Tokyo, Japan. Speaking at the event was top OneCoin affiliate Igor Alberts.
Addressing a crowd of potential affiliates infront a whiteboard, Alberts, through a translator, shared how he built his OneCoin business.
[0:06] When we started, I really believed that we could make hundreds of with it… like Peter and Udo.

After a month… woah, I was ready for making a million.

I said to Andrea, it will take us half a year, mathematically tuk tuk tuk, and we will make half a million per month.

And we started to think and act as if we already made that half a million.

Because we sold our apartment to invest in OneCoin, we needed to look for another house.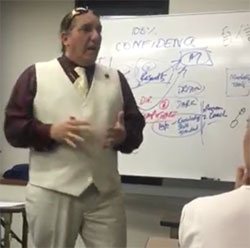 Alberts goes on to share how he and his partner lived in a hotel while they looked for houses worth two million dollars.
Eventually Alberts claims he found a "Hollywood mansion" he paid $2.3 million to purchase. He also alleges he recruited the "real-estate man" who sold the house into OneCoin.
[4:47] And the man after that got so excited, because it was a real-estate man, within in one week he brought his friends.

Not because he was interested in MLM like (someone in the crowd). He was not interested at all, but I didn't explain (to) him that it was MLM.

We only talked to him like it (was an) investment.

But because the man is Dutch, we understand that we make commissions from it, so he said to me, "Uh, what if I bring in some of my friends? Can we share some of the commission?"

And I told him, "whatever you bring in you get my 10%".

At the moment he (has) brought in more than 17 people, and those 17 people they're in for over 2 and a half million on investments.
Later in his presentation Alberts provides a breakdown of his OneCoin downline.
[~22:30] I have 80% MLM people in my (OneCoin) business and 20% investors.

In the beginning that was 99% network marketeers and only 1% investors.

But (in) the last months the percentages of investors are growing. That is in our team. The facts.

Now when you look at volume, the network marketeers part, the 80%, they do 20% of the volume.

And the 20% investors do 80% of the volume in our team.
Via a show of hands, Alberts concludes "more than 60%" of people in attendance 'upgraded their position to become an investor'.
[~25:00] So a lot of people that started off as a network marketeer, an MLM person, has turned into an investor already.
In a BusinessForHome fluff-piece published in late May, Ted Nuyten gushed that Alberts and his partner were making $420,000 a month in OneCoin: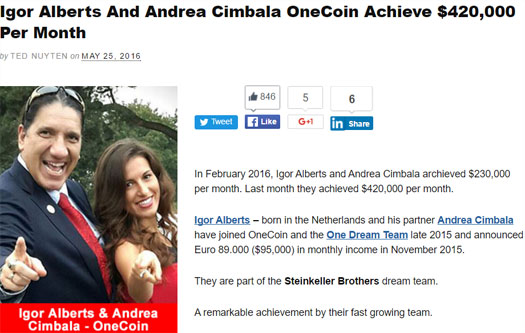 Alberts and his partner joined OneCoin through the Steinkeller Brothers One Dream Team "in late 2015".
Less than a week ago, BehindMLM covered another top investor in the US promoting OneCoin as an investment opportunity.
On July 13th, two days before Igor Alberts' presentation in Japan, OneCoin sent the following compliance email out to affiliates:
OneCoin is not an investment or "get rich scheme". OneCoin is a global cryptocurrency committed to servicing the voids in our current global economy.

Any affiliate, no matter what country they're in, caught advertising OneCoin or One Life as an investment, or a get rich scheme will have their accounts frozen.
Whether OneCoin, as per their own directive, have since frozen Igor Alberts' OneCoin account is unclear.
Footnote: The video referenced in this article was uploaded to Yasir Mirza's Facebook page on July 16th and can be viewed below:
Update 20th July 2016 – Within twenty-four hours of this article going live, Yasir Mirza deleted the video from his Facebook page.
Whether OneCoin corporate have taken any action has been taken against Igor Alberts is still unclear.