Hyperverse launches new HVT Ponzi token, immediately collapses

Following a month of withdrawal problems plaguing its MOF and HDAO tokens, Hyperverse launched HVT token.
Within 24 hours HVT token withdrawals were also disabled.
HVT stands for "Hyperverse Token". HVT's launch follows HC, HU, MOF and HDAO, making it parent company HyperTech's fifth Ponzi token launch.
Up until late November, HyperFund affiliates were withdrawing through MOF.
HyperFund's collapse saw MOF rebooted as a TRC-20 token and the company change its name to Hyperverse.
MOF's TRC-20 reboot collapsed mid December: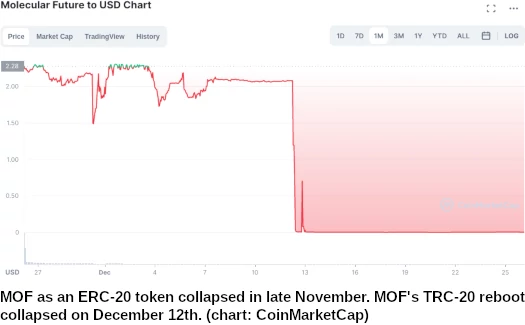 This saw Hyperverse switch to HDAO withdrawals. Withdrawals were limited (the majority of requests failed), until HDAO collapsed on December 21st: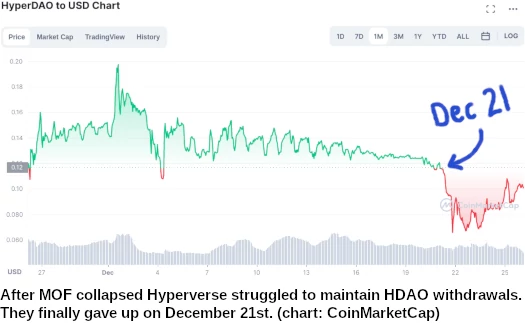 Hyperverse evidently kept trying to manipulate HDAO withdrawals over the following days, before giving up and launching HVT.
HVT was launched on December 25th as a BEP-20 token. These take a few minutes to set up at little to no cost.
A few hours after HVT launched, Hyperverse announced a "temporary suspension".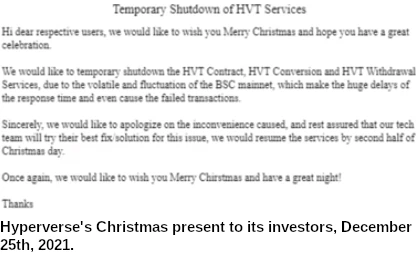 We would like to temporary shutdown the HVT contract, HVT conversion and HVT withdrawal services, due to the volatile and fluctuation of the BSC mainnet, which make the huge delays of the response time and even cause the failed transactions.
A quick search for "BSC mainnet problems" over the past 48 hours doesn't reveal any.
Instead what actually happened is upon launching HVT, Hyperverse was flooded with withdrawal requests.
That collapsed Hyperverse backend withdrawals, in the same manner MOF and HDAO withdrawals on-and-off collapsed throughout December.
In short you can't pay out what you don't have, and so the Hyperverse Ponzi song and dance continues.
Sincerely, we would like to apologize on [sic] the inconvenience caused, and rest assured that our tech team will try their best fix/solution for this issue, we would resume services by second half of Christmas day.
Around the time MOF collapsed HyperTech Compliance Officer Hope Hill (aka Ronae Jull), told investors the company employed "more than 1000 IT professionals".
I don't doubt HVT tokens immediate collapse is temporary. As soon as Hyperverse find a way to properly manipulate withdrawal rates, HVT will likely be turned back on.
At time of publication I'm unclear on whether HVT withdrawals have been re enabled. The lack of gullible victims boasting about successful withdrawals suggests it hasn't.
In any event whenever HVT withdrawals are re enabled, how long that lasts until HVT collapses or another token is launched is anyone's guess.