All In One Profits Review: 2nd "sale" cash gifting

All In One Profits warn visitors to their site that
There are Plenty of high paying compensation plans out there, but they all have one major flaw…bad product.

There are Plenty of good products out there, but they all have one major flaw…bad or low compensation plan.

The only way to make a Long Term, Solid Income is finding a product or service that has Real Value by itself and a Very Good Pay plan.
Unfortunately, All In One Profits seems to suffer from both these problems.
Read on for a full review of the All In One Profits MLM opportunity.
The Company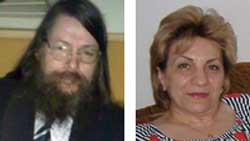 All In One Profits names two owners of the company, Jesus Johan Van Geffen and Isabela Capsuna.
Van Geffen (photo left) and Capsuna (photo right) claim that All In One Profits is based in and operating out of the Netherlands as this is where its two founders live.
Capsuna appears to have been involved in several low-key recruitment based scams in the past whereas there's not much of a history for Johan Van Geffen available.
Being based in the Netherlands, this may or may not have something to do with the pair primarily marketing in another language (Dutch).
The All In One Profits Product Line
All In One Profits have no products or services available at a retail level. All In One Profits confirm this by stating what their members are selling in the company FAQ:
AIOP sells membership.

You will just need to join, activate your account and then share your AIOP.com  referral link with others.

The more You will refer, the more money you will earn .
Instead of selling products or services, All In One Profits members sell membership and the income opportunity itself to new members. Bundled with each membership are web hosting, some marketing services and a bunch of ebooks.
The web hosting is interesting as they list it as a premium service which would mean there's an ongoing monthly cost. That said the company provides no further information as to which hosting provider they are using (All In One Profits are obviously not providing web hosting themselves).
The All In One Profits website itself appears to be hosted at HostGator through re-seller so perhaps they have some sort of deal with this affiliate (or HostGator itself).
The All In One Profits Compensation Plan
The All In One compensation plan revolves around the simple concept that for every odd-numbered new member you recruit, you will earn a 100% commission of $10 a month.
Every even-numbered new member you recruit is paid up to your upline and in turn, every even-numbered recruit one of the members you've recruited passes up their even-numbered member commissions each month.
Joining All In One Profits
Membership to All In One Profits is a flat rate of $10 a month with a $1.50 "processor fee".
Thus participation in the All In One Profits opportunity will set you back $11.50 a month.
Conclusion
The All In One Profits compensation plan clearly illustrates that members are just shuffling around membership fees amongst themselves.
The more savvy of you will have noted that in paying out 100% commissions to members ($10 each), the company itself makes no money.
All In One Profit's FAQ states:
Q: Do you have admin fee?

A: NO we don`t have admin fee, we pay back 100% commission to you.
However the same FAQ makes mention of a $1.50 processor fee. Presumably this $1.50 is where the company itself makes its money.
What's curious about this is that the company appears to be somehow covering the cost of providing premium web hosting to its members and turning a profit out of this $1.50.
How that's sustainable (or even possible) is a mystery to me. $1.50 won't get you much of a hosting plan, let alone leave anything left over for profit.
I suppose in the end it doesn't really matter though. You join, you recruit and money gets shuffled around.
All we're looking at here is a simple cash gifting opportunity folks.