Ultimate Business World linked to notorious Norwegian scammer

When I first reviewed Ultimate Business World late last year, it struck me as odd that the company's public Chairman, Paal Aschjem, had no MLM history.
Surely he wasn't working alone, however the question of who was really behind Ultimate Business World went unanswered.
Following an investigation by Norwegian and Estonian journalists, turns out UBW was conceived by a notorious Norwegian scammer.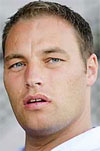 Jim Wolden (right) founded The 5 Percent Community (T5PC) in 2000. Through T5PC, Wolden solicited share investment from about 50,000 Norwegian affiliates.
In 2004 T5PC collapsed, resulting in $160 million dollars worth of losses. T5PC management were sent to prison.
Five months after setting up the T5PC Ponzi scheme, Wolden sold his share of the business for an undisclosed amount. He lost no money when the company collapsed, after which he promptly fled to Spain.
Norwegian authorities did investigate Wolden's initial involvement in T5PC but no charges were filed. Wolden appears to have gotten out of T5PC early and cut clean.
Today Wolden claims he hasn't been back to Spain "since a few years", mostly spending his time between Estonia, Great Britain, France and Dubai.
Wolden had also been sent to prison twice by Norwegian authorities for tax fraud.
Wanting to shed his fraudulent past, Wolden changed his name to Jim Aleksander Anderson in 2010.
When journalists Piret Reiljan from Äripäev (Estonia) and Rune Ytreberg from Dagens Næringsliv tracked Anderson down, he initially refused to answer any questions.
Eventually, under the condition he would not be photographed, Anderson sat down with the reporters.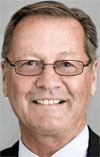 Ultimate Business World is set up under Manhattan Securities, a shell company owned Paal Juul Aschjem (right) and Johannes Solstad.
Achjem is the public face of UBW. Following a bungled real estate deal, Solstad has been described by Norwegian media as a puppet of Anderson's.
When queried about a €300,000 payment Manhattan Securities had paid him, Anderson claimed he had been paid as a consultant through Monaco Investment Fund.
We took Solstad's concept and turned it into what UBW is today. We signed an agreement regarding my fee for software and consulting," said Anderson.

This is all. I did not want to become a partner since I have no wish to be involved in the network marketing business.

I helped them as a friend." The fee is, according to his words, about 300,000 euros. He stresses that this includes the base software and all costs.
After Piret Reiljan and Rune Ytreberg went public with their interview, Anderson announced he was returning his fee.
I intend to pay back everything that has been transferred from UBW to my account. I do not wish to see my name stained again.

I do not want media to use the fact that I have received money from that company against me. This is why I have decided to do that.
Whether or not Anderson paid back the 300,000 EUR is unclear, however the public statement certainly suggests he is fully aware UBW is a Ponzi scheme.
Anderson has reportedly since cut all ties with UBW.
As for the rest of UBW's management, Frøystein Bakke is identified as CEO and was head of Senet Holding.
Senet Holding was the parent company of the Crpyto 888 Ponzi scheme.
Crypto 888 has since collapsed and rebooted itself as Octa Partners and Nano Club, but purportedly Bakke has had nothing to do with those companies.
Paal Juul Aschjem remains the face of UBW. His involvement in the Ponzi scheme has seen him resign from his board position with the Aitan Lapsi charity.
Johannes Solstad remains a murky behind-the-scenes figure at UBW. He is still tied to Jim Aleksander Anderson through the UK shell company Manhattan Securities.
The Estonian company that owns UBW bears the same name but is a different entity, at least on paper.
Following BehindMLM's published October review, UBW commissioned a legal opinion into its business model in November.
An Estonian law firm found that UBW's business model "closely resembled a Ponzi scheme".
Following separate reports digging into UBW appearing in both Äripäev and Dagens Næringsliv, the Estonian Financial Supervision Authority has announced an investigation into UBW.
Meanwhile UBW affiliates in Estonia and Norway have reported they are not being paid on time. A group of Norwegian investors who purportedly loaned the company 400,000 EUR have yet to be paid back either.
This article is based on a full-length March 17th feature in Äripäev. It's well written and provides some great research and insight into some of Norway's worst Ponzi scammers.
Definitely worth a read if you've invested or are thinking of investing in UBW.