Crypto 888 Club reboots for third time as Nano Club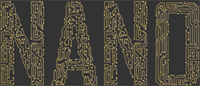 Crypto 888 Club launched back in April, 2015 and promised investors monthly returns on deposits of up to €10,000 EUR.
Recruitment of new Crypto 888 Club affiliates dropped off in early 2016, prompting a reboot as Octa Partners.
Six months later  Octa Partners is in shambles, with the scheme once again gearing up to reboot as Nano Club.
Like its predecessors, Nano Club solicits investment from new investors and uses it to pay off existing investors.
Starter – invest €150 EUR
Basic – invest €1050 EUR
Pro+ – invest €5950 EUR
Gold – invest €23,750 EUR
Platinum – invest €50,050 EUR
Diamond – invest €100,050 EUR
Nano Club are promising affiliates an "average" monthly ROI of 4% to 12%: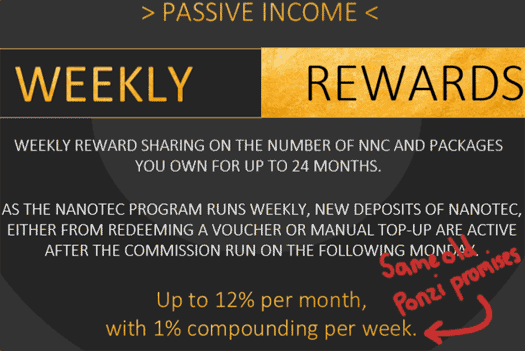 Residual commissions are paid out via a binary compensation structure, paying up to 80% of invested funds matched on either side of the binary team:
Starter affiliates earn 20% or 40% (if they recruit six affiliates)
Basic affiliates earn 40% or 60% (if they recruit six affiliates)
Pro+ and higher affiliates earn 80%
Nano Club affiliates are also given NanoCoins with their investment:
Starter affiliates receive €90 EUR worth of NNC
Basic affiliates receive €950 EUR worth of NNC
Pro+ affiliates receive €5600 EUR worth of NNC
Gold affiliates receive €23,750 EUR worth of NNC
Platinum affiliates receive €47500 EUR worth of NNC
Diamond affiliates receive €95,000 EUR worth of NNC
The residual commissions paid out are tied to affiliate investment, shuffling around invested funds to pay off Nano Club affiliates with the biggest downlines.
The only verifiable source of revenue entering the company is affiliate investment, which is used to fund Nano Club affiliate's monthly ROIs.
The use of newly invested funds to pay off existing investors makes Nano Club a Ponzi scheme.
As for NanoCoins, they're worthless and always will be. Like OctaCoin before it (the cryptocurrency attached to Crypto 888 Club and Octa Partners), NanoCoins have no practical purpose.
Despite launching over a year ago, today OctaCoin's value is 0.0000025 BTC (virtually worthless).
NanoCoin will go down the same path, despite the same hype promises trotted out again by Crypto 888 Club and Octa Partners affiliates.
No legitimate third-party merchant will touch a cryptocurrency attached to a Ponzi scheme, meaning the cryptocurrency is dead in the water.
As a bonus, new Nano Club affiliates will also be paying the Ponzi ROI liabilities Crypto 888 Club and Octa Partners racked up.
Word on the grapevine is Octa Partners backoffice funds are frozen for 6 months. New Nano Club investor funds are locked down for a year.
In six months whatever new funds have been deposited will be paid to old Crypto 888 Club and Octa Partners affiliates.
You as a new Nano Club affiliate get shafted after twelve months, because everything you invested has already been used to pay off existing affiliates.
Looking at the timeline of launches, Octa Partners lasted about half the time Crypto 888 Club did.
Reboot schemes typically collapse much faster than their predecessors, so expect Nano Club to fold within a few months.