Team1Bitcoin Review: 2×5 matrix bitcoin cash gifting

There is no information on the Team1Bitcoin website indicating who owns or runs the business.
The Team1Bitcoin website domain ("team1bitcoin.com") was privately registered on January 6th, 2016.
If you visit the Team1Bitcoin website a message at the top of the page informs you you've been "invited by admin". If you then click register your referring affiliate is "rescue hutton".
This is a static referral link and appears to be the Team1Bitcoin admin account.
Further research reveals "rescue hutton" is actually "Hutton Rescue", an Ultimate Cycler affiliate.

Rescue (right) is based out of Port Harcourt in Rivers State, Nigeria. In addition to participating in the Ultimate Cycler Ponzi scheme, Rescue is also an affiliate with MMM West Africa and MMM Nigeria (both clones of the collapsed MMM Global Ponzi scheme).
Rescue coordinates his scamming through the website Rescue Nigeria (pun probably intended). Somewhat curiously, Team1Bitcoin is not advertised on the site.
Read on for a full review of the Team1Bitcoin MLM opportunity.
The Team1Bitcoin Product Line
Team1Bitcoin has no retailable products or services,with affiliates only able to market Team1Bitcoin affiliate membership itself.
The Team1Bitcoin Compensation Plan
Team1Bitcoin affiliates gift bitcoin to each other via a 2×5 matrix.
A 2×5 matrix places an affiliate at the top of a matrix, with two positions directly under them: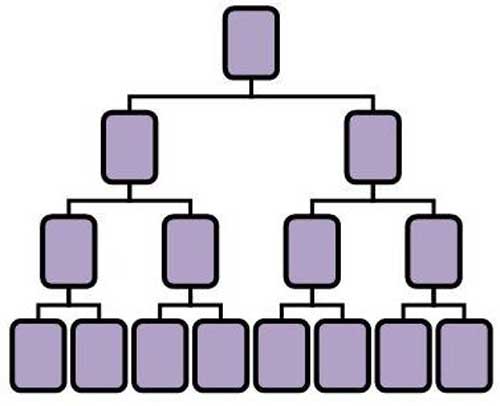 These two positions form the first level of the matrix. The second level of the matrix is generated by splitting each of these two positions into another two positions each (4 positions).
Levels three to five of the matrix are generated in the same manner, with each new matrix level housing twice as many positions as the previous level.
A Team1Bitcoin affiliate begins by gifting 0.002 BTC to the affiliate who recruited them.
This payment qualifies the affiliate to receive 0.002 BTC from two recruited affiliates placed into the first level of their matrix.
The other four matrix levels operate in the same manner, with each new level increasing the amounts gifted.
level 1 – gift 0.002 BTC to the affiliate who recruited you and receive 0.002 BTC from two subsequently recruited affiliates
level 2 – gift 0.003 BTC and receive 0.003 BTC from four affiliates
level 3 – gift 0.01 BTC and receive 0.01 BTC from eight affiliates
level 4 – gift 0.05 BTC and receive 0.05 BTC from sixteen affiliates
level 5 – gift 0.5 BTC and receive 0.5 BTC from thirty-two affiliates
Joining Team1Bitcoin
Team1Bitcoin affiliate membership is tied to a 0.002 BTC gifting payment to the affiliate who recruited you.
Conclusion
Having likely lost money in Ultimate Cycler and the various MMM Global clones he's participated in, Hutton Rescue has worked out owning scams is far more profitable than participating in them.
That brings us to Team1Bitcoin, which isn't any different from the plague of bitcoin gifting schemes launching at the moment.
New Team1Bitcoin affiliates gift bitcoin to whoever recruited them. That payment qualifies them to receive payments from affiliates recruited after them.
Most of the funds gifted between affiliates is eventually passed up to preloaded admin positions, held by Hutton Rescue.
Affiliates who joined early get what's left, with most losing out when recruitment dies down and Team1Bitcoin eventually collapses.