RengaLife Review: Oral film strips with $199.80 "mandatory autoship"

RengaLife launched earlier this month and operate in the health and nutrition MLM niche.
The company is based out of California in the US and headed up by co-founders Jason and Eunjung Cardiff.
The Cardiffs also own Redwood Scientific Technologies, of which Jason Cardiff is CEO and Eunjung the company's Marketing Director.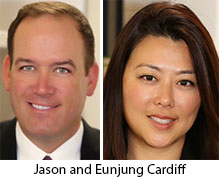 Whereas the Cardiffs' RengaLife corporate bios are lacking, their Redwood Scientific Technologies bios provide some insight into their executive history.
Jason Cardiff started his career at Mercedes Benz USA and was appointed the youngest retail Vice President at that time. He went on to serve as a General Manager and executive at Auto Nation, the nation's largest automotive chain of dealerships.

After leaving the automotive business, he founded First Choice Media, a private consulting company that ran marketing and placed all forms of media for national not-for-profit organizations while simultaneously finding success with his own national infomercial businesses and products.

As the founder of Redwood Scientific Technologies, Inc. Jason provides the leadership and vision for the success of the company.

Eunjung Cardiff started her career at Grey Advertising in NYC with their direct marketing division, representing and buying direct response-oriented national broadcast media for pharmaceutical and consumer packaged goods clients.

She opened and managed the New York branch of Cannella Response Television, the nation's largest direct response media placement agency and grew that business from $0 to nearly $30 million per year in fewer than 3 years.

She served as their Managing Director for 5 years, representing clients such as Guthy Renker and other highly recognizable national infomercial product companies.

She studied East Asian studies at Columbia University in New York. At Redwood Scientific Technologies, Inc. Eunjung serves as the Marketing Director, in which she oversees management's activities.
To the best of my knowledge RengaLife is the Cardiffs first venture as MLM company executives.
Read on for a full review of the RengaLife MLM opportunity.
RengaLife Products
RengaLife doesn't disclose it shares the same owners as Redwood Scientific Technologies, instead the relationship is referred to as a "partnership".
Rengalife has paired with Redwood Scientific Technologies, the world leader in oral thin film delivery for everyday health and lifestyle issues.

Rengalife with be [sic] the exclusive independent distributor.
In a May 2017 interview with Underdog, Jason Cardiff provided some insight into Redwood Scientific Technologies product development.
How did the concept for Redwood Scientific Technologies come about?

The idea was, "How do we make a better version of the pill?"

I like experience-based products that can do something people have always done, but in a better way.

It seemed like the timing was right to create a new and better delivery method for over-the-counter (OTC) drugs.
As to the film strips themselves;
Redwood Scientific Technologies, Inc. develops and markets FDA registered over-the-counter drugs that features oral strip delivery technology.

Oral strip delivery technology has emerged as an advanced alternative to the traditional tablets, capsules, and liquid medications.

These drug delivery options allow the medication to bypass the first pass metabolism thereby making the medication more bioavailable.

As the strip dissolves, the drug can enter the bloodstream enterically, buccally or sublingually.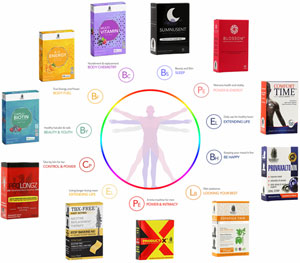 Oral film strip products listed on the RengaLife website include:
TBX-Free – "an oral strip nonprescription  stop smoking aid that calms cravings and help smokers quit their addiction for good", retails at $59.95 for a box of 120 strips
Multi-Vitamin – "provides daily nurishment [sic] and replacement", retails at $59.95 for a box of 120 strips
Eupepsia Thin – appetite suppressant, retails at $59.95 for a box of 60 strips
Product-X – "makes you feel like a 18 year old again and activates fast", retails at $59.95 for a box of 20 strips
Capilli Biotin – "hair growth, radiant skin, and longer nails", retails at $59.95 for a box of 120 strips
B-12 Energy – "our B12 Energy in a thin oral strips provides daily nourishment and replacement", retails at $59.95 for a box of 120 strips
Prolongz – "an oral strip nonprescription medication for the treatment of premature ejaculation", retails at $59.95 for a box of 60 strips
Provaxaltonin – "combining the two raw building blocks of serotonin, L-tryptophan and 5-HTP, with a converting catalyst, Vitamin B6, Provaxal provides the nutrients to help the body optimize", retails at $59.95 for a box of 120 strips
Blossom – "created just for woman that are looking to ignite that spark and fire when it counts", retails at $59.95 for a box of 60 strips
Sumnuscent – " you will be aided in sleeping all night with our proprietary blend of Melatonin", retails at $59.95 for a box of 60 strips
Comfort Time – "a FDA registered adult aspirin that is used as a pain reliever, adult aspirin regimen and daily preventive therapy", retails at $59.95 for a box of 120 strips
Rengalife strips are also available in various bundle packs.
The RengaLife Compensation Plan
The RengaLife compensation plan combines retail sales, residual commissions via a unilevel team and mandatory affiliate product purchases.
RengaLife Affiliate Ranks
There are five affiliate ranks within the RengaLife compensation plan.
Along with their respective qualification criteria, they are as follows:
Jr. Executive – sign up as a RengaLife affiliate
Executive – purchase $199.80 a month worth of RengaLife products
Director – recruit ten Executives
Vice President – recruit ten Directors
Sr. Vice President – recruit ten Vice Presidents
MLM Commission Qualification
To qualify for MLM commissions, each RengaLife affiliate must spend $199.80 a month on products.
Retail Commissions
RengaLife affiliates earn a 20% commission on product sales to retail customers.
Residual Commissions
RengaLife pay residual commissions via a unilevel compensation structure.
A unilevel compensation structure places an affiliate at the top of a unilevel team, with every personally recruited affiliate placed directly under them (level 1):

If any level 1 affiliates recruit new affiliates, they are placed on level 2 of the original affiliate's unilevel team.
If any level 2 affiliates recruit new affiliates, they are placed on level 3 and so on and so forth down a theoretical infinite number of levels.
RengaLife cap payable unilevel levels at three.
Residual commissions are paid out as a percentage of sales volume generated across these three levels as follows:
level 1 (personally recruited affiliates) – 30%
level 2 – 10%
level 3 – 5%
Product One-Time Bonus
If RengaLife launches a new product, affiliates receive a 60 day one-time 10% bonus on orders of that product.
Travel and Reflection Time
Specifics of Travel and Reflection Time aren't provided in the RengaLife compensation plan.
The compensation plan states:
RengaLife offers many levels of travel and trips to reward sales and distribution.
Marketing copy on the RengaLife website suggests Executive, Vice President and Sr. Vice President ranked affiliates receive access to annual vacation trips.
Rank Achievement Bonus
RengaLife reward affiliates who qualify at the Director rank and higher with the following one-time Rank Achievement Bonuses:
qualify as a Director and receive $500
qualify as a Vice President and receive $1200
qualify as a Sr. Vice President and receive $10,000
Joining RengaLife
The RengaLife website offers to affiliate membership options, Jr. Executive and Executive.
When I clicked Jr. Executive I was redirected to the RengaLife online store.
Executive affiliate membership is attached to a mandatory $199.80 monthly autoship.
Note that in any case, RengaLife Jr. Executive affiliates cannot earn MLM commissions.
Conclusion
Oral strip delivery for supplements and medication has been around for a while, however there is something to be said for an MLM company having control of the manufacturing process.
As far as I can tell Redwood Scientific Technologies is a reasonable successful supplier in its own right, so there's likely something to the products.
That said, other than mention of "proprietary blends", nothing really stood out to me over your typical MLM nutritional supplement offering. Rather the marketing hook rests solely on the oral strip delivery method.
One thing to watch out for as an affiliate is Redwood Scientific Technologies existing reseller base.
For example I found a third-party retailer selling Sumnuscent on Amazon for $49.99, $10 cheaper than through RengaLife.
Eupepsia Thin was even worse, coming in at $27.40 versus RengaLife's $59.95.
A company's MLM affiliates having to compete directly with non-MLM retailers is not an ideal situation.
Moving on to RengaLife's compensation plan, there are two immediate compliance issues that stood out.
The first is mandatory autoship, that is requiring affiliates to purchase products to qualify for commissions.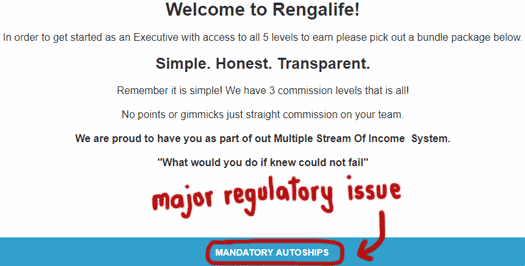 In MLM commission qualification should only ever be attached to sales performance. Requiring affiliates to purchase products is "pay to play", a regulatory compliance red flag.
Requiring affiliates to pay a fee each month to qualify for commissions encourages affiliate autoship recruitment, typically at the expense of retail sales.
And that brings us to the next glaring compliance issue: Rengalife affiliate ranks are tied to affiliate recruitment.
You sign up as a new RengaLife affiliate, pay $199.80 a month to qualify for MLM commissions and then the only way to advance in the compensation plan is to recruit affiliates who do the same.
This designates retail sales all but irrelevant in RengaLife and practically guarantees affiliate focus will be on autoship recruitment.
What you wind up with is an MLM company with little to no retail sales activity.
As we saw with Herbalife and Vemma, should the FTC investigate this doesn't end well for the company or its affiliates.
While there might be some merit to RengaLife's products, having to compete with retailers selling the same products for less than half price and a flawed compensation plan all but kills the MLM opportunity.
Update 19th March 2022 – The FTC sued RengaLife owner Jason Cardiff for fraud in 2018.
Among other things, the FTC alleged multiple violations of the FTC Act.
On March 1st, 2022, final judgment was entered against the Cardiffs. As part of the judgment, the Cardiffs have been banned from MLM for life.