Redwood Scientific & Jason Cardiff final judgments entered

Default judgment has been entered against Redwood Scientific Technologies and a bunch of corporate defendants.
Final judgment has also been entered against owner Jason Cardiff and wife Eunjung Cardiff.
Back in 2018, the FTC accused Redwood Scientific Technologies and related corporate defendants of FTC Act, the Restore Online Shoppers' Confidence Act, the Electronic Fund Transfer Act and Telemarketing and Consumer Fraud and Abuse Prevention Act violations.
Named corporate defendants are Redwood Scientific Technologies (incorporated in CA, NV, DE), Identify LLC, Advanced Men's Institute Prolongz LLC, Run Away Products LLC and Carols Place LP.
The court deems the corporate defendants as "various iterations and shells of one another". To keep things simple, I'll refer to them as the "Redwood corporate defendants".
None of the Redwood corporate defendants filed a response to the FTC's complaint. This prompted the regulator to file for file for default judgment in August 2020.
The danger of future violations by the Corporate Defendants justifies the issuance of permanent injunctive relief, including banning them from engaging in certain activities.
As per the terms of the granted injunctive relief, the Redwood corporate defendants are banned from
performing negative option sales (billing consumers for product sales they don't opt out of);
making robocalls and ringless voicemails;
"engaging or participating in any multilevel marketing program";
"advertising, marketing, promoting, or offering for sale of any dissolvable oral film strip to end-user consumers";
claiming their products "help users quit smoking", "causes or assists in causing weight loss", "suppresses or helps suppress appetite", "helps users avoid gaining back any weight loss", "increases ejaculation control or the duration of sex", "treats or prevents premature ejaculation", or "cures, mitigates, or treats any disease"; and
making representations their products are superior alternatives for any of the above.
misrepresenting product endorsements;
claiming products are made in the US when they aren't;
making misleading and deceptive income claims;
lying about customer satisfaction rates, total costs, refund policies, product benefits, product trial offers, customer billing, how customer billing information is used and transactions authorized by consumers;
failing to honor refunds, returns and/or cancellation requests;
engaging in credit card laundering;
lying to payment processors and banks;
"engaging in any tactics to avoid fraud-and-risk monitoring programs";
making unauthorized charges; and
misusing submitted customer information.
An exception for prohibited acts in points five and six is given, provided "competent and reliable scientific evidence substantiating" any representations made are provided.
Any such evidence
must consist of human clinical testing of the product, or of an Essentially Equivalent Product, that is sufficient in quality and quantity based on standards generally accepted by experts in the relevant disease, condition, or function to which the representation relates, when considered in light of the entire body of relevant and reliable scientific evidence, to substantiate that the representation is true.

Such testing must be: (1) randomized, double-blind, and placebo-controlled; and

(2) conducted by researchers qualified by training and experience to conduct such testing.
The Redwood corporate defendants are subject to twenty years of compliance monitoring. There is no monetary component to the judgment order.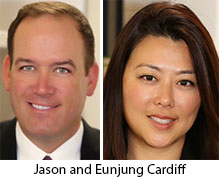 Final judgement against Redwood's owner, Jason Cardiff and wife Eunjung, was also entered on March 1st.
Final judgment stems from granting of summary judgment against the Cardiffs in 2020.
The Cardiffs operated the Corporate Defendants as a common enterprise, and the Corporate Defendants were "all involved in the sale of the Products [with] money, products, and employees flow[ing] freely between them."

The Cardiffs were the "beneficiaries and masterminds" of the common enterprise, and "had knowledge of the misrepresentations in advertising or were recklessly indifferent to the falsity of the misrepresentations."
The final judgment reaffirms the findings of summary judgment, in that the Cardiffs
lied about the efficacy of the TBX-FREE, Eupepsia Thin and Prolongz strips;
provided a false money-back guarantee for the strips;
falsely claimed the oral strips were made in the US;
provided fake weight loss testimonials for the strips;
lied about enrolling unsuspecting consumers into an autoship program;
made "false and unsubstantiated claims that people who became Rengalife members were likely to earn substantial income";
made unauthorized billing payments to consumer's credit and debit cards; and
engaged in robocall fraud.
The injunctive relief granted against the Cardiffs mirror that of the Redwood corporate defendants.
Of particular note is the Cardiffs being banned from MLM for life.
IT IS FURTHER ORDERED that Jason Cardiff and Eunjung Cardiff, whether acting directly or through an intermediary, including by consulting, planning, facilitating, or advising, are permanently restrained and enjoined from engaging or participating in any multilevel marketing program.
As with the Redwood corporate defendants, there is no monetary penalty associated with the final judgment order.
This is a result of the Supreme Court siding with scammers last year.
BehindMLM took an interest in the Redwood proceedings due to its ties to RengaLife.
Both the default judgment and final judgment orders bring BehindMLM's coverage of the Redwood litigation to a close.