Inovatyon Review: Bank of Brazil backs pyramid scheme?

There is no information on the Inovatyon website indicating who owns or runs the business.
The Inovatyon website domain ("inovatyon.com") was registered on the 8th of September 2014, however the domain registration is set to private.
The company's compensation plan claims Inovatyon is headquartered in São Paulo, Brazil.
As always, if a MLM company is not openly upfront about who is running or owns it, think long and hard about joining and/or handing over any money.
The Inovatyon Product Line
There are no products or services listed on the Inovatyon website.
From what I've been able to piece together, the compensation plan suggests that banking and investment services are to be offered to affiliates.
At the time of publication, no further specifics are provided.
The Inovatyon Compensation Plan
Referring to itself as an "investment consortium", and revolves around affiliates purchasing one of four affiliate packages and then recruiting others who do the same.
There are four Inovatyon affiliates packages on offer:
Basic – R$1250 ($500 USD)
Executive – R$3750 ($1502 USD)
Premium – R$7450 ($2984 USD)
VIP – R$15,000 ($6008 USD)
Recruitment Commissions
Inovatyon affiliates are paid a commission for each new affiliate they recruit.
How much of a commission is paid out depends on how much the recruited affiliate spends on their membership:
Basic (R$1250) – R$56 ($22 USD)
Executive (R$3750) – R$158 ($63 USD)
Premium (R$7450) – R$335 ($134 USD)
VIP (R$15,000) – R$675 ($270 USD)
A monthly R$3.75 ($1.50 USD) residual recruitment commission is also paid per personally recruited affiliate.
Binary Commissions
Residual recruitment commissions in Inovatyon are paid out using a binary compensation structure.
A binary compensation structure places an affiliate at the top of two binary teams, left and right: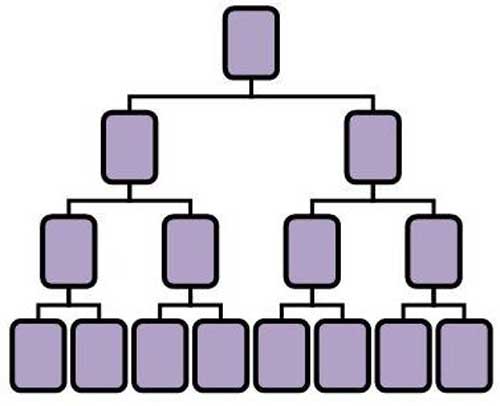 Positions in the binary are filled via the recruitment of new affiliates (direct or indirect) and their purchasing of an affiliate package.
Each affiliate package has the following point value assigned to it:
Basic – 500
Executive – 1500
Premium – 3000
VIP – 6000
Points are tallied up on both sides of the binary daily, with an affiliate paid 30% of the points generated by their weaker binary team.
How much an Inovatyon affiliate can earn each day through the binary is determined by how much they spent on their own affiliate membership:
Basic – R$25,000 ($10,014 USD)
Executive – R$50,000 ($20,028 USD)
Premium – R$75,000 ($30,042 USD)
VIP – $125,000 ($50,070 USD)
Revenue-sharing
Inovatyon take 15% of the affiliate funds they receive each month and split it into three 5% revenue-sharing pools.
Affiliates qualify for a share in one of the three pools, based on how many binary points they generated in that particular month:
Pool 1 – 17,000 to 169,999 points
Pool 2 – 170,000 – 469,999 points
Pool 3 – over 470,000 points
It is unclear whether only one side of the binary is counted towards this point total or both.
Joining Inovatyon
Affiliate membership with Inovatyon is tied to the purchase of an affiliate package:
Basic – R$1250
Executive – R$3750
Premium – R$7450
VIP – R$15,000
Conclusion
With no retailable products or services, affiliates paid to recruit new affiliates and all revenues sourced from new affiliates joining the company, Inovatyon fits the definition of a recruitment-driven pyramid scheme.
Affiliates buy in for between $500 to $6008 and are then paid for doing nothing more than recruiting new participants into the scheme. How much they are paid is determined by how much they themselves spend when they joined the company, and how much they convince their recruits to spend.
The only observable advantage to spending more on Inovatyon affiliate membership is income potential (binary commissions) through the compensation plan (paid on recruitment).
The revenue-sharing aspect of the company acts as a recruitment incentive, rewarding those and their downlines who recruit the most.
Of particular concern is that top TelexFree investor Sanderly Rodrigues de Vasconcelos (alias Sann Rodrigues) is currently flogging Inovatyon on Facebook.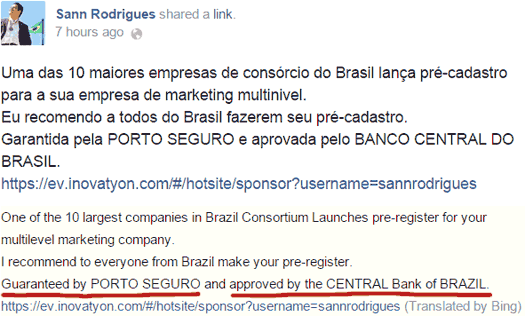 With the corpse of iFreeX barely cooled, Rodrigues appears to have moved onto this newly announced venture.
Note that I was unable to independently verify Rodrigues' claims that Inovatyon was "guaranteed" by Porto Seguro and "approved" by the Central Bank of Brazil.
I suspect however that in the coming weeks we'll likely see statements from both Porto Seguro (" the third largest insurance company in Brazil") and the Central Bank, denying any and all involvement with the scheme.
Currently being sued by the SEC for his part in stealing at least $3 million USD from TelexFree investors, Rodrigues is believed to be hiding out in Brazil.
The anonymous ownership nature of Inovatyon echoes that of iFreeX, which Rodrigues was heavily promoting until Massachusetts Secretary of State William F. Galvin issued a "pyramid scheme" warning about it.
Subsequent interest in iFreeX tanked and Rodrigues deleted the bulk of his online iFreeX promotional activity.
Whether or not the Securities Division get involved with Inovatyon remains to be seen. But what is known is that a preliminary injunction was granted against Rodrigues back in May.
The injunction orders Rodrigues to 'cease conducting any further fraud involving securities or otherwise'.
With the promotion of iFreeX and now Inovatyon, it would appear Rodrigues has breached the injunction at least twice.
As with all pyramid schemes, once recruitment dries up and new affiliate package purchases slow down, Inovatyon will collapse.
Every commission pay out in the company is tied to the recruitment of new affiliates (more specifically the funds they inject into the scheme), so there is absolutely nothing else to sustain the business.
When that happens though Rodrigues and the admin(s) he in obvious cahoots with will be long gone, along with your money.