iCashCloud Review: Max Stiegemeier at it again…
There is no information on the iCashCloud website indicating who owns or runs the business.
The iCashCloud website domain (iCashCloud) was registered on the 6th of October 2014, however the domain registration is set to private.
Further research however reveals that DNS information attached to iCloudCash's name-servers has an email address attached to it: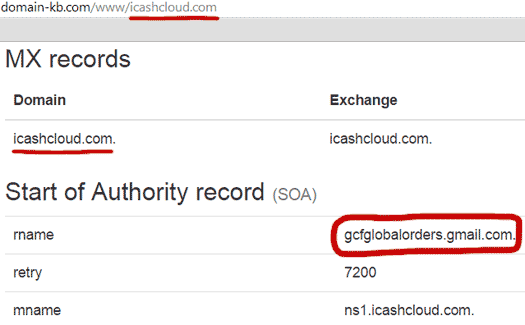 This email address belongs to Max Stiegemeier:

Stiegemeier previously launched AutoProfitMachine and Auto Profit Global back in 2011.
AutoProfitMachine saw affiliates pay $50 to join and then receive $25 per affiliate they recruited, with residual recruitment commissions paid out down three levels of recruitment.
Auto Profit Global charged affiliates $200 to join and paid them $100 to recruit new affiliates.
Both schemes collapsed shortly after launch.
Research reveals that with iCashCloud Stegemeier is using a script provided by "Incentive Scripts".

On their website, Incentive Scripts market a script called "ClixScript".
ClixScript features advertised include:
affiliate CPA offers and offerwalls
a gift shop
PTC and banner advertising
10 level deep MLM referral "system"
paid to share
revenue-sharing
advanced bot system that works "just like human clickers"
A basic ClixScript subscription costs $89.99 a year.
One other thing worth mentioning is the presence of a UK based address in iCashCloud's refund policy:
We only replace items if they are defective or damaged.

If you need to exchange it for the same item, send us an email at (removed) and send your item to: Third Floor 207 Regent Street. London, W1B 3HH.
A Google search reveals this address to belong to the company "Complete Formations", who sell a "Regent Street Registered Office" and mail forwarding at this address for 199 GBP ($313 USD).
With Stiegemeier based in the US, why he's opted for a forwarding address in the UK for iCashCloud is a mystery.
Read on for a full review of the iCashCloud MLM business opportunity.
The iCashCloud Product Line
iCashCloud has no retailable products or services, with affiliates only able to market affiliate membership with the company itself ($47).
The iCashCloud Compensation Plan
The iCashCloud compensation plan pays affiliates both to recruit new affiliates and conduct various tasks within the iCashCloud system itself.
Recruitment Commissions
iCashCloud pay affiliates to recruit new affiliates using a unilevel compensation structure.
A unilevel compensation structure places an affiliate at the top of a unilevel team, with every personally recruited affiliate placed directly under them (level 1):

If any of these level 1 affiliates go on to recruit new affiliates of their own, they are placed on level 2 of the original affiliates unilevel team.
Theoretically a unilevel compensation structure can extend down an infinite number of levels, however iCashCloud cap payable levels at two.
Level 1 recruited affiliates pay $25 per affiliate recruited and level 2 pays out $5.
An additional $150 is paid out if an affiliate manages to convince their downlines to upgrade to "iCash Xtreme" membership.
iCash Xtreme membership costs $297.
Bundled with iCash Xtreme affiliate membership is access to Link Bucks. Through Link Bucks, an iCashCloud affiliate can send links to other websites laced with a requirement that anyone who clicks on the link is required to "complete a task" before they can access the content behind the link.
Tasks
iCashCloud pay affiliates to complete tasks within the system. The company advertises there are 'over 5000 ways to get paid with the iCashCloud system'.
These tasks include taking surveys, getting a car insurance quote, trying out weight loss products, playing online games, watching YouTube videos and downloading free software.
Examples of advertised payouts for performing these tasks are quoted at between $5 and $50.
Joining iCashCloud
Affiliate membership with iCashCloud is $47.
Conclusion
With no retail activity taking place within the opportunity itself and commissions paid out on the recruitment of new affiliates, iCashCloud functions as a recruitment-driven pyramid scheme.
The task commissions are independent of the MLM core of the business, which again only pays on the recruitment of new affiliates. Convince those affiliates to pay more money for Xtreme membership, and the commission amount increases. But only if you yourself paid $297 for Xtreme membership.
In this sense the iCash Xtreme membership adds an additional "pay to play" element to the scheme.
As for the task commissions, here are some explicit examples offered up in an iCashCloud marketing video:0
take a survey and get paid $5
get a car insurance quote and get paid $30
try out a new weight loss product and get paid $50
play an online game and get paid $10
watch a YouTube video and get paid $5
download free software and get paid $10
Seriously? Who on Earth is paying these ridiculous amounts to have iCashCloud affiliates perform these tasks?!
A far more realistic expectation can currently be found in iCashCloud's Terms of Service:
Our current pay rate ranges from .01 per click to .002 per click. Please note this can change based on advertisers needs.
Fractions of a cent sounds about right. More might be possible but with a plethora of these "perform tasks and get paid" deals around, the amounts Stiegemeier touts in his video are ridiculous.
Broken down to its simplest, what we have here is the continuation of the type of schemes Stiegemeier was launching back in 2011. The addition of a tasks platform is new, but otherwise it's the same "pay $x to join and we'll pay you to recruit new affiliates" model.
As with all pyramid schemes, once recruitment dries up in iCashCloud so too do the commissions paid out. There's absolutely nothing being marketed and sold to retail customers here.
Finally as an aside, and just in case you were wondering why Stiegemeier wrote to me in 2011 (screenshot in the intro of this review), here's an excerpt from the email:
First and foremost, I respect your work. I read your blog on a daily basis and find it informative, factual and you've done a great job with it.

When I launched Auto Profit Machine, and Auto Profit Global I honestly had a special system built and developed that I believed would work and that would create a positive and solid income for everyone involved.

It Failed. It turned into a recruitment scam, and you nailed it in the head.

Plain and Simple. Auto Profit Machine was a mistake. It was a gross mistake on my end, with a terrible business plan that ended up bad and then….

Ended up on your Blog. You nailed it on the head when you wrote your articles.

If you could accept my words as honest and straight forward, that I respect you as a blogger, read your blog daily and love what you do because you tell the TRUTH–
That was just over two years ago.
Some people learn from their mistakes. Others? Not so much.