Hand of Heaven Review: Wolfing tries religious affinity fraud gifting

Hand of Heaven identifies Peter Wolfing, Scott & Christina Thompson and Steve Parson as "contributors" of the company.
Of the three, Peter Wolfing appears to be running the show. This is based on Wolfing's past history of running scams and Hand of Heaven marketing videos being hosted on his personal Vimeo account.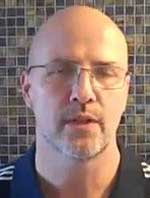 Peter Wolfing (right) first appeared on BehindMLM's radar back in 2012, as the admin of Turbo Cycler ($200-$1000 matrix-based Ponzi scheme).
Other MLM underbelly schemes launched by Wolfing over the years include Turbo Cycler (cash gifting), Ultimate Cycler (Ponzi cycler), Business Toolbox(chain-recruitment), Infinity 100 (cash gifting), National Wealth Center (cash gifting) and Pay Me Forward (cash gifting).
Despite being launched in 2013 and long-since collapsed, in 2016 Ultimate Cycler Ultimate was revived by Nigerian scammers. Wolfing redesigned the Ultimate Cycler website to cater to Nigerian affiliates and rode the wave.
Wolfing's last recorded launch was Ueconomy in mid 2017.
Ueconomy was yet another cash gifting scam. Alexa traffic estimates for the Ueconomy website suggest it has long-since collapsed.
Read on for a full review of the Hand of Heaven MLM opportunity.
Hand of Heaven Products
Hand of Heaven has no retailable products or services, with affiliates only able to market Hand of Heaven affiliate membership itself.
Participation in Hand of Heaven as an affiliate provides access to religious-themed material.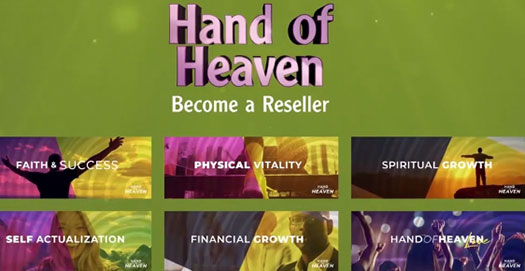 The Hand of Heaven Compensation Plan
Hand of Heaven affiliates gift funds to each other across six tiers; $25, $100, $250, $500, $1000 and $2000.
Gifting payments are made between Hand of Heaven affiliates via a 1-up compensation structure.
On each gifting tier the first payment received by a personally recruited affiliates is kept by the affiliate who recruited them.
The second payment is passed up to the first upline (the affiliate who recruited the recruiting affiliate).
The third and onward recruited affiliate's gifting payments are kept by the recruiting affiliate.
To summarize;
you recruit a Hand of Heaven affiliate and keep all of their gifting payments;
gifting payments generated by the second affiliate you recruit are passed up to the affiliate who recruited you;
you keep gifting payments generated by the third and every other affiliate you personally recruit
Residual commissions are generated as each affiliate you've recruited passes up gifting payments generated by the second affiliate they've recruited.
This continues down an infinite number of levels via a unilevel compensation structure:

As above, affiliates you recruit are placed directly below you on level 1.
Affiliates recruited by your level 1 affiliates are placed on level 2 and so on and so forth.
Joining Hand of Heaven
Hand of Heaven affiliate membership is tied to a minimum $25 gifting payment.
Sequential participation in Hand of Heaven will cost an affiliate $3875.
Conclusion
Hand of Heaven describes its business model as a "pay it forward". This is MLM underbelly scamspeak for "cash gifting".
Hand of Heaven affiliates gift funds into the system, on the expectation they'll receive funds gifted by affiliates recruited after them.
Affiliates paying affiliates in MLM is cash gifting and pretty much illegal the world over.
It's worth noting that in Hand of Heaven, Wolfing has chosen to go heavy on religious affinity fraud.
The name of the company itself is evidence of this, but so are the bios of Wolfing's co-conspirators.
Scott and Christina Thompson are cited as "the founders of Abundant Life Ministries". Steve Parson is cited as the "founder/Pastor of the Richmond Christian Center".
There's a good chance Hand of Heaven will be pitched to congregation members of both organizations.
This is not only shameful but also an egregious breach of trust devotees place in religious leaders.
As for Hand of Heaven, it's the same old cash gifting scheme Wolfing has rebooted over and over again.
Once affiliate recruitment dies off there's nobody left to steal from.
The math behind a gifting scheme guarantees that at any given time, the majority of participants cannot have made back what they've deposited.
This results in widespread losses when the scheme inevitably collapses.
As per Hand of Heaven's terms and conditions;
All sales are final. No refunds.
Hand of Heaven won't play out any different, same as every other scheme Peter Wolfing has launched over the years.