Global Currency Reserve Review: $2999.95 a month mining?

Back when we first reviewed Global Coin Reserve, it was little more than a continuation of Robert Corriveau's previous matrix-based recruitment schemes.
That was back in September 2014. What with Corriveau ousted earlier this year, rumblings of the GCR coin launching and a name change to Global Currency Reserve, we figured it was time to revisit the GCR opportunity.
The Company
Details surrounding Robert Corriveau's departure from Global Coin Reserve remain sketchy.
Six days after BehindMLM's Global Coin Reserve review, Corriveau gushed about his recently launched opportunity:
Global Coin Reserve. Yes I am the CEO and owner of this company too.

I started this company to hopefully help people better understand cryptocurrency and everything it has to offer. At the same time, I hope to build a new cryptocurrency called GCR Coin.

I only want to help as many people as I CAN to better understand this market, and HOPE to profit from this amazing world.
February 2015 saw Corriveau depart GCR, and nobody seems to know why.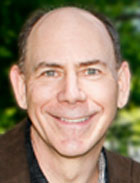 Global Coin Reserve themselves swept the matter under the carpet, scrubbing Corriveau's name from the GCR website and listing Robert Wood (right) as CEO.
Wood, who usually goes by Bob, first appeared on BehindMLM's radar as the President of CloudZow in 2012, and Chief Technical Officer of Zazzed in 2013.
Both opportunities primarily focused on recruitment of new affiliates (CloudZow did have a token retail offering), with both having since shut down.
Wood taking over as the head of Global Coin Reserve is all very well, but a lack of disclosure regarding Corriveau's abrupt departure continue to cast a shadow over the opportunity.
As to the name change. In Wood's updates to affiliates he signs off as the CEO of Global Currency Reserve, but the GCR website and marketing material are yet to reflect the change.
The Global Currency Reserve Product Line
Global Currency Reserve now has no retailable products or services, with affiliates only able to market affiliate membership to the company itself.
Once signed up Global Currency Reserve affiliates are given access to "wealth builder tools", which GCR claims "can help you"
– Maximize Tax Deductions With Our Estimator Tool

– All Your Home Business Expenses

– Reduce Your Personal And Business Debt

– Repair Your Credit Regardless Of Condition

– Also Includes A Full Financial Education Library
Affiliates can only pay for GCR coins (mining), however at the time of publication the GCR Coin cryptocurrency has yet to launch.
The Global Currency Reserve Compensation Plan
Previously GCR affiliates purchased $69.95 to $299.95 a month matrix position subscriptions, with direct and residual commissions paid out via a 2×15 matrix.
A $29.95 direct recruitment commissions only option was also available.
The core of the Global Coin Reserve compensation plan has remained intact, however GCR coin mining is now being advertised and the upper limit of affiliate membership is $2999.95 a month.
That's not a typo… a top-tier GCR affiliate position will cost you almost three thousand dollars a month.
Free (replaced previous $29.95 membership) – direct recruitment commissions only, no MLM
Bronze – $69.95 a month
Silver – $149.95 a month
Gold – $299.95 a month
Prospector – $999.95 a month
Claim Staker – $2999.95 a month
Update 7th July 2015 – Bob Wood has informed us that the Prospector ($999.95) and Claim Staker ($2999.95) affiliate positions are no longer available (see comment #7 at the end of this review). /end update
The above monthly affiliate fees are what drive commissions in Global Currency Reserve, paid out as follows:
Global Currency Reserve Affiliate Ranks
There are eight affiliate ranks within the Global Currency Reserve compensation plan.
Along with their respective qualification criteria, they are as follows:
Bronze – purchase Bronze affiliate membership ($69.95 a month)
Silver – purchase Silver affiliate membership ($149.95 a month) or recruit two Bronze or higher affiliates
Gold – purchase Gold, Prospector or Claim Staker affiliate membership ($299.95 – $2999.95 a month) or recruit two Silver or higher affiliates
Diamond – recruit two Gold or higher ranked affiliates
Double Diamond – recruit five Diamond or higher ranked affiliates
Triple Diamond – recruit seven Double Diamond or higher ranked affiliates
Platinum – recruit ten Triple Diamond or higher ranked affiliates
Palladium – recruit fifteen Platinum or higher ranked affiliates
Direct Recruitment Commission
GCR affiliates are paid to recruit new GCR affiliates, with a flat-rate 5-10% commission paid out on initial affiliate membership fees paid:
Free GCR affiliates earn a 5% commission
Bronze or higher affiliates (anyone who pays a monthly fee) earn 10%
Bonus Recruitment Commission (Leadership Bonus)
In addition to the 5-10% direct recruitment commission paid out, GCR also offer up to 35% in additional bonuses.
These bonus commissions are paid out pro-rata to Diamond (20%), Double Diamond (10%) and Triple Diamond (5%) ranked affiliates.
If an affiliate ranked lower than Diamond recruits a new fee-paying affiliate, the system searches their upline for a Diamond or higher ranked affiliate.
If a Diamond affiliate is found, the system pays out a 20% bonus and continues to search for a Double or Triple Diamond affiliate.
If a Double Diamond is found, the system pays out 10% and looks higher for a Triple Diamond to pay the remaining 5% to.
If a Double Diamond is the first ranked affiliate found, they are paid 30% and the system searches for a Triple Diamond to pay the remaining 5% to.
If a Triple Diamond is the first ranked affiliate found, they are paid the full 35% bonus commission.
Matching Bonus
A 25% matching bonus is available on Leadership Bonus earnings, payable down four levels of recruitment (unilevel):
Gold – 25% match on level 1 (personally recruited affiliates)
Diamond – 25% match on levels 1 and 2
Double Diamond – 25% match on levels 1 to 3
Triple Diamond – 25% match on levels 1 to 4
Residual Commissions
Affiliate fees in GCR are monthly, with payment of fees each month attracting a residual commission.
Global Currency Reserve pay residual commissions via an expandable 2×15 matrix structure, similar to that used in the previous compensation plan.
A 2×15 matrix places an affiliate at the top of the matrix, with two positions directly under them (level 1):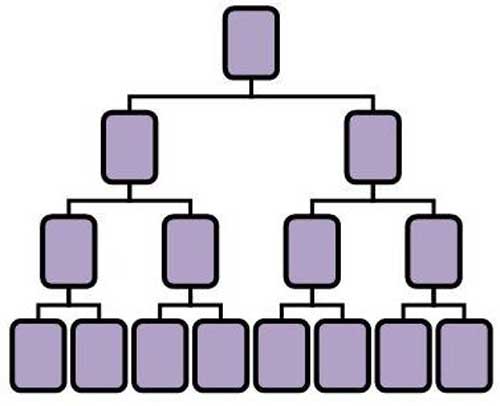 The second level of the matrix is generated by splitting each of the level 1 positions into two new positions, resulting in four positions on level 2.
Level 3 and subsequent levels of the matrix are generated in the same manner, with each level holding double the positions of the previous.
Capped at 15 levels, a 5% commission is paid on the monthly fees each affiliate in the matrix pays.
Note that how many levels of the matrix a GCR affiliate can earn on, is determined by their affiliate rank:
Bronze – 4 levels
Silver – 6 levels
Gold – 8 levels
Diamond – 10 levels
Double Diamond – 12 levels
Triple Diamond – 15 levels
Being an expandable matrix, a new position is created on level 1 each time all positions are filled down four levels in the previous level 1 positions.
Ie. Each 2×15 matrix starts with two positions on level 1, four positions on level 2, eight positions on level 3 and sixteen positions on level 4. Once all of those positions are filled, a new position is created on level 1.
Once four levels of that newly created position are filled, a new position is again created on level 1 and so on and so forth.
Executive Bonus
The Executive Bonus allows an appropriately ranked GCR affiliate to earn a cut of every newly recruited affiliate's first fees.
Platinum ranked affiliates earn a 2% bonus on all newly recruited affiliates in their downline, up to the first found Platinum ranked affiliate in any given leg
Palladium ranked affiliates earn a 2% bonus on all newly recruited affiliates in their downline, up to the first found Palladium ranked affiliate in any given leg
Joining Global Currency Reserve
Affiliate membership with Global Currency Reserve is available at six price-points:
Free – no cost but no MLM commissions
Bronze – $69.95 a month
Silver – $149.95 a month
Gold – $299.95 a month
Prospector – $999.95 a month
Claim Staker – $2999.95 a month
The primary difference between these memberships is income potential through the GCR compensation plan (see above).
Conclusion
I can't start this conclusion without noting that Global Coin Reserve was first launched a year ago in July 2014.
GCR Coin still hasn't launched, begging the question what exactly have affiliates been paying for this past year?
With nothing attached to the opportunity, that GCR have been operating a recruitment-driven pyramid scheme over the past year is blatantly obvious.
Now with GCR Coin purportedly on the horizon, one still has to ask what exactly are GCR affiliates paying for?
The affiliate membership packs discussed in this review are openly advertised on the Global Currency Reserve website (I proceeded to the "buy now" page but didn't have an affiliate referral link).
If I can hand over nearly three grand to GCR for GCR Coin mining, but the coin hasn't even launched yet, what on Earth am I paying for each month?
As to the status of the GCR Coin, an update sent out by Bob Wood on June 28th sheds some light on the matter:
The waiting is nerve racking for all of us.  We are so close to showing everyone the new coin.

It is running on the test servers and has been moved over to the production servers.  The engineers are finalizing all the IP addresses and port settings so we can load your new wallets with your existing coins and do more external security testing.

I am directing the efforts of 4 engineers and 2 of them are contractors.  I can only push them so hard.  I'm trying every creative thing I can think of to motivate them to finish quicker.

I feel like we are very very close, I have been working 16 hours a day, 7 days a week, but I can't announce an exact time yet.
The coin itself?
he first issue is with some people's expectations of the price of the GCR coin when it goes public and is tradeable for other crypocurrencies, which can then be traded for local fiat currencies.

I have heard many false rumors about the price of the GCR coin.

The GCR Coin will NOT open at $5 to $10+ dollars the first day on the market, and it will not reach the price of bitcoin anytime in the near future.

Bitcoin has taken 6 years to establish it's (sic) current price and in the process of doing so has already experienced 4 big crashes.

GCR is NOT a get rich quick scheme.  You will NOT become a millionaire on the public opening day.

There is a real opportunity, but it is in the long-term value building that we will be doing by following sound business principles of creating buyer demand by giving people a good reason to buy and use our currency.

Buyer demand is the only thing that will increase the price.  And buyers will only buy if they receive a benefit from doing so and if they have confidence in the management to continue to build real value into the future.
The two takeaways from Wood's comment above is that GCR Coin will only be exchangeable for "other cryptocurrencies", and the acknowledgement that "buyers (of GCR Coin) will only buy if they receive a benefit from doing so".
The first point is important because it means GCR Coin will not be sellable for cash. Yet through the GCR MLM opportunity, affiliates are handing over cash to mine the coin – with the end result being a specific number of coins purchased from month to month.
Real money goes into GCR for GCR Coin mining, but only comes out the other end by way of recruitment commissions and monthly fee payments – both of which have nothing to do with the value, perceived or otherwise, of GCR Coin.
Furthermore, with a large chunk of affiliate fees being paid out as recruitment commissions and no pegged dollar amount (GCR Coin cannot directly be exchanged for cash), how exactly is GCR Coin going to be exchanged for other cryptocurrencies?
Who on Earth is going to trade a cryptocurrency with a tradeable dollar value for GCR Coins???
The handing over of affiliate fees for GCR Mining is problematic in itself, due to the increasing time required to mine cryptocurrencies over time.
Simply put, GCR Coin start up their script and over time more and more computing power is required to generate (mine) coins.
Yet GCR Coin's affiliate membership tiers offer a fixed mining capacity each month (up to 12 million hashes a second at the Claim Staker level).
Practically speaking, I pay $2999.95 a month for my coins this month, and in six months time the same $2999.95 is going to see me receive less coins. And that's only going to get worse over time.
Meanwhile I can't buy the coins elsewhere, with affiliates only able to sell them for various other crypto currencies.
And should non-affiliates be able to one day purchase GCR Coins, what will that mean for GCR Coin's affiliate mining?
Seeing as the mining constitute affiliate fees and the entire GCR Coin MLM business opportunity, If I can all of sudden buy GCR Coins cheaper than what's being mined each month through GCR, what happens to the opportunity?
I noted the mention of Thompson Burton in Global Currency Reserve's official business presentation. We reached out to the firm and were told by Kevin Thompson:
I have recently been re-engaged by the GCR team two weeks ago. Due to the attorney-client privilege, I'm not able to share any of my opinions about their program.

I do not endorse them, which is a consistent approach I take with all of my other clients.

As I've made clear on my site, people should not view my representation of a client as an endorsement. With all of that being said,

I'm hopeful that once the GCR coin is open-sourced, other mining services will spring up and create a competitive environment for mining services.
Personally I didn't see any mention of GCR Coin being open-source or talk of non-GCR mining services being offered in my own research.
The second takeaway from Wood's update above was "buyers will only buy if they receive a benefit from doing so".
This is important from a securities standpoint, as affiliates are dumping a fixed amount of money into GCR each month, on the expectation of a greater than 100% ROI paid out via GCR Coins, or "benefit" as Wood puts it.
Real affiliate funds enter the scheme, and through the efforts of others (mining), a ROI is realized. Whether or not GCR Coin ultimately crashes or not is irrelevant, as this is what is being marketed to prospective Global Currency Reserve affiliates today.
Nowhere on the Global Currency Reserve website, nor in their business presentation or compensation plan documentation does the company acknowledge having registered themselves with SEC.
Personally I think it's pretty clear-cut that the mining packages (affiliate fees) Global Currency Reserve are offering constitute a securities offering.
Moving onto the finer points of the GCR compensation plan, the first glaring issue is the lack of retail. Nothing is being marketed to or sold to retail customers.
Previously the "wealth building tools" were available, but let's face it – some token $20 or so is going to be absolutely dwarfed by the money deposited via affiliate packages.
As such chain recruitment is entirely possible within GCR, with Global Currency Reserve affiliates signing up, paying an ongoing monthly fee and then setting about recruiting others who do the same.
Then there's the clear-cut examples of "pay to play that exist within the plan itself. Not only can affiliate ranks be purchased, but also how much an affiliate spends each month directly impacts their income potential (matrix levels and the matching bonus).
As it stands the only value pegged to the GCR Coin (which doesn't exist yet), is the ongoing recruitment of Global Currency Reserve affiliates and their continued monthly payments.
This money is converted into GCR Coin points, which are then supposed to be tradeable for other cryptocurrencies – but not actual cash.
Throw in pay to play and recruitment commissions… and I don't see any of this ending well.