Global Coin Reserve Review: Old matrix schemes updated

Global Coin Reserve launched in mid 2014 and claim to be located in the US state of Texas.
The company operates in the crypto-currency MLM niche, and is headed up by CEO Robert Corriveau.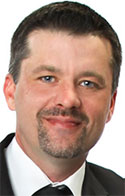 Corriveau (right) seems to have been involved in the MLM industry for a number of years. Back in 2010 he launched an affiliate recruiting platform called "3Locity MAX":
With most MLM compensation plans – in order to make it to the top, they require you to enroll a significant amount of personal recruits in order to make any type of significant income.

With the 3Locity MAX revolutionary computer software program you will end up with multiple personal sponsorships from enrolling ONLY 3 people. The system propels you into 3 revenue streams over the course of your first 30, 60 and 90 days.

MLM Insiders searches the globe – and researches a variety of MLM, direct sales and affiliate marketing programs to find compensation plans that produce the biggest returns – the FASTEST. The group only works with programs that are designed for the masses that will payout FAST.

"In order to have rapid duplication, the average person has to make money within their first 30 days" stated Robert Corriveau.

"What propels this industry into momentum the fastest is when people are making money. It's that simple.

So what we do is find programs that pay people the most amount of money for the least amount of start-up costs and the least amount of recruiting.

What makes our new program so unique is that from a low ONE-TIME out of pocket start-up cost – marketers can now experience the benefits of 3 streams of income FAST.

3Locity MAX will break sales records and income records like you've never seen before".
3Locity Max appears to have been a downline builder (feeder) for various recruitment-driven schemes Corriveau was in (there's no mention of retail anywhere in the marketing copy used to advertise 3Locity MAX).
When exactly 3Locity MAX was shutdown is unclear, however the software is no longer for sale.
In early 2011, presumably after 3Locity MAX imploded, Corriveau went on to launch his own recruitment scheme, Fortune 2×2.
Fortune 2×2 saw affiliates receive commissions for recruiting new affiliates into a series of 2×1 and 2×2 matrices. It flopped shortly after launch and was quickly relaunched under the new name FortuneDWB.
Responding to criticism of Fortune 2×2 and Fortune DWB on the RealScam Forum, Corriveau wrote:
My name is Robert Corriveau, CEO of FortuneDWB, and I would like to reply to all the comments on this thread. First and foremost FortuneDWB is NOT A SCAM.

Now, normally I would just overlook all this because it is based on nothing more than someone having too much time on their hands and think they know everything, when in fact, they know nothing.

I know and feel that FortuneDWB is going to be a great company where many lives can be changed for the better and that through FortuneDWB we are going to be able to help thousands of people around the world better their lives with the charities we are working with.

That is all I can say because I'm sure the people that adversely have way too much time on their hands will just see this as a plug to take a better look at FortuneDWB.

Robert Corriveau
CEO/FortuneDWB.
I've only quoted an excerpt of Corriveau's reply above, however at no point did he address the recruitment-driven nature of both his company's compensation plans.
By mid-2011 FortuneDWB had collapsed.
Corriveau then went on to launch Moringo Organics in 2012. I haven't reviewed the company in detail but at a glance (mymoringo.com) it appears Moringo Organics might be legitimate. A refreshing change at least from Corriveau's previous matrix schemes.
Unfortunately website traffic analysis reveals Moringo Organics to be in decline, or possibly stalled. This is likely what has prompted the launch of Global Coin Reserve.
Read on for a full review of the Global Coin Reserve MLM business opportunity.
The Global Coin Reserve Product Line
Global Coin Reserve bill themselves as 'the simple way to get started in the crypto-currency industry'.
A non-affiliate membership option is sold for $29.95 a month, which includes access to "Wealth Builder Tools":
– Maximize Tax Deductions With Our Estimator Tool
– All Your Home Business Expenses
– Reduce Your Personal And Business Debt
– Repair Your Credit Regardless Of Condition
– Also Includes A Full Financial Education Library
No further information is provided.
Affiliate membership is also priced at $29.95 a month and provides access to the same tools, indicating that the non-affiliate membership is offered only for the purposes of pseudo-compliance.
The Global Coin Reserve Compensation Plan
The Global Coin Reserve compensation plan revolves around the recruitment of new affiliates and their ongoing payment of monthly fees.Commissions are paid out directly on recruitment, with a monthly residual commission paid out via a matrix.
Global Coin Reserve Affiliate Membership Ranks
There are five affiliate membership ranks within the Global Coin Reserve compensation plan.
Along with their respective qualification criteria, they are as follows:
Diamond – recruit 2 Gold affiliates
Double Diamond – recruit 5 Diamond ranked affiliates
Triple Diamond – recruit 7 Double Diamond ranked affiliates
Platinum – recruit 10 Triple Diamond ranked affiliates
Palladium – recruit 15 Platinum ranked affiliates
Recruitment Commissions
Recruitment commissions are paid out to Diamond and higher ranked affiliates.
The maximum commission paid out on the recruitment of a new Global Coin Reserve affiliate is 35% of the membership fee paid.
This is split as follows:
Diamond – 20%
Double Diamond – 10%
Triple Diamond – 5%
The commission is paid out to the first Diamond or higher ranked affiliate found in the immediate upline of the newly recruited affiliate.
A Diamond ranked affiliate, for example, would be paid 20% of the membership fee paid. 15% would remain so the system would continue to search the upline for either a Double or Triple Diamond ranked affiliate.
If a Double Diamond was found 10% would be paid out and the system would then search higher for a Triple Diamond to pay the remaining 5% out to. If a Triple Diamond was found, they would receive the entire 15% remaining.
If a Triple Diamond is the first affiliate to be found in the upline, they receive the full 35% recruitment commission.
Matrix Commissions
Residual membership fee commissions are paid out using a 2×15 matrix.
A 2×15 matrix places an affiliate at the top of a matrix with two positions directly under them (level 1):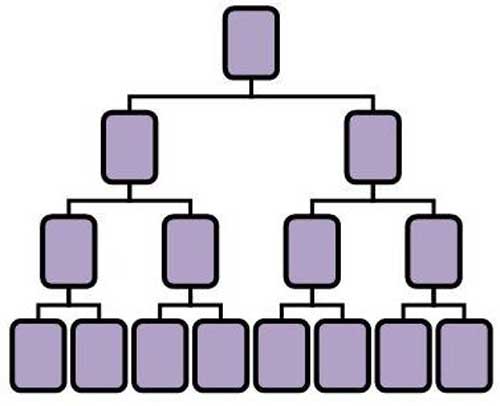 In turn, these two positions branch out into another two positions each (level 2) and so on and so forth down a total of fifteen levels.
Commissions are paid out at a rate of 5% of the monthly fees charged all Global Coin Reserve affiliates.
How many levels an affiliate can in their matrix depends on how much they are paying in monthly fees and/or how many affiliates they have personally recruited:
Affiliate – 2 levels
Bronze – 4 levels
Silver – 6 levels
Gold – 8 levels
Diamond – 10 levels
Double Diamond – 12 levels
Triple Diamond – 15 levels
Matching Bonus
Global Coin Reserve affiliates are able to earn a 25% matching bonus on commissions paid to their downline.
The match is available on up to four levels of recruitment, with how many levels the bonus is paid out on determined by how much an affiliate pays in fees and/or how many affiliates they have recruited:
Gold – 25 match on one level
Diamond – 25% match on two levels
Double Diamond – 25% match on three levels
Triple Diamond – 25% match on four levels
Executive Bonuses
Executive Bonuses are made available to Platinum and Palladium ranked affiliates, allowing them to earn an additional percentage of the membership fees newly recruited affiliates pay anywhere in their downline.
A Platinum affiliate earns 2% on the fees paid by any newly recruited affiliates, paid out till another Platinum ranked affiliate is found in their downline.
A Palladium affiliate earns an additional 2% in the same manner, until another Palladium ranked affiliate is found in their downline.
Any overlap between the two bonuses is paid out at a rate of 4%.
5% Performance Pool
A 5% Performance Pool is mentioned in the Global Coin Reserve compensation plan, however no specifics are provided.
Special Performance Bonuses will be provided with varying qualifications.

Recognizing personal and team performance is an essential part of the culture of Global Coin Reserve.

Our Performance Pool allows the freedom to refine the qualifications to meet the needs of the field.
It would appear that at the time of publication of this review, that the Global Coin Reserve compensation plan has not been completed.
Joining Global Coin Reserve
Basic affiliate membership to Global Coin Reserve is $29.95 a month.
Additional affiliate membership options are also offered:
Bronze – $69.95 a month
Silver – $149.95 a month
Gold – $299.95 a month
Note that an affiliate can advance from regular affiliate membership to Bronze by recruiting two affiliates (I believe they continue to pay $29.95 a month).
Conclusion
Like every crypto-currency MLM before it, the MLM side of the opportunity has nothing to do with the currency.
In this case Global Coin Reserve advertise they are running some script, and that
By starting with us today… YOU will be one of the first to mine our new coin at the LOWEST RATES giving YOU the biggest chance for a HUGE return.
In reality, the success or failure of Global Coin Reserve's crypto-currency has no bearing on the commissions paid out via the compensation plan.
Instead, all we have here is a rehash of Robert Corriveau's previous matrix-based MLM opportunities.
The "retail" membership option appears to be a token joke, given that the entry-level affiliate membership costs the same and provides the access to the same "Wealth Builder Tools".
This is reflected in the lack of specifics about the tools access is provided to, raising the question of just who exactly is going to be paying Global Coin Reserve $29.95 a month to access them – without the attached recruitment scheme.
Affiliates buy into Global Coin Reserve with how much they spend directly affecting their income potential (matrix levels). This adds an additional "pay to play" element to the scheme.
After paying their buy-in fee, affiliates are then directly compensated based on the number of affiliates they recruit and the recruitment efforts of their downline.
All commissions are paid out via affiliate membership fees, with the crypto-currency mining being neither here nor there. $29.95 non-affiliate fees are also paid out on, but the likelihood of this revenue being anywhere close to that of the affiliate revenue coming in is extremely unlikely.
Progression through Global Coin Reserve's affiliate rank also solely depends on how much an affiliate pays each month and how many affiliate's they recruited at the upper tiers.
As such, Global Coin Reserve sits squarely in pyramid scheme territory, with the company's compensation plan perfectly explaining why it was launched:
Global Coin Reserve was conceived as a result of the Crypto Currency boom.
The typical ebook libraries matrix schemes are attached to are a thing of the past. So why not attach the same scheme to crypto-currencies.
Didn't you hear? There's evidently a boom currently going on.
Be it Global Coin Reserve's own crypto-currency or the more commonly substituted BitCoin, unfortunately the premise of converting actual funds into virtual currencies does not translate over into products being sold to retail customers.
Like the companies before it, Global Coin Reserve is just another "me-too" attempt to board the crypto-currency train.
As with all pyramid schemes, once recruitment slows down those affiliates at the bottom of the scheme will stop paying their monthly membership fees. When that happens, those above them will find their commissions have dried up and they too will then stop paying their fees.
This effect trickles up the company-wide matrix until an irreversible collapse is triggered. Kaboom.