Zazzed Review: $199.95 recruitment scheme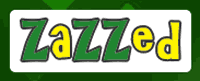 Ownership of Zazzed based on the information publicly available is a little uncertain. Operations wise Zazzed provide an address in the US state of Wyoming.
On the company's website Jim Lynch is listed as an "advisor" to the company and credited as the CEO and owner of "Green Fuel Tabs LLC". Green Fuel Tabs LLC appear to be an independent company marketing green fuel tabs, along with its own affiliate program (non-MLM).
The nature of the relationship between Zazzed and Green Fuel Tabs is unclear, however they both appear to market the same product.
The other executive management position disclosed by Zazzed on their website is Robert Wood (also known as Bob Wood), who holds the position of Chief Technical Officer.
Wood launched CloudZow early last year, marketing online "cloud" storage services. CloudZow still appear to be in business with it being unclear whether or not Wood's position in Zazzed will have any effect on CloudZow's operations.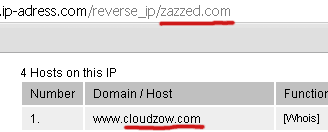 The Zazzed website is currently hosted on the same server as CloudZow (image right).
Finally a "Dr Bob Moore" is listed as the owner of the Zazzed website domain ("zazzed.com"). An address in the US state of Georgia is also provided, differing from the corporate address provided on the Zazzed website.
Bob Moore's name does not currently appear anywhere on the Zazzed website, however in information that has since been removed from the website he was credited as being Zazzed's Chief Marketing Officer:

Why this information was removed, along with who is actually running and owns Zazzed is not clear.
Read on for a full review of the Zazzed MLM business opportunity.
The Zazzed Product Line
Zazzed market "green fuel tabs" that the company claims
help(s) your fuel to burn more efficiently and completely. Because more of your fuel is burning, you get better gas mileage and less of it gets wasted as harmful emissions.

This is why you can get up to 20% better mileage, and up to a 50% decrease in your car's emissions and pollution.

Green Fuel Tabs is a natural process that cleans the gunky deposits out of your combustion chamber and engine, allowing it to burn more efficiently and more completely, and with less friction and heat. This results in better gas mileage, more power, lower emissions, and a cleaner running engine.
Zazzed state that 15 tabs of Green Fuel Tabs ($39.95) will treat "200 gallons" of fuel.
The Green Fuel Tabs product does not appear to be available at a retail level, with Zazzed instead only choosing to bundle it with affiliate membership to the company.
The Zazzed Compensation Plan
The Zazzed compensation plan primarily revolves around the recruitment of new affiliates and the payment of $39.95 in monthly autoship.
Recruitment Commissions
For ever Diamond affiliate recruited, Zazzed affiliates earn a $100 commission.
Note that in order to qualify for Zazzed's recruitment commissions, a Zazzed affiliate must be a Diamond affiliate ($199.95) themselves.
Residual Commissions
Residual commissions in Zazzed are paid out using a binary compensation structure.
A binary compensation structure places an affiliate at the top of the structure, with two legs branching out directly under them: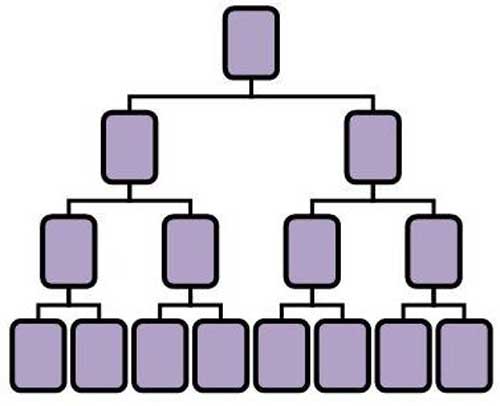 These two legs form the basis of two "teams", a left and right team. As new affiliates are recruited into an affiliate's downline, these binary teams grow and generate sales volume via membership fees  and monthly autoship (25 volume points per autoship).
Each month, the volume of the two binary teams is compared and Zazzed pay out 15% of the sales volume generated by an affiliate's weaker leg.
Note that binary earnings are capped weekly, with how much can be earnt dependant on a Zazzed affiliate's membership rank:
Diamond (recruit 2 affiliates) – $2000
Double Diamond (recruit 3 affiliates) – $3000
Triple Diamond (recruit 6 affiliates) – $6000
Blue Diamond (recruit 9 affiliates) – $9000
Presidential Diamond (recruit 12 affiliates) – $20,000
Presidential Ambassador (recruit 20 affiliates) – $50,000
Matching Bonus
A Matching Bonus on binary commissions is offered down four levels of recruitment, starting off at the Double Diamond affiliate membership rank:
Double Diamond – 25% on level 1
Triple Diamond – 25% on levels 1 and 2
Blue Diamond – 25% on levels 1 to 3
Presidential Diamond and Presidential Ambassador – 25% on levels 1 to 4
Leadership Bonuses
Various Leadership Bonuses are offered to Zazzed affiliates as follows:
Dream Getaway Vacation – maintain Blue Diamond affiliate membership rank for three consecutive months
Luxury Car Bonus ($600 a month) – recruit 10 affiliates with at least 5 earning $2000 a month for 2 consecutive months
Luxury Home, Aircraft or Yacth Bonus ($2500 a month) – recruit 20 affiliates with at least 5 earning $2000 a month for two consecutive months
Joining Zazzed
Affiliate membership to Zazzed is available in two options:
Gold ($39.95 + $39.95 a month) – no recruitment or matching bonuses and $2000 weekly binary earnings cap
Diamond ($199.95 + $39.95 a month) – all commissions and bonuses
Note that an additional $5 per month is payable for shipping on the mandatory autoship order.
Conclusion
Whilst the exact ownership structure of Zazzed is not clear, there's quite obviously a relationship between Zazzed "Advisor" Jim Lynch's Green Fuel Tabs LLC company and Zazzed.
For starters the product being marketed is identical and the marketing copy that appears on both sites is identical.
Here's Zazzed's "How it works" page: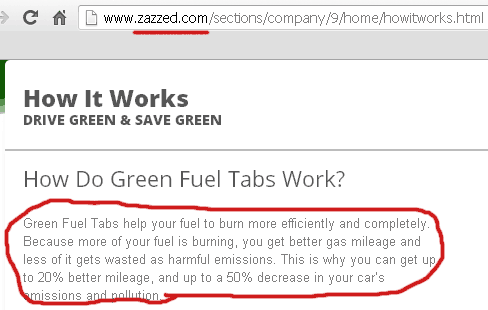 And the same spiel over at Green Fuel Tabs LLC's website:
Putting two and two together it would appear that Zazzed is an attempt to broaden Green Fuel Tabs LLC's marketing efforts into MLM, without actually acknowledging it publicly.
One reason for the lack of acknowledgement is found in Green Fuel Tabs LLC's affiliate agreement, which states
You are welcome to promote your own web sites, but naturally any promotion that mentions the Greenfueltabs.com web site, could be perceived by the public or the press as a joint effort.

No matter what, you must always clearly represent yourself and your web sites as independent from Green Fuel Tabs, LLC.
Moving onto the Zazzed business model and compensation plan, the biggest red flag is evident in the commission paid out on the recruitment of new Diamond affiliates.
Affiliates qualify for this commission by paying to be a Diamond affiliate themselves, and are solely paid on the recruitment of new Diamond affiliates. This part of the compensation plan can be isolated and concentrated on, thus enabling the Zazzed business opportunity to be run as a pyramid scheme (paying commissions on the recruitment of new members, paid out of the membership fees new members pay).
Other red flags include the complete lack of retail sales to customers and mandatory autoship (affiliates cannot earn commissions unless they pay their monthly autoship fees).
Ignoring the lack of retail sales, it could be argued that outside of the initial membership fees paid (of which half is paid to the recruiting affiliate), that affiliates are paid a commission on the sale of a product.
Whilst this might be true the intention behind the purchase comes into play, that being affiliate's don't qualify for commissions without paying this monthly autoship fee. Thus the question of whether or not affiliates are purchasing the product for the product itself or to qualify themselves for commissions is raised.
I can't speak for the rest of Zazzed's named corporate executives but Robert Wood certainly seems to have taken a step back with his involvement with Zazzed. Coming off the launch of CloudZow, which had a retail offering and didn't pay recruitment commissions, and considering his self-touted 'twenty-five years experience with over fifty corporations', Wood should definitely know better.