OneCoin literally a relaunch of the BigCoin Ponzi scheme

A few weeks ago we ran a story examining the murky origins of OneCoin.
Billed as a new MLM cryptocurrency lead by Ruja Ignatova, who claims she has no MLM past, we published an abundance of evidence suggesting otherwise.
Through further research and the investigative efforts of BehindMLM reader OzDelphi, we can now provide you absolute confirmation that OneCoin was a simple relaunch of the BigCoin Ponzi scheme before it.
A document obtained by OzDelphi from the Gibraltar Companies House reveals that, on September 1st, 2014, the corporation "CoolsDAQ Limited" changed its name to "OneCoin Limited".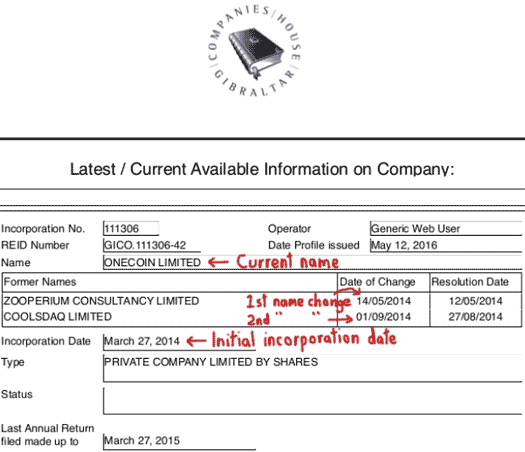 OneCoin Limited is the umbrella company OneCoin operate from. The corporation is registered in Gibraltar through AMS Company Management.
Through Prosper Ltd, CoolsDAQ was the inhouse exchange developed by Ruja Ignatova and Sebastian Greenwood for BigCoin.
Interestingly enough, OneCoin Limited in Gibraltar has one shareholder, OneCoin Limited in Dubai.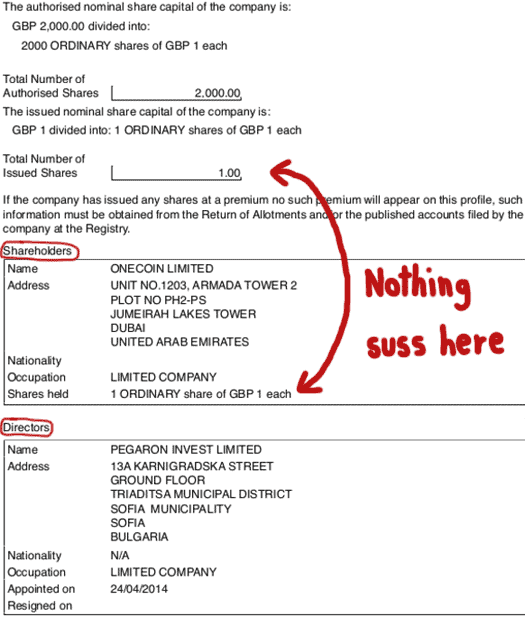 The sole Director listed for OneCoin Limited is Pegaron Invest Limited, based out of Sofia, Bulgaria.
A few weeks ago the Bulgarian media publication Capital linked Pegaron Invest Limited to Ruja Ignatova and her mother, Veska Ignatov.
Ruja Ignatova was listed as sole shareholder of the offshore company and the Director was Pegaron Invest, a Bulgarian company that up to 2012 is managed by Ignatova, and after that by her mother Veska – both bearing German passports.
Back in March it was reported Ignatova is laundering OneCoin funds through various shell companies set up in her mother's name.
No doubt you've also noticed that CoolsDAQ Limited initially started out as Zooperium Consultancy Limited.
Timeline wise, you have Zooperium Consultancy Limited incorporated on March 27th, 2014.
Two months later on May 15th, the company changed its name to CoolsDAQ Limited. Four months later CoolsDAQ Limited was renamed OneCoin Limited.
This co-incides with the collapse of BigCoin and BNA, which prompted Greenwood and Ignatova to abandon BigCoin altogether.
Having developed the inhouse exchange used to issue BigCoin Ponzi points, repurposing the technology to form the basis of OneCoin was elementary.
Going back even further than March 27th, 2014, we learn that Zooperium Consultancy Limited itself was the rebranding of Greenwood's failed Loopium platform.
For those unfamiliar with it, Greenwood describes Loopium on his LinkedIn profile as
an innovative new way of receiving and sending money globally.

E-money licensed by Wave Crest Holdings. Loopium attracts account holders who are in need of alternative banking methods that provide the ease of funds 24/7/365 days per year.
Greenwood abandoned the project when he got caught up in the BigCoin Ponzi scheme.
Zooperium Consultancy Service a replacement for Loopium was registered by Ruja Ignatova (27-Mar-2014) less than 2 weeks prior to the liquidation of Loopium (08-Apr-2014).

It is of course in Gibraltar with the same virtual address as OneCoin, Loopium, Zooperium, and every other shell company she makes to funnel money.
When BigCoin collapsed in mid-2014, Greenwood and Ignatova gutted the company backend and relaunched it as OneCoin (incorporated as OneCoin Limited) a few months later.
The Zooperium Consultancy Limited incorporation timeline reflects this, doubling as proof OneCoin was little more than the next generation of a failed 2013 Ponzi scheme.
Like BigCoin before it, once newly invested funds dry up, OneCoin will also collapse.
Whether authorities will be able to trace and recover funds through OneCoin's deep network of shell companies, remains to be seen.