FutureNet Review: $1685 six tier matrix cycler

There is no information on the FutureNet website indicating who owns or runs the business.
If one clicks the "company" link at the footer of the homepage, details for "FutureNet Inc." appear:
Futurenet Inc.
TRUST COMPANY COMPLEX
AJELTAKE ROAD
AJELTAKE ISLAND
MAJURO
MARSHALL ISLAND
MH 96960
A Google search reveals multiple businesses using this address, indicating that FutureNet exists in the Marshall Islands in name only.
The FutureNet domain was registered on the 25th of September 2014, but only lists FutureNet Inc. with the same Marshall Islands address as the owner.
Promotional screenshots of the FutureNet backoffice reveal the appearance of "Thorsten Albers":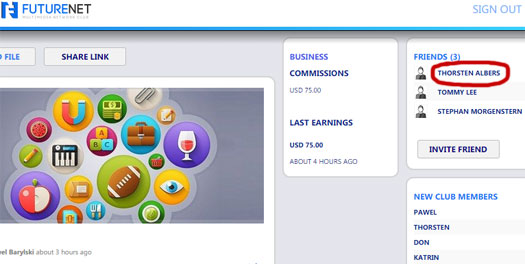 Albers last popped up on my radar as the owner and CEO of Falkito.
Falkito was a failed MLM penny auction that launched in the shadow of Zeek Rewards, an $850 million Ponzi scheme.
After lengthy delays, Falkito eventually launched only to flop. Today the business is no longer active.
Whether Albers is involved in FutureNet as an affiliate or owner/management is unclear.
Update 3rd April 2016 – Promotion for FutureNet appears to have ramped up recently, with affiliate marketing material naming Roman Ziemian and Stephan Morgenstern as owners of the company.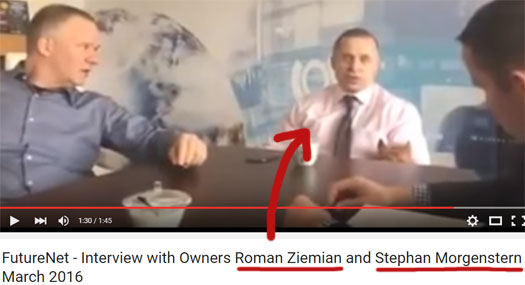 Ziemian identifies himself as CEO and Founder of FutureNet on his Facebook profile. Both Ziemian and Morgenstern are based out of Poland.
Prior to FutureNet, Ziemian and Morgenstern were involved in OneLine Online.
OneLine Online was a share-based Ponzi scheme launched in early 2014. Ziemian served as Chief Operations Officer and Morgenstern as an investor.
It is assumed Ziemian and Morgenstern's time at OneLine Online formed the inspiration behind FutureNet.
Prior to Ponzi scamming Ziemian was an affiliate with LEO, a personal development based recruitment scheme.
Morgenstern was also a LEO affiliate. Before that he was an affiliate with Organo Gold (ganoderma coffee) and World Ventures (travel-based recruitment scheme). /end update
Read on for a full review of the FutureNet MLM business opportunity.
The FutureNet Product Line
No specifics about FutureNet's product line are provided on the website.
Movies, ebooks, tutorials, e-learning and games are all mentioned in the FutureNet product section, however if one clicks on any of these categories the company redirects to a magazine link.
Visitors cannot view said magazine unless they hand over email contact details to FutureNet.
The FutureNet Compensation Plan
The FutureNet compensation plan uses a unilevel and matrix compensation structure to pay commissions based on the recruitment of new affiliates.
Unilevel Commissions
Residual commissions in FutureNet are paid out using a unilevel compensation structure.
A unilevel compensation structure places an affiliate at the top of a unilevel team, with every personally recruited affiliate places directly under them (level 1):

If any of these level 1 affiliates go on to recruit new affiliates of their own, they are placed on level 2 of the original affiliate's unilevel team.
If any level 2 affiliates recruit new affiliates, they are placed on level 3 and so on and so forth down a theoretical infinite number of levels.
FutureNet pay out commissions starting at level 6, subject to the following affiliate recruitment criteria:
recruit 6 affiliates – 2% on level 6
recruit 7 affiliates – 2% on level 6 and 3% on level 7
recruit 8 affiliates – 2% on level 6, 3% on level 7 and 4% on level 8
recruit 9 affiliates – 2% on level 6, 3% on level 7, 4% on level 8 and 5% on level 9
recruit 10 affiliates – 2% on level 6, 3% on level 7, 4% on level 8, 5% on level 9 and 6% on level 10
Matrix Commissions
Matrix commissions in FutureNet use a 3×5 matrix compensation structure.
A 3×5 matrix places an affiliate at the top of a 3×5 matrix, with three positions directly under them (level 1).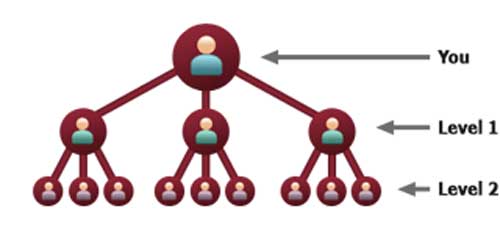 Commissions are paid out as a percentage of the fees paid by affiliates purchasing positions in the matrix:
levels 1 and 2 – 5%
levels 3 and 4 – 10%
level 5 – 15%
There are five matrices a FutureNet affiliate can purchase positions in:
Tier 1 – $10
Tier 2 – $25
Tier 3 – $50
Tier 4 – $100
Tier 5 – $500
Tier 6 – $1000
Additional matrix positions are granted based on the commission payouts on levels three to five of a matrix.
Once an affiliate has generated the required amount to purchase a new position on any of these levels, they are awarded a new matrix position at that particular level.
Eg. Once $100 has been generated between levels 3 to 5 of a Tier 4 matrix, they receive a position in a new Tier 4 matrix.
After this initial position has been created that all subsequent matrix commissions on levels 3 to 5 are paid to the affiliate as a commission.
Matching Bonus
A FutureNet affiliate can earn a matching bonus on matrix earnings of their personally recruited affiliates.
The Matching Bonus is paid out as a percentage of these earnings, with how much of a percentage paid out determined by a FutureNet affiliate's personal recruiting efforts:
recruit 1 affiliate – 20%
recruit 3 affiliates – 40%
recruit 5 affiliates – 60%
recruit 6 affiliates – 80%
recruit 8 affiliates – 100%
Joining FutureNet
Affiliate membership with FutureNet costs between $35 to $1685.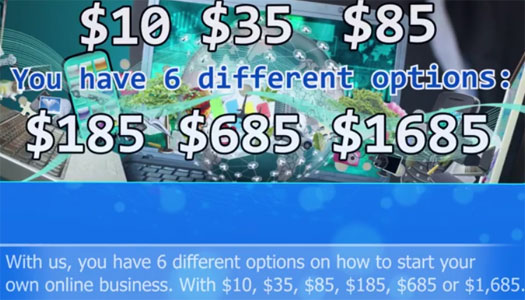 This is a combination of purchasing positions in the six matrices in FutureNet's compensation plan:
Tier 1 – $10
Tier 2 – $25
Tier 3 – $50
Tier 4 – $100
Tier 5 – $500
Tier 6 – $1000
Conclusion
With no retail offering and commissions dependant on affiliates purchasing positions in a matrix, FutureNet fits the definition of a recruitment-driven pyramid scheme.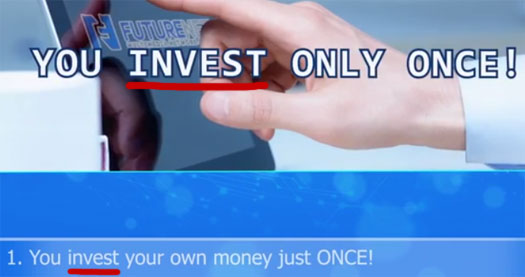 Affiliate sign up for between $35 (a matrix position in tiers 1 and 2) to $1685 (a position in each tier), and then set about recruiting others who do the same.

The products listed on the FutureNet website are bundled with affiliate membership and are irrelevant to the compensation plan. Revenue is only generated and commissions paid out when affiliates purchase matrix positions.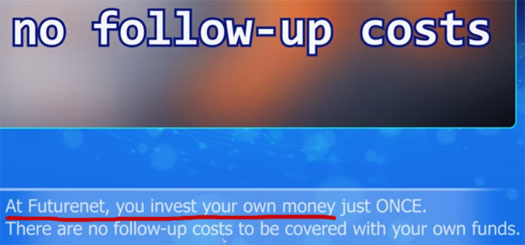 As with all pyramid schemes, once affiliate recruitment slows down the matrices will collectively begin to stall. Once enough matrices stall (they are all within a company wide matrix themselves), FutureNet will suffer an irreversible collapse.
When that happens, any money trapped in the system is there for the admin's taking.