5000 Families Review: Faith Sloan returns to scam roots?

There is no information on the 5000 Families website indicating who owns or runs the business.
The 5000 Families website domain ("5000families.com") was registered on the 2nd of April 2016, however the domain registration is set to private.
A few days ago BehindMLM reader "Me" left a comment suggesting Faith Sloan was behind the opportunity.
FYI Faith Hijacked that program with her tech skills. She is running it herself. ELC and 100k aka 5000families is in faith's hands alone.
In an attempt to verify this information, my first port of call was the 100K Race website.
For those unfamiliar with the scheme, 100K Race was a cash gifting scheme launched by Elite Legacy Creators last month.
As at the time of publication, the 100K Race website was offline.
On YouTube, Sloan can be observed promoting 5000 Families, with one video in particular referencing it as "presented by 100K Race":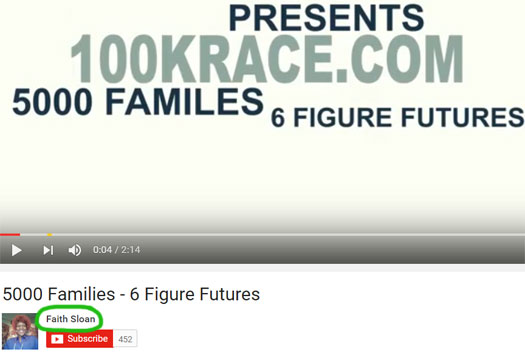 Of note is Sloan's provided link to 5000 Families in the description of her YouTube video does not contain a referral link.
This is typical of an admin promoting an opportunity, as they capture new recruits who sign up without a referral link by default.
Sloan also appeared on an official 5000 Families webinar yesterday, in which she repeatedly refers to the opportunity in the possessive.
That said this isn't definitive proof Sloan is running 5000 Families. Pending further information being made available however, for now it certainly seems so.
Read on for a full review of the 5000 Families MLM opportunity.
The 5000 Families Product Line
5000 Families has no retailable products or services, with affiliates only able to market 5000 Families affiliate membership itself.
The 5000 Families Compensation Plan
The 5000 Families compensation plan sees affiliates gift $10 to $640 eachother, with payments tracked through a 4×4 matrix.
A 4×4 matrix places an affiliate at the top of the matrix, with four positions directly under them: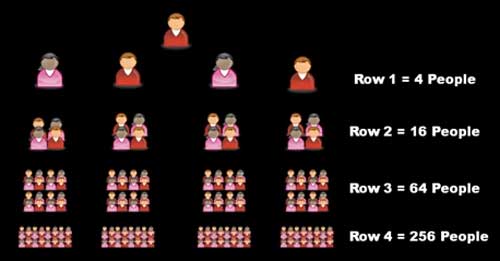 These initial four positions form the first level of the matrix, with the second level generated by splitting each of the four first level positions into another four positions each (16 positions).
The third level is generated by splitting the sixteen level 2 positions (64), and again to make up the fourth and final level of the matrix (256 positions).
A complete 4×4 matrix houses 340 positions.
When a 5000 Families affiliate signs up, they must pay a $10 participation fee. This fee qualifies them to receive $10 from four subsequently recruited affiliates placed on the first level of their matrix.
Unlocking level 2 of the matrix requires a $40 payment, which again qualifies an affiliate to receive $40 gifting payments from sixteen affiliates placed in the second level of their matrix.
Fees and payments made on the third and fourth levels of the matrix are as follows:
level 3 (requires $160 payment) – receive $160 payments from up to 64 affiliates
level 4 (requires $640 payment) – receive $640 payments from up to 256 affiliates
Joining 5000 Families
Affiliate membership with 5000 Families is tied to the purchase of at least one $10 matrix position.
Conclusion
From the 5000 Families website:
All the funds are distributed between the resellers themselves.

Resellers transfer funds directly to one another without a middle man.

The 5000 FAMILIES system only manages the process.
Affiliates paying affiliates in MLM is otherwise known as a cash gifting scheme.
You sign up and pay a participation fee, which qualifies you to receive gifting payments from subsequently recruited affiliates.
100K Race was a similar cash gifting scheme, also launched under the Elite Legacy Creators brand. It's collapse after a few short weeks is revealing.
If Faith Sloan is indeed behind 5000 Families (and by proxy Elite Legacy Creators), it's a strong candidate for regulatory attention.
For her part in stealing over $700,000 from victims of the TelexFree Ponzi scheme, Sloan is under a preliminary injunction that prohibits her from engaging in fraud.
Running and/or participating in cash gifting schemes would very much be in violation of the injunction.
As per a filing earlier this month, Sloan appears to be cash-strapped. Desperate times call for desperate measures?
By placing herself at the top of the 5000 Families gifting scheme, Sloan stands to keep the majority of funds paid into the scheme.
For her to make that money, mathematically the majority of participants in 5000 Families have to lose out.
As with all cash gifting schemes, this occurs when recruitment of new participants slows down. Recruitment slowing starves a cash gifting scheme of incoming funds, which means existing aren't going to be upgrading their matrix levels.
In a short time money throughout the scheme comes to a stand-still, before it collapses altogether.
100K Race lasted a few weeks, with 5000 Families set to follow suit.
That's if the SEC don't step in and shut it down sooner…