Wiseling collapses, withdrawals stopped a week ago

On February 15th Wiseling stopped honoring affiliate withdrawal requests.
Rather than immediately report on Wiseling's collapse, I thought I'l let this one play out for a bit.
The day after Wiseling stopped paying withdrawals, the actor playing CEO Matias Lappo announced a 20% bonus on new investment.
This alone set off alarm bells, but of course by then it was too late.
The announcement promised withdrawal functionality would return within 72 hours – which put us roughly at February 19th.
On February 18th Wiseling support sent out a message informing affiliates that the planned February 19th withdrawal date was still on track.

February 19th came and went and still Wiseling withdrawals remained disabled.
On Telegram it was then announced that withdrawals would now resume on Monday.
Cue Sunday night, and instead of re-enabling withdrawals Wiseling took its website offline and deleted its YouTube channel.
Wiseling's official Facebook account was disabled around the time withdrawals stopped.
As I write this Wiseling's official Twitter account and Telegram channel is still up.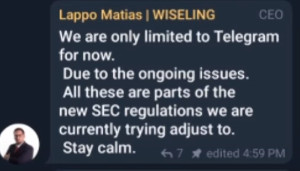 Wiseling taking their website offline coincides with a message a few hours ago, hinting at a "blame the regulators" exit-scam.
Bearing in mind this is just before Wiseling deleted its Telegram account;
We are only limited to Telegram for now. Due to the ongoing issues.

All these are parts of the new SEC regulations we are currently trying to adjust to. Stay calm.
I can categorically state there have been no new SEC regulations to speak of.
As per our published January 2021 review, Wiseling is a Ponzi scheme. And Ponzi schemes are illegal the world over under current regulations (typically wire and securities fraud).
So what's actually happened between now and February 15th?
Wiseling collapsed on February 15th. Starting with the nonsensical claim they'd signed a contract with the Central Bank of Finland, they've been feeding their affiliate investors baloney.
Why?
Because on the backend they're creating as much distance between stolen funds and their investors as they can.
That's all this is.
Wiseling is believed to be run by Russians/Ukrainians and/or scammers in South-east Asia.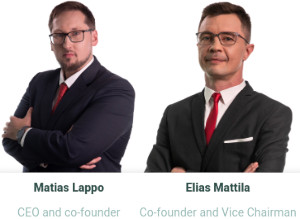 Wherever they're operating from, the scammers behind Wiseling have followed a pretty typical Boris CEO marketing plan.
That is, hire some schmuck to play CEO, put out a few videos and watch the money roll in.
Alexa traffic analysis reveals Wiseling website traffic flatlined around mid-December, which for a Ponzi scheme is the beginning of the end.
Based on Alexa's traffic estimates, Wiseling's victims are primarily from South Korea, the US and Pakistan.