Wiseling claims contract signed with Central Bank of Finland

In a new marketing video, Boris CEO Matias Lappo claims Wiseling has "signed a contract with the Central Bank of Finland and EU".
Lulz!
According to Lappo, the contract pertains to the "connection of Visa and Mastercard".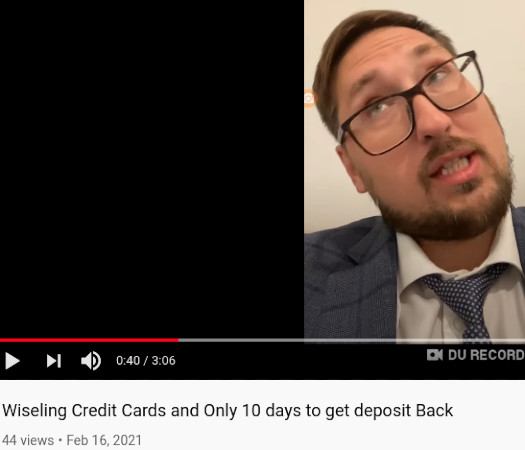 First the obvious; there is no "Central Bank of Finland and EU".
There's the Bank of Finland and European Central Bank.
Second, and arguably more obvious, neither of these regulators are involved in issuing Visa and Mastercard services to private companies.
Evidently not happy with their country being falsely implicated as a base of operations, Finland's FCA issued a Wiseling securities fraud warning last November.
Wherever Lappo is broadcasting his videos from, it's not Finland.
In the undated video, which surfaced on February 16th, Lappo goes on to explain;
Today we will start connecting bank transfers to our platform, which can take up to 72 hours approximately.

You will be able to withdraw money to bank accounts.
What Lappo is actually talking about is obtaining a merchant account, which Ponzi schemes typically do through inconspicuously named shell companies.
This works until transactions are flagged as suspicious, at which point it becomes a game of cat and mouse.
Setting Wiseling up for a ripe exit-scam, Lappo also announced a 20% bonus on new investment.
Alexa website traffic estimates for Wiseling show a flatline in traffic from January 2021.
Lappo's new announcements appear to be an attempt to increase investor growth, failing which Wiseling will collapse.
Since publishing our Wiseling review in late January, the US has emerged as a source of gullible investors.
Alexa now ranks the US as the second largest source of traffic to Wiseling's website (14%). South Korea remains the largest, coming in at 26% of website traffic (down from 31% two weeks ago).
Update 22nd February 2021 – Following withdrawals stopping on February 15th and now its website going down, BehindMLM has called Wiseling's collapse.
Update 9th March 2021 – The video featuring Matias Lappo referenced in this article has been marked private.