AdRevWorld Review: Wealth4AllTeam launch ad scheme

After informing investors that their second Ponzi scheme, officially promoted as a "total passive investment program" paying out a 1.6% daily ROI sourced from "new deposits", had collapsed just 2 months after they launched it, Wealth4AllTeam announced to the world that they "suspending all withdrawals until September 2013".
In an email sent out to Wealth4AllTeam affiliates, the company informed them that as a result of an unnamed "outside consultant" who 'literally stole most of the money that was being used for (their) investments', Wealth4AllTeam would 'not respond to emails or requests for withdrawals'.
Turns out those behind Wealth4AllTeam couldn't wait for September to roll around and have prematurely returned with yet another business opportunity.
Read on for a full review of the AdRevWorld MLM business opportunity.
The Company

The AdRevWorld domain ("adrevworld.com") was registered on the 4th of April 2013 and lists "Wealth4AllTeam INC." as the registered owner. Danny Cianculli, CEO  of Wealth4AllTeam, is named as the "administrative contact":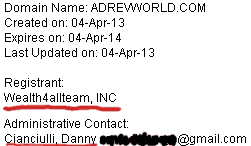 AdRevWorld seems to have launched around late April, but it wasn't until about a week ago that Wealth4AllTeam started to promote the opportunity to its affiliates:
From: WEALTH4ALLTEAM INC.

Date: Fri, May 17, 2013 at 7:51 PM

Subject: You Ready to Make Some Money Today?

Paid in I-P Shares are in PH,i n the mean time we are waiting for W4A to reorganize, I thought you Maybe Ready to Make Some Money.

Imagine if a hyip monitor site, or money maker forum site shared ALL their advertising sales revenue with YOU..?

That would be good !!

That's *exactly* what adrevworld does– while also providing you SAVINGS on advertising & real visitors to your website.

We have 4 Advertising Services in *high* demand within this industry.

We have 1 Revenue share with all those who purchase Ad Packs.

*To earn simply Click 10 Ads Per day* No Daily Purchases !!

We share the daily Revenue with every share holder daily!!

Earn on 3 levels 125%, 135%, 150%, on Ad Revenue Share Purchases

7% Commissions — No Purchase Necessary — on sponsoring

No Sponsoring necessary to EARN

FREE members get PAID!

You can repurchase from your earnings to earn even more!

=> Each repurchase gives you more credits and visitors

Our Revenues come from:

ARW Packs

Premium Web Site Ads

728×90 Banner Ads

468×60 Banner Ads

125×125 Banner Ads

=> 4 revenue streams flow to all share buyers through 1 outlet.

WEALTH4ALLTEAM INC.
Wealth4AllTeam originally launched in November 2011 as a simple 10 day ROI scheme, paying affiliates a 192-250% ROI with returns paid out of newly invested affiliate money.
Following the collapse of this scheme in late August/early September of 2012, the company then launched Primus Hub, an MLM social network income opportunity, in November 2012. Charging affiliates $12.95 a month, Primus Hub was basically a recruitment driven membership scheme.
The Primus Hub website is still online, however the business has all but flopped since launch.
Retreating back to their Ponzi scheme origins, Wealth4AllTeam then announced the launch of a new Ponzi scheme (aforementioned in the introduction of this article), which went on to collapse just 2 months after launch.
AdRevWorld marks the fourth attempt at an MLM company launch by Wealth4AllTeam.
The AdRevWorld Product Line
AdRevWorld has no retailable products or services. Affiliates join the company for free and are then able to purchase "ad-packs".
Bundled with each ad-pack are a series of advertising credits, which can be used to display advertising on the AdRevWorld website and to other affiliates (affiliates must view 10 website ads a day to qualify for commissions).
The AdRevWorld Compensation Plan
AdRevWorld offer three "plans" to affiliates:
Bronze ($5 – $100) – 125% ROI
Silver – $101 – $1000) – 135% ROI
Gold ($1001 – $100,000) – 150% ROI
AdRevWorld do not provide a guarantee as to how long it will take for affiliates to receive their ROI, but do state that
Revenues come from:

-ARW Packs

-Premium Web Site Ads

-728×90 Banner Ads

-468×60 Banner Ads

-125×125 Banner Ads
Or in other words, returns will be paid out at a rate dependant on the amount of new affiliate funds coming into the company.
Referral commissions are also offered on all "ad-pack" investments, with affiliates being paid a 7% referral commission on all investments made by affiliates they recruit into the scheme.
Joining AdRevWorld
Affiliate membership to AdRevWorld is free, however affiliates must either purchase ad-packs themselves or recruit new affiliates who purchase them in order to earn commissions.
Conclusion
Imagine that you can now reach your targeted online market while generating funds. You can actually EARN MORE THAN YOU SPEND.

Select any of our AdRevWorld Unit Packages that precisely fit your needs and your budget. Start small or go all in. Either way you win! Start today with AdRevWorld.
With no retail revenue and newly invested affiliate money being used to pay out guaranteed ROIs made to prior investors, AdRevWorld is your standard  Ponzi scheme tacked onto an advertising front.
Can I request Refund?

A: There is ABSOLUTELY NO REFUNDS of any kind as positions are created and commissions are distributed INSTANTLY, due to the digital nature of our products. THERE IS NO EXCEPTION.
The more an AdRevWorld affiliate invests, the higher the ROI offered with all ROIs sourced from new and continued investment by affiliates.
It's worth noting that the AdRevWorld domain was registered by Wealth4AllTeam 18 days before the company made it's "no payments till September 2013" announcement.
This indicates that, despite telling affiliates a consultant had run off with their money and that as a result they had
partnered with two companies (not individuals) who will help us create solid capital so that we can recover, pay members, and re-launch,
that the plan continuation of launching affiliate-funded schemes  was already underway when the payment suspension announcement went out.
Well, unless Wealth4AllTeam seriously believe that any revenue generated in AdRevWorld constitutes "solid capital", and that they very well may:
70% of profits are shared with members !!
Where does the other 30% go? That's a no-brainer.
With AdRevWorld being the fourth opportunity Danny Cianculli has launched, I think the track record of Wealth4AllTeam speaks for itself.