Renato Rodriguez & Gutemberg Dos Santos final judgments entered

Back in March the SEC filed a complaint against Vizinova owners Renato Rodriguez and Gutemberg Dos Santos.
The SEC alleged Vizinova was a $5 million dollar Ponzi scheme. BehindMLM reviewed Vizinova in 2014 and concluded the same.
Rather than contest the allegations and clear their name, both Rodriguez and Dos Santos settled.
On June 8th, Final Judgments were entered against the pair.
According to the filed judgments, Renato Rodriguez and Gutemberg Dos Santos will pay back $1.4 million in disgorgement. A civil penalty of $160,000 was also issued.
The judgments also see both Rodriguez and Dos Santos prohibited from
violating the Securities Exchange Act
making untrue statements
committing fraud upon any person
offering unregistered securities and
obtaining money by means of untrue statements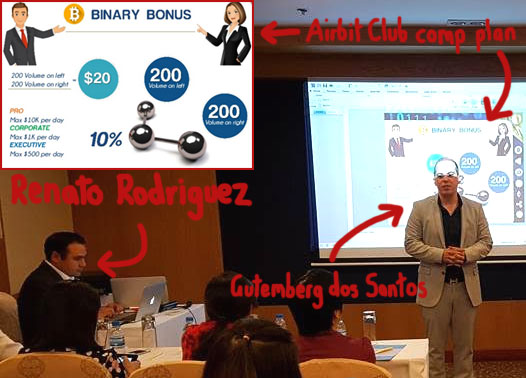 After the Vizinova Ponzi scheme collapsed, Rodriguez and Dos Santos launched AirBit Club.
Through AirBit Club, Rodriguez and Dos Santos solicit investment of up to $1000 on the promise of a 0.2% to 1.2% daily ROI.
Pyramid commissions are also paid out on the recruitment of new AirBit Club affiliates.
At the time of publication AirBit Club still appeared to be operational, however Alexa traffic estimates show a steep decline in activity beginning in May.
Whether further action is taken against Rodriguez and Dos Santos for continuing to defraud investors through AirBit Club remains to be seen.