Renato Rodriguez & Gutemberg Dos Santos indicted, arrested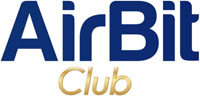 Earlier today I published an article covering a civil fraud case filed by the SEC. The case was filed against two AirBit Club promoters.
That was good to hear but it left me wondering why the the SEC hadn't pursued the Ponzi scheme's creators, Renato Rodriguez and Gutemberg Dos Santos.
Turns out the DOJ is handling that side of things, as revealed in fraud and money laundering indictments unsealed today.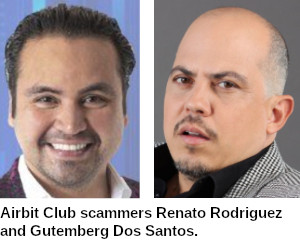 Defendants in the DOJ's criminal case include:
Renato Rodriguez, AirBit Club co-owner;
Gutemberg Dos Santos, AirBit Club co-owner;
Scott Hughes, a disgraced Californian attorney who served as an accomplice;
Cecilia Millan, AirBit Club Master Council promoter; and
Jackie Aguilar, AirBit Club National Entrepreneur promoter
All five defendants have been arrested. Rodriguez and Hughes are in custody in California. Millan is in custody in North Carolina and Aguilar is in custody in Texas.
Dos Santos has been arrested in Panama and is awaiting extradition to the US.
As per a joint investigation by the DOJ and Homeland Security, AirBit Club was
a modern-day spin on an age-old investment scam, promising extraordinary rates of guaranteed return on phantom investments in cryptocurrencies.
It is alleged the defendants stole "at least $20 million" from AirBit Club victims. That money was spent on "luxury cars, jewelry, and homes."
These alleged fraudsters pulled out all the stops to sell their scheme to their victims with enticing recruitment events, then shamelessly used proceeds of their scheme to recruit additional victims through even more aggressive and lavish marketing pitches.
As put forth by BehindMLM back in 2016,
no Bitcoin mining or trading on behalf of Victims in fact took place (inside AirBit Club).

Instead, RODRIGUEZ, DOS SANTOS, MILLAN, and AGUILAR enriched themselves, and spent Victim money on cars, jewelry, and luxury homes, and financed more extravagant expos to recruit more Victims.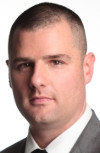 Scott Hughes (right), assisted Rodriguez and Dos Santos by laundering money and 'helping to remove negative information about AirBit Club and Vizinova from the internet.'
AirBit Club funds were laundered through "several domestic and foreign bank accounts, including an attorney trust account managed by HUGHES".
The Hughes Trust Account was ostensibly intended to maintain custody of HUGHES's law practice's client funds.

Instead, the Hughes Trust Account was used by RODRIGUEZ, DOS SANTOS, HUGHES, and MILLAN to conceal the nature and origin of the AirBit Club Scheme's illicit proceeds.

Through that account, HUGHES directed Victim funds to the personal expenses of RODRIGUEZ, DOS SANTOS, MILLAN, and himself, and funded promotional events and sponsorships designed to further promote the AirBit Club Scheme.
BehindMLM received legal threats from Hughes, on behalf of Renato Rodriguez, in May 2016.
Hughes demanded we remove our reporting of Rodriguez's Ponzi past. Under threat of litigation, we did not comply.
As revealed by the DOJ, Highes was paid $3000 for each link critical of AirBit Club he was able to remove.
Links in question included YouTube videos and "approximately 15 different websites calling AirBit Club a "scam", and detailing the prior Vizinova action.
According to the DOJ, AirBit Club affiliate investors have been experiencing withdrawal delays as far back as 2016.
Victims who attempted to withdraw money from the AirBit Club Online Portal and complained to a Promoter were met with excuses, delays, and hidden fees amounting to more than 50% of the Victim's requested withdrawal, if they were able to make any withdrawal at all.

In one instance, AGUILAR told one Victim of the AirBit Club Scheme who was complaining about her inability to withdraw AirBit Club returns that she should "bring new blood" into the AirBit Club Scheme in order to receive her returns.
In April 2020, one AirBit Club affiliate had their account closed with no prior notice. The stated reason for the closure was "execution of financial sustainability reserve policy".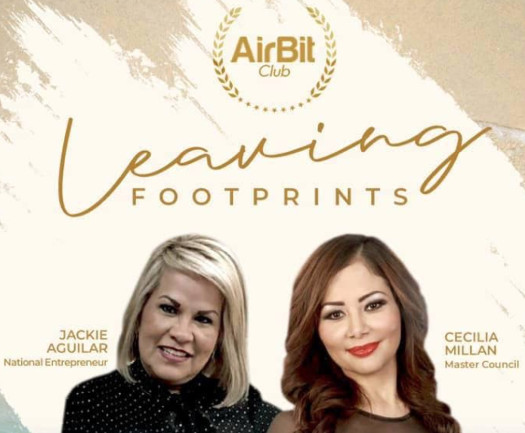 Other AirBit Club victims had their accounts terminated upon informing their uplines they had notified authorities.
For their efforts in running the AirBit Club Ponzi scheme over the past four years;
Renato Rodriguez, Gutemberg Dos Santos and Cecilia Millan are facing one count of conspiracy to commit wire fraud, one count of conspiracy to commit bank fraud and one count of conspiracy to commit money laundering
Scott Hughes is facing one count of conspiracy to commit bank fraud and one count of conspiracy to commit money laundering
Jackie Aguilar is facing one count of conspiracy to commit wire fraud
The wire fraud conspiracy and money laundering conspiracy charges each carry a maximum term of 20 years in prison, and the bank fraud conspiracy charge carries a maximum term of 30 years in prison.
The DOJ's indictment of AirBit Club promoters is significant, as it marks the first criminal proceedings we've seen against promoters of Ponzi schemes.
Previously MLM Ponzi promoters have only faced civil charges filed by the SEC.
Update 14th November 2020 – Renato Rodriguez was arraigned on November 10th and has pled not guilty.
A Status Conference has been scheduled for November 19th.
Update 2nd December 2020 – Gutemberg Dos Santos was extradited from Panama on November 25th.
Update 10th February 2023 – The Airbit Club criminal case has been playing out in the background.
We're getting closer to trial. On January 31st an order scheduling a Final Status Conference for March 21st was made.
I don't have a trial date but it's likely to be scheduled at the Final Status Conference.
Update 10th March 2023 – Renato Rodriguez and the remaining five AirBit Club defendants have all pled guilty.