Youngevity sues Bulavita for trademark infringement & more

Youngevity has filed suit against Bulavita for trademark infringement, cybersquatting and unfair competition.
Wakaya Perfection changed its name to Bulavita late last year.
On the surface Bulavita appears to be a straight continuation of Wakaya Perfection, however incorporation records revealed Terry LaCore is one of Bulavita's Directors.
This suggested Wakaya Perfection had been bought out by LaCore Enterprises.
As with other LaCore Enterprises acquisitions however, there is no mention of the company on Bulavita's website. The exact ownership status of Bulavita remains murky.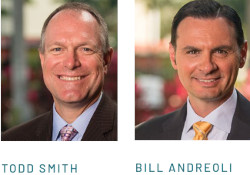 Youngevity's lawsuit names Wakaya Perfection (dba Bulavita), William Andreoli and Todd Smith as defendants.
Bulavita's website cites Smith as one of Bulavita's co-founders. Andreoli is the company's President.
Andreoli is a former Youngevity executive, Smith a former top distributor. Both are no strangers to litigation filed by Youngevity.
In their lawsuit, Youngevity claims Bulavita is "diverting business away" from them through adoption of
trademarks that are the same of confusingly similar to trademarks of Youngevity.
These include product names and website domains. Youngevity also alleges Bulavita is engaged in
a campaign of false and misleading advertising to attempt to gain a competitive advantage.
Youngevity alleges Bulavita's M20 Boost product is too similar to their Muscadine 20 and M20 ranges.
Both products are muscadine grape based dietary supplements.
Youngevity has held Muscadine 20 and M20 trademarks since 2009 and 2016 respectively.
Back in May Bulavita filed a federal trademark application for M20 Boost.
Youngevity claims Bulavita
adopted the M20 and M20 Boost designations with an intent to trade upon the goodwill Youngevity had already developed in the Muscadine 20 and M20 trademarks, (and) with an intent to confuse consumers and divert sales away from Youngevity.
One thing I noticed is that today Bulavita's website markets "Muscadine 20".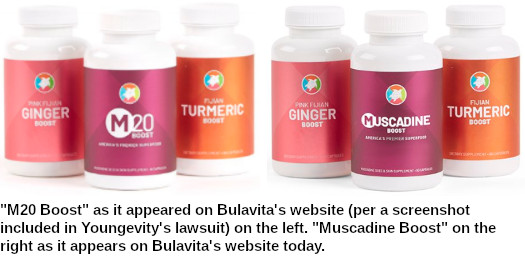 Whether Bulavita changed the product name before or after Youngevity filed suit is unclear.
As part of what appears to be a stalled marketing campaign, William Andreoli and Todd Smith registered the domains "muscadine20.com" and "m20boost.com".
Shortly after registering the first two domains in their own names, both were switched to private registration.
Another three domains were privately registered throughout the year, "m20mission.com", "m20forlife.com" and "m40boost.com".
Youngevity alleges these domains are owned by Andreoli or "someone acting at his direction".
Youngevity asserts the domains were
registered with a bad faith intent to use (them) to divert traffic away from Youngevity's products.
With respect to marketing claims, Youngevity alleges Bulavita's M20 product "has not undergone any clinical trials whatsoever".
Despite this, Bulavita markets M20 as
being able to significantly increase the brachial artery diameter;
being able to inhibit growth of human cancer cells;
having undergone $20,000,000+ in clinical trials; and
having an antioxidant ORAC score of 89,500 per 100 grams.
Youngevity alleges the above claims, as presented by Bulavita on their website and social media channels, are "false or misleading".
BehindMLM documented Bulavita's M20 Boost cancer claims back in May. Within days of publishing our article, Bulavita removed the cited claims.
Youngevity cite what they believe to be false M20 Boost ORAC score claims, being used by Bulavita as recently as September 9th.
In an attempt to resolve issues cited above, Youngevity sent Bulavita a cease and desist.
Bulavita refused on all disputed actions, prompting Youngevity to file suit on September 14th.
Youngevity is seeking to prohibit Bulavita from
using M20 and M20 Boost, or any confusingly similar names;
registering M20, M40 or M20 Boost trademarks;
using domain names that feature M20, M40 or muscadine20; and
making false claims about their products.
Stay tuned for updates as we continue to track the case.
Update 20th February 2021 – Barring any surprises, Youngevity's lawsuit will likely be dismissed as part of settlement negotiations with Wakaya Perfection.
Update 11th March 2021 – Youngevity filed a Motion to Dismiss with Prejudice on March 5th.
The court granted Youngevity's motion later that same day.
The granting of Youngevity's dismissal motion brings BehindMLM's coverage of the trademark infringement suit to an end.