Wakaya Perfection rebooting as Bulavita?

I've received intel that Wakaya Perfection is intending to reboot itself as Bulavita.
Specific details at this point are sketchy, but I was able to confirm the name-change via an official source.
A December 7th blog post on Wakaya Perfection's website notes an upcoming December 11th webinar.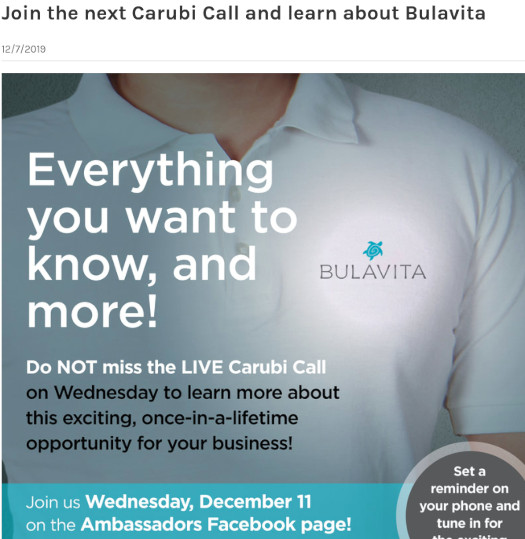 The topic of the webinar is Bulavita;
Have you heard? Something big was announced at Leaders Conference.

Don't miss our next Carubi Call (Wednesday, Dec 11th) to get all the details, and to learn about something exciting…called Bulavita.
In addition to that, at least one Wakaya Perfection distributor has begun promoting the new company name:

The website domain "bulavita.com" is currently parked. It was however only recently registered on November 6th, 2019.
The registration was last updated on December 6th and is currently private, which is odd for an MLM company.
BehindMLM reviewed Wakaya Perfection back in 2016. We were less than impressed with the company's recruitment centric business model.
Whether Bulavita brings with it any meaningful change to Wakaya Perfection remains to be seen.
Also uncertain is the outcome of the numerous legal battles the company is embroiled in.
Wakaya Perfection is knee-deep in a long-running legal battle against Youngevity. The company is also facing a securities fraud lawsuit, which is currently in arbitration.
More recently, Wakaya Perfection went after its insurer over a contractual dispute.
Pending clarification on Bulavita, presumably after the December 11th webinar, stay tuned…
Update 11th December 2019 – Bulavita incorporation records reveal Terry LaCore is listed as a Director of the company.

It is unclear whether this means Wakaya Perfection was bought and renamed. Ditto any changes to company management.
From memory Jennifer Grace is an attorney who has long been associated with LaCore's business ventures.
Update 7th April 2021 – Bulavita has been sold off to Juuva. Details of the acquisition have not been made public.