Vemma served with FTC complaint about autoships

Although not formally reviewed on BehindMLM, it's no secret that much of the criticism directed at Vemma stems from their affiliate recruitment business model.
Without going into specifics, the gist of it is you sign up as a Vemma affiliate with a monthly autoship and then recruit others who do the same.
Retail sales in this model are virtually non-existent, with affiliates instead getting paid with funds sourced from their recruited downlines (via autoship).
This has now attracted the attention of the FTC, who according to Troy Dooly served Vemma a formal complaint on Monday.
For more we turn to a Facebook post by Dooly, published a few hours ago:
Vemma was served with a complaint by the FTC today.

The complaint is under seal until Friday. This is usually done so the founders of the company can't rally support prior to the public notification.

Having talked with BK this afternoon it seems the FTC have two issues surrounding pack sales as well as autoship sales

Pack sales are no biggie and ideally up less than 7% of all product sales.

Autoships are huge! Most companies with solid products will see anywhere from 40% to 75% of all revenues come from the monthly reorder of their products.
Dooly doesn't elaborate on exactly how much "huge" is, but does goes on to advocate supporting MLM opportunities that rely on affiliate recruitment and autoships to generate sales:
If regulators were to win in a court of law that autoships must be stopped. Then EVERY company with an autoship program will have a very hard time paying reps.

This isn't a Vemma issue alone folks…

This is a direct sales issue and I pray the DSA and other influencers step up.
Retail sales  in Vemma are actively discouraged, by way of halving retail sales volume value within the compensation plan.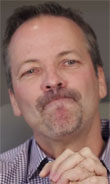 At the time of publication Vemma CEO and Founder BK Boreyko (right) has not made any mention of the FTC complaint on his own Facebook page.
I first thought the sealing of the complaint till Friday might mean he can't address the issue, but having talked to Troy Dooly he's obviously discussing the complaint in private – so that appears to not be the case.
Last April Boreyko told the NY Post that Vemma was
changing its business practices to get ahead of any possible fallout from the Federal Trade Commission's investigation into Herbalife, which has a similar business model.

"I always want to stay on the good side of the FTC because they have guns".
Separately a big question mark now looms over whether or not Alex Morton knew about Vemma's FTC troubles.
The top earner in the company for many years, Morton abandoned ship a few weeks ago amid a flurry of controversy.
Did Morton know something the rest of the Vemma affiliate-base didn't?
As with Boreyko, at of the time of publication there is no mention of the Vemma FTC complaint on Morton's Facebook page.
Another high-profile Vemma affiliate who announced he's "no longer promoting" Vemma in the last twenty-four hours is Vincent Ortega.
Ortega salvaged what was left of his following and joined Vemma after his Internet Lifestyle Network opportunity collapsed earlier this year.
Here's what Ortega sent out to his purported 25,000 strong private Vemma Facebook group earlier today:
This is why I have decided to stop promoting Vemma

Hey SUPERCHARGED family, what's happening! You know me, you know my #1 passion is to SELL ONLINE & HELP YOU SELL online.

Most all of you rockstars in this group are in Vemma, & many are now in Jeunesse as well, but regardless, let's clear the air here ok?

Vemma is amazing, I will use the products probably for the rest of my life, so I am NOT hopping into another MLM right now or anything like that, I AM however, focusing more on my passion of helping EVERYONE sell their products online FASTER & EASER.

That's just what I do…

I build businesses from home sitting right here behind my computer screen and cell phone. I built an amazing Vemma business doing the same thing & it was fun & it was great & I still have a lot of people that I take care of on my team.

…and I have EVEN MORE outside of my team that I take care of as well, that I have helped sell more Vemma products this year than they ever have before through my systems & training.

HOWEVER…

This is what I noticed when I came over to Vemma.

People I used to train, that I was helping to become online sales pros, were now immediately afraid that I would steal members from their downlines.

So the 150,000 people that I trained every single day for the past few years… got scared.

A lot of people came over to Vemma…

…but

I lost a lot of my following at the same time as well.

I lost a lot of what my brand was created on…

Which was…

HELPING EVERYONE SELL THEIR PRODUCTS & SERVICES FASTER & EASIER ONLINE so they could spend more time with their family & friends.

Basically helping everyone become ONLINE SALES PROFESSIONALS.

My last company that I started before Vemma, represented over 200 different business opportunities in pretty much every country of the world, because we taught people how to become online sales professionals.

…and what I noticed in Vemma…

Was kinda like what Eric Worre noticed in his past companies.

He knew he had a gift to teach and train millions of people around the world, and that attaching his name to just one company hindered him from being able to DO MORE & BE MORE. Because that's what he believed.

Some people aren't ready for this yet. It's not easy running your own businesses & "getting out on your own." – but some of us are created for it.

Well I believe that I also have a gift of helping people become online sales professionals & that's why I have decided to stop promoting Vemma as a business opportunity.

So no I am not running over to Jeunesse like everyone said I should do.

Which I would have made A LOT of money obviously because of timing etc.

Legacy and passion are WAY MORE important than income.

I'll still use the Vemma products & say they are the best products on the planet & one of the best companies you could ever join & support all of my Vemma peeps, helping them to become online sales professionals because online will eventually become how all businesses will be built.

…but moving forward, I can no longer attach my brand to Vemma because I don't want people from other companies feeling they are scared to bring their people to me.

I don't want them thinking that I will recruit them into my Vemma downline.

My passion is helping people to live this life of being able to work 100% from home sitting behind this computer screen & cell phone like I have been able to do now for 7 years.

I can't allow a company name make people scared to work with me. I can't allow a company name to not allow me to transform someone into an online sales professional.

So I have to say that I am no longer promoting Vemma simply because of that.
Oretga's Facebook post doesn't directly reference the FTC complaint, but if his departure from Vemma is otherwise co-incidental, then boy… what a co-incidence…
The mention of Jeunesse is of particular significance, as it's no secret Alex Morton is directly or indirectly responsible for a sizeable chunk of Vemma affiliates having signed up with Jeunesse.
Perusal of Morton's Facebook page lists dozens of congratulatory messages to affiliates in his downline for acquiring various Jeunesse ranks.
I haven't formally reviewed Jeunesse, but I have to wonder how many of those ranks were achieved via sales of Jeunesse products to retail customers, and how many were just ex-Vemma affiliates selling affiliate packages to other ex-Vemma affiliates…
Y'know, the same crap Vemma are now in trouble with the FTC over.
As per Troy Dooly's post, once the complaint is unsealed on Friday I'll have further coverage up then.
Stay tuned…
Update 25th August 2015 – It appears operations at Vemma are currently in limbo, with the following message displayed to affiliates who try to access their backoffice:

Whether back Vemma office access and product orders have been suspended by the FTC or voluntarily is unclear. (image credit Ethan Vanderbuilt)
Update 26th August 2015 – The details of the FTC complaint against Vemma have now been made public. The regulatory agency alleges Vemma is a $200 million dollar "illegal pyramid" scheme.
Update 2nd September 2015 – Jeunesse review is now live with similar autoship concerns as those found in Vemma.