Steve Chen under FBI & IRS criminal investigation

On February 19th, Steve Chen filed a sealed motion to stay the SEC's case against himself and USFIA.
Over the course of the past month, a whole bunch of correspondence regarding the motion has been filed by both Chen and the SEC.
The SEC have opposed Chen's motion, with Chen filing several memorandums in support of it – all filed under seal.
On April 8th Judge Klausner denied Chen's motion, with the order revealing Chen is the subject of criminal investigations by multiple US regulatory agencies.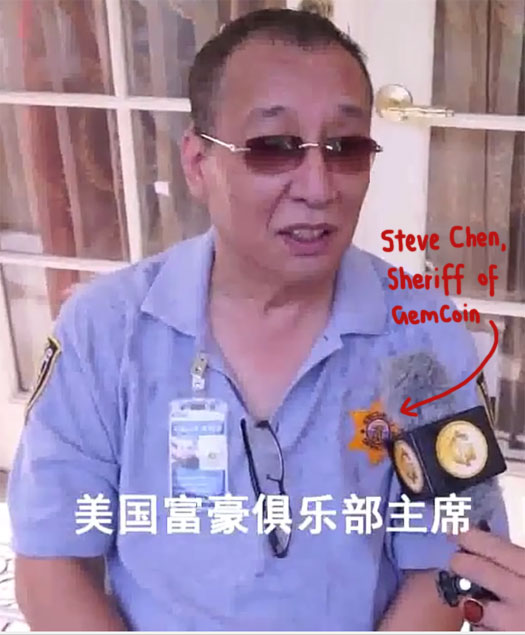 The FBI investigation into Steve Chen and USFIA is ongoing.
As per Judge Klausner's ruling, it might have been triggered by investor complaints in Arcadia.
On September 17, 2015, Arcadia Police Department interviewed Chen about complaints from disgruntled investors who felt they had been defrauded by Chen.

All evidence pertaining to that interview has since been turned over to the FBI in an ongoing investigation into Chen's alleged securities fraud.
Following the raid on USFIA offices in September,
FBI Special Agent Clint Wilmsen purported to serve Chen with grand jury subpoenas as Custodian of Records for a number of corporate entities, most of which are alleged to be wholly-owned by Chen.

These grand jury subpoenas involve subject matter at the core of the civil enforcement action.
The documents requested by the FBI via a grand jury are likely to further incriminate Chen.
Chen's counsel had a phone call with Assistant United States Attorney Rich Robinson
in which he confirmed that Chen is a "focus" of the ongoing criminal investigation.
Unfortunately grand jury proceedings are held in secret. Pending an indictment and/or litigation filed by the FBI, further details were not available at the time of publication.
In addition to the FBI, Chen and USFIA are also under criminal investigation by the IRS.
Counsel for Chen have also learned that former USFIA employees and distributors have been interviewed by an IRS criminal investigator and FBI agent Wilmsen.
The specifics of the IRS investigation are yet to be made public.
Chen meanwhile appears to have been aware of the criminal investigations as far back as last November.
Given the overlap between the SEC's civil action and the United States Attorney's Office
("USAO") criminal investigation, on November 5, 2015, Chen was compelled to assert his Fifth Amendment privilege in response to the SEC's request for an accounting of his personal assets.

Likewise, on November 20, 2015, Chen filed an Answer in which he invoked his Fifth Amendment privilege not to be compelled to testify against himself.
In an attempt to prevent having to testify against himself until the conclusion of criminal proceedings, Chen sought to stay the SEC's civil proceedings against him in their entirety.
In his decision to deny Chen's motion for a stay, Judge Klausner suggests it is preemptive.
Currently, no indictment has been returned against Chen, and he cannot point to any concrete evidence that a criminal prosecution is imminent.

While it is true that the FBI has served grand jury subpoenas on Chen and the USAO has indicated that he is the focus of an investigation, these facts alone do not indicate whether a criminal proceeding is impending.

Likewise the mere fact that the subject matter of the criminal investigation overlaps with the issues in the SEC civil proceeding does nothing to show that a criminal prosecution is forthcoming.

Accordingly, Chen has made a weak showing that his Fifth Amendment rights are threatened.
With Chen unable to prove an indictment is pending, he can't argue that the SEC's civil proceedings will see him incriminate himself.
There is no way to reliably ascertain when, if ever, an indictment will be returned against Chen, meaning that a stay would effectively thrust the Court into an indefinite state of limbo.
Secondary considerations for the motion denial included
The SEC's interest in the protection of investors and remedy violations of securities laws
judicial economy and
the public interest in seeing the court able to swiftly resolve the SEC's case
Chen had argued that 'public policy favors resolution of criminal matters before parallel civil actions'. But again, as it stands, there's no evidence of official criminal proceedings against Chen… yet.
The Court rejects (Chen's) argument.

Based on the foregoing, the Court DENIES Chen's Motion to Stay Proceedings.
Should a grand jury indictment against Chen surface at a later date, it's expected Chen will refile his motion.
With confirmed criminal proceedings, the stay will likely be granted. We've seen a similar stay granted in the SEC's TelexFree case, pending the outcome of parallel criminal proceedings.
In related news, the sale of one of Steve Chen's luxury cars has been approved.
On March 22nd Judge Klausner approved the sale of a black Mercedes S550. Proceeds of the sale are to be held by the Receiver, pending further orders by the court.