USFIA investors storm Arcadia police station, demand arrests

Following encouragement from Arcadia City Manager Dominic Lazzaretto, suggesting USFIA investors contact Arcadia Police Department, several investors have taken him up on his advice.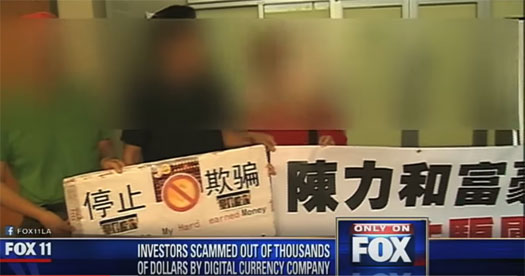 Armed with banners similar to those that caused the cancellation of a USFIA Ponzi gala late last month, USFIA investors stormed Arcadia Police Department and called for the arrest of Steve Chen.
[00:42] Angry investors stormed the Arcadia Police Department, demanding charges be filed against this man, Steven Chen.

[01:25] These investors say when they demanded their money back from Chen, he wouldn't give it to them. And in some cases, they were threatened with violence.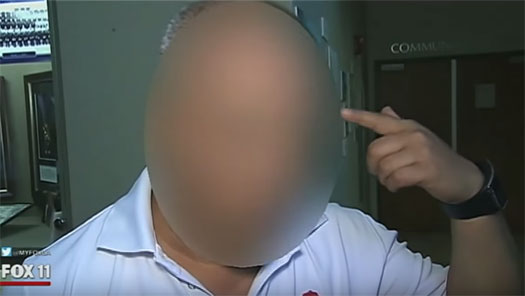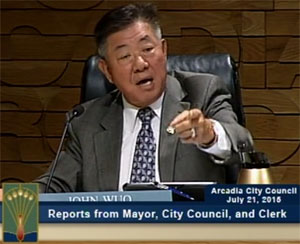 John Wuo, a local Arcadia City Councilman, has personally endorsed Steve Chen at various USFIA GemCoin events.
At one event, Wuo praised Chen for 'his dedication and contribution to the prosperity of the California economy'. He also told USFIA investors Chen was one of the "fastest thinking" people he knew.
Protestors at Arcadia Police Department told Fox News 11 that 'it was an Arcadia City Official that made them comfortable enough to make that investment in the first place.'
Fox News 11 sought comment from Wuo but "were unable to reach him".
Long Z. Liu, an attorney purportedly representing some of USFIA's victims, told reporters "I think that people could sue him (Wuo). I'm pretty sure people will sue him for negligence".
Liu claims USFIA is "an elaborate Ponzi scheme".
In response to protests and revelations that USFIA is under FBI investigation, representatives from the company told Fox 11 the company will hold a press-conference next Thursday.
The next Arcadia City Council meeting, at which it's expected Wuo will be further grilled over his involvement in USFIA, is two days earlier on Tuesday the 15th.
Stay tuned…