USFIA investors encouraged to contact Arcadia Police Dept

Things continue to heat up in Arcadia, the USFIA Ponzi scheme's home turf, with news today that City Council staff are openly requesting investors contact local police.
Seeking comment from City officials regarding the ties of one of their own to USFIA, Arcadia Weekly were told by City Manager Dominic Lazzaretto;
Anyone with specific information of criminal activity associated with this business, or any other business in the City of Arcadia, is encouraged to contact the Arcadia Police Department to file a police report so the matter can be promptly investigated.
To what extent the Arcadia Police Department are able to act on and investigate USFIA complaints is unclear, but one would imagine any complaints received would be forwarded onto the relevant authorities.
Arcadia City Council member John Wuo's involvement in the scheme meanwhile continues to plumb the depths of murkiness.
Lazzaretto refused to comment on Wuo's ties to USFIA and GemCoin, but Arcadia Weekly was able to get a response from Wuo himself.
Arcadia Council Member John Wuo on Wednesday denied having a connection to an active company involving the founder of a controversial cryptocurrency known as Gemcoin.
Wuo's latest denial was made following revelations Wuo and USFIA Founder Steve Chen were business partners through 24 HD Surveillance.
24 HD Surveillance's registered address on the document in question is that of USFIA.
Beyond working as a real-estate consultant for Chen, Wuo had previously represented he had no other business relationships with Chen.
As to how Wuo's signature appeared on filed 24 HD Surveillance registration documents, Wuo told Arcadia Weekly that
he told George Klau, the CEO of Arcadia-based 24 HD Surveillance, to remove his name from documents filed with the California Secretary of State.

Wuo also indicated that Klau agreed to remove the councilman's name and address from the company's state filings, and that Klau was unaware of who entered Wuo's information in the document.
Wuo spun the same story in regards to his connections to USFIA back in July, however his name and image were used to promote USFIA as recently as late last month.
In an effort to ascertain how Wuo's information wound up on on 24 HD Surveillance documents filed with the California Secretary of State, the Sierra Madre Tattler reviewed Wuo's signature both on the document and as it appeared on Wuo's California Form 700.
The Tattler found both signatures to be remarkably similar. But remember, neither John Wuo or George Klau have any idea how Wuo's signature got on the 24 HD Surveillance documents.
Some progress however has been made in getting Wuo to acknowledge his ties to Steve Chen and his dodgy business dealings, with Wuo also telling Arcadia Weekly
connections he may have to Chen and Gemcoin "[do] not have anything to do with city business."
It should of course be noted that Wuo's was credited as the "Mayor of Arcadia" at the USFIA GemCoin events he attended.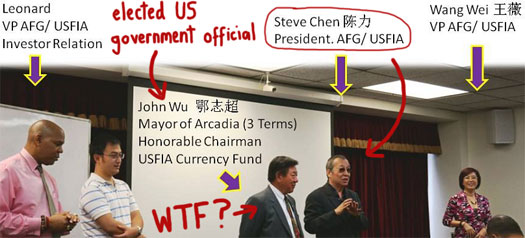 And it was in this capacity that Wuo gave speeches to prospective and existing USFIA investors in attendance like this:
Hello everyone, I am mayor of Arcadia John Wuo.

I am very happy that everybody can attend this press conference. I believe, this Gemcoin… is not very clear, that most people know nothing about.

First I'd like to explain, this is a breakthrough. I feel that be a cutting edge entrepreneur is not easy because nobody understand this (crypto-)currency.

Even after the passage of CA bill most people know nothing about but, but this is a great hidden potential to our economy.

Arcadia is a nice city with good & big houses.

Steve Chen is my good friend. He is brighter than me, younger, make money faster, I learn a lot from him.

I'm not in business anymore. I'm now the Major (sic) of Arcadia, without big power.

We help resident[s] to solve problems. USA is like other countries, with relationship it is easier to get things through. I can help you.
Good thing Wuo's various appearances at USFIA GemCoin events were documented on film and in fellow Arcadia Councilman Sho Tay's ChineseDailyUSA, otherwise I suspect he'd also have no idea why statements he said at the events were being attributed to him either.
Y'know, maybe someone is going around impersonating me at these events. You don't know that…