Turkish authorities name and shame 19 audited pyramid schemes
The collapse of the Farm Bank Ponzi scheme in Turkey has sparked investigations into sixty-five companies.
Thus far thirty investigations have been completed, with the Ministry of Trade claiming nineteen of the companies investigated are pyramid schemes.
Farm Bank (Çiftlik Bank) launched in 2016 as an app-based Ponzi scheme that modeled itself on the popular Farmville game.
Farm Bank investors downloaded the game and invested in "virtual animals and produce".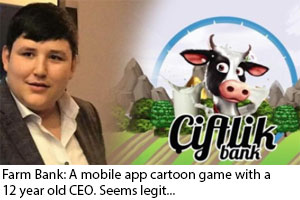 By selling "virtual crops" they generated in-game, Farm Bank investors were pitched returns of 200% within a year.
CEO Mehmet Aydin (right) claimed investor funds would be used to purchase "agricultural investment".
As recently as December Aydin was claiming Farm Bank was set to acquire "Europe's biggest dairy farm".
Turns out that was all baloney and, not surprisingly, Farm Bank went on to collapse in February.
Authorities estimate Farm Bank had over 350,000 domestic investors and another 150,000 abroad.
Turkish authorities have charged Farm Bank with aggravated fraud and shut down the company's website.
A raid on luxury villas in Beykoz, Istanbul, saw authorities seized nine computers connected to the scam. Nineteen vehicles have also been seized.
Mehmet Aydin, who is believed to have been running the company from the villas, managed to evade arrest and flee to Uruguay.
Aydin's wife, Sila Aydin, who as a board member helped him run the company, was arrested earlier this week.
Turkish authorities has issued eighteen arrest warrants in total. Fourteen of the fugitives sought are still at large.
On March 17th Turkish Justice Minister, Abdülhamit Gül, claimed Turkey would be pursuing Mehmet Aydin's extradition.
In the wake of Farm Bank's collapse, Turkey's Ministry of Trade stepped up investigations into companies complaints have been recorded against.
Thus far the Ministry claims nineteen of the thirty companies investigated are pyramid schemes.
MLM companies that made the Ministry's pyramid scheme list include Kyani, QNET, Kairos Technologies, MGlobally, Evo Binary, MMM Turkey, My Crypto World and My Addsino.
Bülent Tüfenkci, the Minister of Customs and Trade, claims that the named companies have
been informed by the Public Prosecutor's office about their concerns and also attempts have been made to prevent access to (their) electronic media,  (to) prevent the functioning and spreading of (their) systems.
Whether the Ministry of Trade and Public Prosecutors take any further action against the MLM companies in question remains to be seen.
Update 27th March 2018 – The ongoing investigation into Farm Bank by Turkish authorities has so far confirmed 1.1 billion TRY ($287 million USD) in losses by 132,222 investors.
Both numbers are expected to rise as the investigation continues.