Farm Bank indicted scammers facing 75,000 years in prison
Following on from the collapse of Farm Bank in 2018 and subsequent investigation, authorities have indicted multiple suspects in the case.
Among the suspects charged is Farm Bank founder Mehmet Aydin, who was apprehended after he was spotted driving a Ferrari around in Uruguay.
Aydin launched Farm Bank (Çiftlik Bank in Turkish) in Turkey in mid 2016.
Farm Bank (Çiftlik Bank) launched in 2016 as an app-based Ponzi scheme that modeled itself on the popular Farmville game.
Farm Bank investors downloaded the game and invested in "virtual animals and produce".
By selling "virtual crops" they generated in-game, Farm Bank investors were pitched returns of 200% within a year.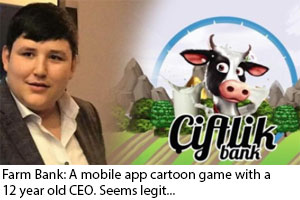 CEO Mehmet Aydin (right) claimed investor funds would be used to purchase "agricultural investment".
That was naturally all BS, with Farm Bank collapsing in early 2018.
At the time of its collapse, Farm Bank had solicited investment from almost 400,000 investors. ROI liabilities had spiraled out of control to over $530 million.
Aydin is one of several suspects in custody in Turkey. Authorities are also seeking suspects via extradition requests sent to Brazil, Uruguay, Cyprus and the US.
According to a report from the Daily Sabah, those indicted are facing "prison terms adding up to 75,000 years on four counts of crimes for swindling thousands of people."