Trinity Lines in denial over Achieve Community shut down

If you've read even just one review here at BehindMLM on a matrix cycler scheme, you'd know that unequivocally these opportunities are identified for what they are: Ponzi investment schemes.
The recent SEC shut down of Achieve Community reaffirms that, with the matrix cycler positions Achieve offered its affiliates deemed "securities under federal law."
Why?
Because 'early investors (were) paid their purported investment returns from the funds of newer investors.'
In the aftermath of the Achieve Community shut down, one would expect a number of similar matrix cycler Ponzi scams to distance themselves from Achieve. But how different can you really be when your core business model is the same?
One such business, Trinity Lines, recently sent out an email to its investors advising them that the scheme "is nothing like" Achieve Community.
Achieve Community saw affiliates invest in $50 matrix cycler positions on the promise of an $800 ROI. Trinity Lines also offers its investors $50 matrix cycler positions, albeit spread over three separate tier queues.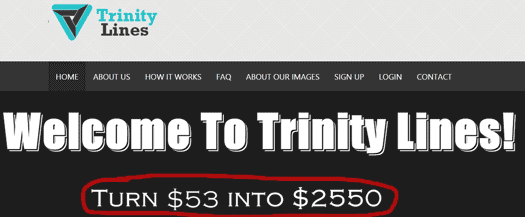 The core idea is the same though, Trinity Lines investors pony up $50, and once enough new investors jump on board they cycle out of one queue and enter the next.
New funds are used to pay existing investors, in the same manner Achieve Community operated in.
Despite this, here's what Trinity Lines advised their investors when concerns about the company's business model were raised:
The collapse of the Achieve Community.

Firstly, my heart goes out to everybody that was part of that business. I am sorry to hear that people have lost their money and with the help of God himself, they will get it back.

I know what it's like to lose money in programmes and it's not nice. Emotions go from sheer anger, revenge to eventual calm and acceptance but you don't ever forget.

I don't know what happened there, I thought everything was running smoothly but I did have my concerns due to various reasons.

People are asking me, 'What if this happens to the TL?'

We let everybody know exactly what's happening at every turn of our business. We are transparent. We don't just hide the negative stuff, we tell you if there are problems like with our recent programming glitches and processor issues.

Products are $58, we deliver them and we enter our customers into a cash reward plan that pays out when people complete any of our lines.

People will call us what they want, and some have already but it doesn't bother us because we give it all out anyway.

We are clear about our no refund policy, people know where they stand before they even join.

We guarantee product, not rewards. The two most central aspects to any business are good structure and transparency and lets face it you can't be transparent if you aren't honest.
Like Achieve Community, Trinity Lines' products serve no other purpose than to offer a pseudo-compliance cover to investment in matrix cycler positions.
Naturally the reason they can't offer refunds, is because "they give it all out anyway". That being code for "we use your invested funds to pay out existing investors".
I will in no way slam Achieve or any of their leaders because I don't think it's professional but I will say this… Trinity Lines was not modeled after them and it is nothing like them.
Not modelled after them? Sure, in the sense that modern Ponzi schemes might claim they too were not modelled on Charles' Ponzi's original scheme from the 1930s.
Make no mistake though, there's no difference between Achieve Community's matrix cycler Ponzi scheme and Trinity Lines' matrix cycler Ponzi scheme.
People can see our lines, where they are at and track the movements very clearly. They see our products when they get them.
What being able to see your investment position in the cycler queue has to do with Trinity Lines not being a Ponzi scheme is a mystery.
This shocking news has stunned us all as many Achieve members are in Trinity Lines but you can't compare the two businesses. A couple of years ago it was Zeek and Banners brokers and it will be somebody else in 6 months or a year.

The only advice we can give people is to pick yourself up and always keep your risk low no matter what business you are going into.
Did it really "stun" anybody though? It's hard to believe that anybody who invests $50 and then expects $800, or $2550 in the case of Trinity Lines, doesn't know where the money they are being paid comes from.
Like Achieve Community, Trinity Lines is currently experience payment processor issues.
The main issue most online businesses have is finding the right processor to deal with. We kept great relationships going with both Payza and STP, still have them but we are looking for a more flexible long-term processor and we will find one in time.

We are not going to rush into one. We were never kicked out by a processor after we were accepted, if things weren't right we left them.
As matrix cycler schemes grow in size, money laundering triggers are often tripped, resulting in difficulty shuffling newly invested funds to existing investors.
Whereas Achieve Community was terminated by Payoneer, in Trinity Lines their issue is with Cascadia Finance.
We recently entered into an agreement with Cascadia Finance, a Canadian based payment solutions provider.

We did our homework on them and I knew one of their main reps for about two years.

After we saw their demo, charges and agreements, we decided that we would enter into an agreement with them with a get-out clause and felt comfortable that they would deliver on their specifications.

Well they didn't, they were lax and we were always chasing them.

Once our programmer and and (sic) IT specialist told us to break clean or they would ruin us, we did exactly just that.

We understood that people purchased cards and loaded their wallets, a fraction of TL members did this however we knew they had to be refunded and they will be, not by us but by Cascadia.

Mike is meeting with the bank and the head of the solutions company this week to organise the refunds for these people. It will be done so I don't want people getting all worked up about it.

Please allow them to do this and not conduct any chargebacks. If they don't deliver the refunds shortly I will instruct everybody to do a chargeback.

We told you everything about our dealings with them and there is no hidden information that we are withholding, that is the truth.

Trinity Lines put over 2k into them and now we have to try and get that back too and I am certain that we will for breach of agreement.
Now tell me, have you ever heard of a payment processor not wishing to do business with a reputable company? Handle money… it's what they do.
Whereas Trinity Lines spared us the token Ponzi excuse, "they can't handle our level of payment volume", the excuse of "dragging their feet" isn't much different.
I mean think about it, why would a payment processor drag their feet all of a sudden. Could it be they did some Trinity Lines due diligence on their side and decided taking on matrix cycler Ponzi money wasn't worth the risk?
Naturally they're not going to tell Trinity Lines that, so we get the story of Trinity Lines chasing them for answers that never came.
Either that or Cascadia wanted Trinity Lines to conform to money laundering regulations, at which point Trinity Lines' programmer and IT specialist told them to bail.
As per Cascadia Finance's website,
We have established fraud prevention and risk management tools to provide a host of solutions for identifying and preventing online fraud, using state-of-the-art technology to define a client's identity, location and account details in REAL TIME.

Through our partners, our identity checks far exceed the US Bank Secrecy Act/Anti-Money Laundering recommendations.

We determine the level of risk associated with each client for acceptance, and whether further due diligence is necessary by means of a rules based formula.
What's the bet Trinity Lines immediately triggered this rules based formula, with Cascadia Finance not at all liking what they saw?
One point Trinity Lines differs from Achieve Community is the location of their owners.
Trinity Lines is composed of three people, a team of admin and a programmer.

The three people are the owner (sic), Tim who is a UK friend of mine also living in Ireland. There is me, Dominic who also lives in Ireland and our web developer who is based in Hungary.
In our Trinity Lines BehindMLM review, we identified the individual running Trinity Lines as Dominic Butler (aka Dominic J. Purcell), James Hart and an unknown third "offline business owner".
Why Trinity Lines do not disclose the name of their third owner is unclear. Remember though, the company is "transparent" and doesn't "just hide the negative stuff".
Legitimate questions about who exactly is running the company are also hidden.
As with Achieve Community, both Butler and Heart are neck-deep in the schemes Ponzi investment fraud, presumably having preloaded the scheme with positions before they launched it:
We don't make money from Trinity Lines purchases at all. We make money from the cash rewards positions that we have in the reward lines.
In summation, Trinity Lines argue that they are not a Ponzi scheme because of the products attached to their matrix cycler investment positions:
We have been called a Ponzi by a few people out there, the skeptics out there. The only problem for them is that we are not a Ponzi at all.

Ponzi's make promises or guarantees in most cases which we don't.

Ponzi's usually cream off the top by their very nature, we don't that at all, quiet the opposite actually.

Ponzi's camouflage their businesses with fluff products, we haven't.

The Vignettes carry genuine value and were taken by a professional photographer and many many shots were required to get the right ones.

There is value in there, sweat equity if you want to call it that is legally, lawfully and rightfully capable of creating it's own value.

Ponzi's don't offer real value, they offer fluff, the opposite of what are doing.

Ponzi"s are investment vehicles, we are not licensed investment brokers as you can tell. We are not an investment vehicle at all.

Ponzi's offer investors high returns for their investment and use the investments of others to pay them.

Since we are not an investment business, promise no returns, sell products and at the discretion of the business we pay out cash rewards that does come from product sales… it does not make us a Ponzi scheme.
What Ponzi schemes do is use newly invested funds to pay off existing investors, and that's precisely all that takes place in Trinity Lines.
Whatever "fluff" they attach to that core mechanism is entirely irrelevant, just as it was in Achieve Community (banners anyone?).
Purportedly based in Ireland, one images Butler and Hart believe they won't be shut down by regulators any time soon.
With "many Achieve members" having also invested in Trinity Lines though, whether or not there's any residual regulatory fall out from the SEC remains to be seen.