Trinity Mining Review: Renewable energy crypto mining Ponzi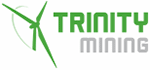 Trinity Mining provides no information on their website about who owns or runs the business.
The Trinity Mining website domain ("trinitymining.tech") was privately registered on February 15th, 2018.
A corporate address in Panama is provided on the Trinity Mining website. Further research however reveals the address actually belongs Regus, meaning it's virtual in nature.
As always, if an MLM company is not openly upfront about who is running or owns it, think long and hard about joining and/or handing over any money.
Trinity Mining Products
Trinity Mining has no retailable products or services, with affiliates only able to market Trinity Mining affiliate membership itself.
The Trinity Mining Compensation Plan
Trinity Mining affiliates invest funds on the promise of an annual ROI.
Bronze – invest $500 to $1000 and receive a 230% annual ROI
Silver – invest $2500 or more and receive a 250% annual ROI
Gold – invest $5000 or more and receive a 275% annual ROI
Platinum – invest $10,000 or more and receive a 325% annual ROI
ROI amounts are credited daily to affiliate backoffices.
If a Trinity Mining affiliate opts to actually withdraw money early however, they are hit with the following fees:
daily withdrawal – 10% fee
weekly withdrawal – 8% fee
monthly withdrawal – 5% fee
3 month withdrawal – 4% fee
6 month withdrawal – 2% fee
9 month withdrawal – 1% fee
Referral Commissions
Trinity Mining pay referral commissions on invested funds via a unilevel compensation structure.
A unilevel compensation structure places an affiliate at the top of a unilevel team, with every personally recruited affiliate placed directly under them (level 1):

If any level 1 affiliates recruit new affiliates, they are placed on level 2 of the original affiliate's unilevel team.
If any level 2 affiliates recruit new affiliates, they are placed on level 3 and so on and so forth down a theoretical infinite number of levels.
Trinity Mining cap payable unilevel team levels at six.
Referral commissions are paid out as a percentage of invested funds as follows:
Standard – 30% mining credit or 20% commission on level 1 (personally recruited affiliates), 10% on level 2 and 5% on level 3
convince others to invest $250,000 – 30% on level 1, 15% on level 2, 10% on level 3 and 5% on level 4
convince others to invest $500,000 – 30% on level 1, 20% on level 2, 10% on level 3, 5% on level 4 and 2.5% on level 5
convince others to invest $1,000,000 – 35% on level 1, 25% on level 2, 15% on level 3, 10% on level 4, 5% on level 5 and 2.5% on level 6
With the exception of the standard tier, it is unclear whether referral commissions are paid or credited.
Joining Trinity Mining
Trinity Mining affiliate membership is free, however free affiliates only earn referral commissions.
Full participation in the Trinity Mining income opportunity requires a minimum $500 investment.
Conclusion
Trinity Mining claim to generate external ROI revenue through cloud mining operations in Portugal.
We will maintain all our mining machines and source all the required energy from our solar wind turbines preserved in Portugal.
Specific cryptocurrencies Trinity Mining claims to mine are bitcoin, bitcoin gold, ethereum, litecoin and zcash.
Unfortunately Trinity Mining provide no evidence of mining operations or external revenue being used to pay affiliates.
As it stands the only verifiable source of revenue entering Trinity Mining is new investment.
Using new investment to pay existing affiliates an annual ROI makes Trinity Mining a Ponzi scheme.
Additional elements supporting this are Trinity Mining's withdrawal fees and lack of disclosure regarding company ownership and management.
Withdrawal fees make no sense if Trinity Mining was in fact actually mining cryptocurrency.
One of the core benefits of cryptocurrency is the ability to transfer funds between holders at little to no cost.
The MLM cryptocurrency niche is rife with fraud; such that if a company is unwilling to disclose basic information, it's a safe bet nothing presented to potential investors is legitimate.
Trinity Mining ticks all of the boxes for your typical MLM cryptocurrency Ponzi scheme.
The math behind Ponzi schemes guarantees that when they collapse, the majority of investors lose money.
When Trinity Mining inevitably collapses, best of luck recovering your funds from a virtual address in Panama.
Update 6th February 2021 – Trinity Mining was part of Kristijan Krstic's $70 million dollar+ Ponzi empire.
Krstic was arrested in Serbia on behalf of US authorities in mid 2020.