Ernie Ganz tied to new Traffic Monsoon website

There's a whole load of *winkwink* we don't know who's running the new Traffic Monsoon website *nudgenudge* going around at the moment.
Perhaps none more comical than what Ernie Ganz is telling his fellow Traffic Monsoon investors.
Grab your popcorn folks…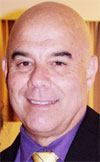 Ganz (right) was a top investor in the Traffic Monsoon Ponzi scheme. In 2013 he was also promoting TelexFree, a $1.8 billion dollar Ponzi scheme shut down by the SEC in 2014.
He also owns and operates the call center Traffic Monsoon used for support enquiries.
Since the SEC shutdown Traffic Monsoon, Ganz has been holding conference calls to provide updates and his opinion to Traffic Monsoon affiliates.
In a call held sometime over the last twenty-four hours, Ganz addresses the newly created Traffic Monsoon reboot website.
Despite claiming not to know who is running the new website, Ganz states
[1:56] Charles Scoville is in no way, shape or form with what is going on.

Ernie Ganz is not associated with what is going on.

You have a group of very loyal members that want their business to thrive as Traffic Monsoon.

They refuse to give up against the SEC and our USA government.

This group of members is anonymous. I don't know who they are. Either will any of us, nor the SEC will not know know who they are.
So uh, Ganz has no idea who the owners of the new website are… but claims they are a "loyal group" of Traffic Monsoon affiliates and definitely not Charles Scoville.
Riiiiiiiiiight.
Bear with me though, it gets better;
[2:56] Being that I own a call center and that my business along with my brother Mark J.P.

We do customer support for many companies around the world. We've been doing it for years. That's what we do.

We're a legal, legit customer service operation, so many companies come to us for customer service.

These anonymous people have come to our company and want our legal customer service.

We will give that to them.
Ernie Ganz has no idea who is running the new Traffic Monsoon website… but has been contacted by them, will accept payment from them and in exchange provide them with customer support.
Oh dear.
Guess there's nothing for it but to wait for the SEC and Receiver to have a field day with these recent developments. Stay tuned…