Ernest Ganz plays dumb with Receiver, cops entry of default

Ernie Ganz appears to have taken the legal side of his clawback lawsuit into his own hands…
…and things are going exactly as you'd imagine they would.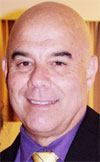 The Traffic Monsoon Receivership has been trying to serve Ernie Ganz (right) since late April.
Between April 25th and 29th, service on Ganz was attempted three times.
Each time an "older man, 60's, bald, white, 250 pounds with glasses" answered the door. Upon attempted service, the "older man" informed the process server that "his son does not live at this address".
The prompted confusion with the service agency, who reported back that the provided address was bad.
Following a skip trace and further research by the Receivership, it was confirmed that Ganz still lived at the provided address.
Our skip trace shows that Mr. Ganz still lives at the given addresss, the man [Ms. Troup] spoke to appears to be the defendant we are looking for.

His full name is Ernest Ganz III, his sons [sic] name is Ernest Ganz IV so he may have assumed he was the one they were looking for.
Play dumb and they go away. That's how clawback lawsuits work right?
Upon returning to Ganz's residence, he continued to refuse service because "III" was omitted from his name.
Once that was fixed up, Ganz was served on May 16th.
On May 21st Ganz's hired attorney made contact with the Receivership.
This correspondence lead to four extensions to the time Ganz had to respond to the lawsuit.
Each extension was consented to on good faith, under the proviso Ganz was considering settlement options.
The last extension gave Ganz until July 25th to respond to the lawsuit.
On July 15th Ganz ditched his attorney. The last thing his attorney did was inform Ganz of this deadline.
Not only did Ganz fail to respond to the clawback lawsuit, he's failed to make any further contact with the Receiver.
On August 19th the Receiver filed for an entry of default against Ganz.
On August 20th the court clerk recorded the requested entry of default.
A recorded entry of default paves the way for default judgment, pending a motion filing by the Receiver at a later date.
Ernie Ganz was a top net-winner in the Traffic Monsoon Ponzi scheme.
The Receiver filed clawback litigation against Ganz after calculating he stole $448,369 from Traffic Monsoon victims.