Traffic Monsoon scammers launch new website

In what is probably only going to dig a deeper hole for Charles Scoville, scammers have launched a reboot of the Traffic Monsoon website.
We're still waiting on official confirmation but pending several court filings in different US states today and last week, it is believed the court-appointed Receiver took control of the official Traffic Monsoon website.
As per an email sent out to the Traffic Monsoon affiliate-base in the last 24 hours;
Dear TM User

If Charles is dead safeguard has been put in place to carry out this business forward.

These safeguards are in play, but he is not dead.

We all together constitute traffic monsoon. This business is not just his. This is ours. We have benefited from the service. We earn money from this business. We all owe Charles huge debt of thanks for all the time, effort, and sacrifice he made to make this service.

We all stood behind this business. We have established this business. We should all stand proudly by our achievements together. This is our business, and I know you will not let all your hard work go down the tubes.

We will not let this PayPal end the business. We will not allow this united states security and exchange commission stop this business.

We know that the SEC is wrong. Charles does not provide any investment. Advertising is his service, and generously gives us surfers money from the company's profits.

We need to stick together now more than ever are.
The email doesn't address how paying a $55 ROI on $50 investments with newly invested funds isn't a Ponzi scheme.
A new Traffic Monsoon website has been launched with a .PLUS domain extension. The new domain was registered anonymously on the 5th of August 2016.
The email claims that Charles Scoville himself isn't behind the domain, but rather it's been brought online as a contingency plan in the event of his death.
Charles Scoville behind this site? No, he is not. When he was clear these false allegations, we will be happy to put this site to him.

This is not any need to do some by Charles, because he has authorized the event of death some will take action to carry on the business.

Since he is not in the capacity of operating traffic monsoon, and has been court ordered not, and people needed to jump into action without any permission. We are for him to do so. We offer you, us, our team, and each member to do so.
Traffic Monsoon affiliates are invited to sign into the new website using their existing Traffic Monsoon affiliate login details.
Here's the thing though, Charles Scoville is listed as the sole owner and operator of Traffic Monsoon.
For this email to be sent out to the Traffic Monsoon affiliate-base and their original Traffic Monsoon login details preserved, means that at some point, prior to the Receiver taking control of the original Traffic Monsoon domain, Scoville handed over the database to someone.
The Receiver is well within her rights to contact the host of the new Traffic Monsoon website and demand it be handed over, as it is clearly operating using Traffic Monsoon assets.
The SEC might also be inclined to make inquiries as part of their own ongoing investigation.
Scoville himself obviously knows who is behind the website, but at the time of publication has yet to make a public announcement about it.
What he has revealed over the last 24 hours is a purported email exchange between himself and a Utah Division of Securities investigator.
In the exchange, from 2014, the agent purportedly states the Division forwarded their findings to Consumer Protection after failing to find a securities issue with AdHitProfits (click to enlarge below).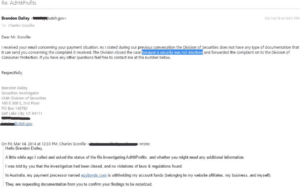 This is certainly strange considering AdHitProfits is a blatant Ponzi scheme.
While Scoville is parading his correspondence with the Utah Division of Securities as "proof" Traffic Monsoon isn't a Ponzi scheme, it has no bearing on the SEC's current case – which correctly identifies Traffic Monsoon for what it is.
Pending an official explanation from the regulator, why the Utah Division of Securities failed to identify AdHitProfits as a Ponzi scheme back in 2014 is anyone's guess.
Left unsaid is the fact that if they did, Traffic Monsoon victims today might have been spared millions of dollars in losses.
Update 9th August 2016 – Top Traffic Monsoon investor Ernie Ganz has been tied to the new Traffic Monsoon website.