Timothy Baggett sells Changes Trading to… himself?

On October 12th Changes Trading owner Timothy Baggett issued an apology for months of delays in paying out his affiliates.
As all of you know we have fallen behind in commissions that were owed from the last couple of months.

I want to sincerely say how sorry I am that this has happened and I want to assure you that we are working very diligently to get this resolved.

Commissions being paid correctly, and on time is the life blood of any business like ours and it is essential to staying open.

We have always taken pride in getting our commissions paid on time and correctly we intend to get this fixed and to get back on the right track.

Over the next few weeks we will be sending out payments to you as we try and get this completely cleared up.
At the time, it sounded as if Changes Trading had put their issues behind them.
Turns out however that after "working very diligently" on the problem over the last two weeks, Baggett concluded the only way to ensure affiliates were paid on time was to remove himself from the equation.
In an email sent out to Changes Trading affiliates on October 21st, Baggett (right) wrote
Dear CTS Participants,

After months of work and effort to restructure CTS, we have come up with an innovative solution to resolve the many outstanding issues. The foremost issue is: who is going to lead CTS into the future.

(Ozedit: I thought the foremost issue was nobody was getting paid?)

The answer may surprise you. Because we have decided to turn leadership and ownership over to, Make Your Future – the company that invented the trading systems that CTS has promoted.

Make Your Future (MYF) is now the owner of Changes Trading Systems (CTS) Marketing and will lead CTS into the future. I will step down as the owner and CEO of Changes Trading System, and MYF will assume direction and control on November 1st, 2014.

The name of Changes Trading System (CTS) will continue to be used for marketing and training purposes but Make Your Future will be the owner of Changes Trading Systems.

I apologize for the problems of the past and know that this change of leadership and direction will be a benefit to the most important people – the trading client, and the sales Agent. It has been an honor to serve you and I wish you all the very best.

I will no longer be involved in the leadership or ownership of CTS, nor will I have a position of leadership or ownership in Make Your Future.

I would hope that you will give this change in direction a chance to prove that the "system" is the most amazing futures trading system in the world, and that Agents will earn, and be paid commissions in a timely manner from the sale of Make Your Future / CTS products.

You will be contacted in the near future by Make Your Future / CTS, and they will answer your questions and concerns and help you to go forward.

Tim Baggett
Baggett launched Changes Trading as Changes Worldwide back in late 2013. The company initially accepted $25,000 investments from affiliates on the promise of >100% 90 day ROIs, however this later morphed into Changes Trading.
How much money Changes Worldwide took in from investors is unknown, ditto the amount Baggett skimmed off the top since the company's launch.
What appeared to be the case now though is that he was doing a runner. Or so it seemed.
Make Your Future operate a "day trading futures" platform and was formerly owned by Kimball Parker.
Around mid-September Parker held a conference call for Make Your Future clients.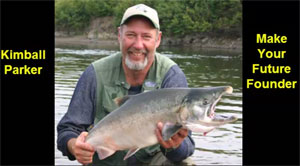 During the call Parker (right) announced a Make Your Future merger that was to become effective as of September 18th:
Hi, this is Kimball Parker, the originator and founder of Make Your Future.

December will mark the end of our fifth year in business as Make Your Future.

As most of you know, we formed an alliance with a company just six months ago or eight months ago I should say. This company is Changes Trading Systems, which is a division of Changes Worldwide.

Changes Trading Systems has been our primary marketing arm since January of this year, 2014, and Mr. Tim Baggett … approached me with an offer to actually buy Make Your Future.

I considered it but really didn't take it too seriously.

Several weeks ago we were able to go on a fishing trip with Tim and Rob Skinner, who is the Master Distributor … and Tim reiterated his interest in buying Make Your Future.

As most of you know my primary goal has been to share this with as many people as I can share it with. And most of the growth has been in what we would call a "linear fashion", meaning that people recruit a friend and a friend recruits a friend… and the growth has been fairly slow but consistent.

We've been happy to watch our numbers grow over the past seven years, but we have people drop out and people come in. And with the network marketing aspect of Changes Worldwide, I was intrigued with the opportunity that we may have to increase our recruiting numbers exponentially.

And as I've watched Changes Trading Systems grow over the last eight months, it's been encouraging for me to see to see that  their growth is exponential.

With the offer that I couldn't refuse from Tim, I finally relented and decided to sell Tim the business.
I guess that explains where some of the money that wasn't being paid to Changes Trading affiliates wound up. How much Changes Worldwide funds Baggett paid Parker for Make Your Future.
What is clear though is that he bought the company. Shortly thereafter Baggett "removed" himself from Changes Trading Systems and claimed to have no "position of leadership or ownership in Make Your Future."
So how do you purchase a company and then the next month claim to have no ownership in said company?
At the time of publication there is no indication on the Make Your Future website that the deal with Baggett fell through, or that he went on to sell the company to someone else.
Indeed Kimball Parker states that the deal has already gone through. He "sold" the business to Tim Baggett in September. Baggett's "I have no ownership in Make Your Future" email is dated late October.
So what's going on here?
Baggett raises money from affiliates through Changes Worldwide and Changes Trading, stops paying affiliates, uses money raised to purchase another company, then claims the company he just purchased bought his old company – and at the same time denies ownership in the company he just purchased?
Huh?
Whether or not Changes Trading affiliates will receive commissions on a regular basis remains to be seen. Meanwhile why Baggett is attempting to disappear into the shadows despite still appearing to own his company by proxy remains a mystery.