Kimball Parker tries to hide $100,000 from the CFTC (Changes Trading)

As per a January 13th filing by the CFTC in the Changes Trading case, Kimball Parker appears to be trying to hide $100,000 from the regulator.
The CFTC filed a lawsuit alleging violations of the Commodity Exchange Act against Parker last October.
Thus far Parker and co-conspirator Timothy Baggett have failed to make an appearance in the case. Default judgement was granted against the pair in November.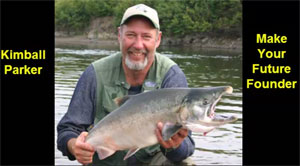 Kimball Parker (right) has retained counsel to represent him in the CFTC lawsuit, however he's informed the regulator that 'he does not plan to file any appearance or otherwise participate in the litigation.'
Nonetheless, Parker has engaged in settlement discussions with the CFTC.
During the settlement discussions, the CFTC learned information suggesting that Parker may have transferred or secreted funds in order to avoid having to pay customer restitution.
The CFTC learned of Parker's attempt to hide money through a financial statement provided by his wife.
Mrs. Parker's statement showed a $100,000 stock purchase in a non-public corporation controlled by one of Parker's friends.
Prior to the stock purchase, Parker transferred $105,000 to his wife.
A Financial Disclosure Statement provided by Parker to the CFTC disclosed "minimal assets". He did not disclose the stock purchase or $105,000 transfer to his wife.
When queried about the stock Parker told the CFTC
the corporate stock is illiquid, that there is no market for it and no appraisal rights.

The Parkers have valued the stock at $0, even though they paid $100,000 for it just a few months ago.

Representatives of the issuing corporation confirmed that stock was purchased by Parker, and that Parker requested the stock be transferred.
The CFTC have sought permission to serve discovery on the corporation and Parker's friend, presumably in an attempt to trace and ultimately recover the funds.
The CFTC believes Parker is trying to hide the money so it isn't returned to the victims he stole it from.
Discovery was granted by Judge Jenkins on January 17th and is presumably underway.
A Status Report filed on January 25th reveals Timothy Baggett, Changes Worldwide or Changes Trading have engaged the CFTC.
The regulator states they promptly intend to file for default judgement.
Stay tuned…