Changes Trading owner apologizes for payout delays

Modeled on the failed Ponzi scheme Bids That Give, Changes Worldwide initially launched in late 2013 as a $25,000 revenue-sharing scheme.
For whatever reason, that didn't last long and a few months after launch Changes Worldwide switched names to Changes Trading.
Whereas Changes Worldwide attached itself to an irrelevant dietary supplement, Changes Trading sought to hide behind a day-trading platform.
As per the Changes Trading website,
Changes Worldwide brings you a revolutionary breakthrough in the world of day trading: The Changes Trading System (CTS).

The Changes Trading System has a documented and verifiable track record of unmatched performance in trading futures contracts (commodities).

Our proprietary and proven system is unique and is found nowhere else in the world. It is designed for both the new, inexperience trader as well as the seasoned professional.

This color-coded system is simple and easy to understand. It gives you exact entrance and exit points. And, we provide an unparalleled level of personal help and training to each user of our extraordinary system.

If you have a desire to own your own life, working from the comfort of your home, on your computer, in an "ALL CASH" business, the Changes Trading System could be for you.
Built on the foundation of Changes Worldwide, it wasn't long before Changes Trading too ran into problems.
I haven't yet formally reviewed Changes Trading, but have read reports of affiliate commissions being withheld for some months.
With silence thus far from Changes Trading corporate and facing mounting criticism from his investors, CEO Timothy Baggett has finally addressed the issue.
In a recent email sent out to Changes Trading investors, Baggett writes
Dear Friend & Changes Worldwide Affiliate,

It has been such an honor to get to work with each and every one of you over the past year; words cannot express my feeling of gratitude and appreciation.

I know over the past several weeks there have been a lot of rumors floating around and some pretty vicious attacks on me personally as well as this company. Though I will not get sucked into a war of words and respond to the attacks I would like to share some insight on where we are and where we are going.

First as all of you know we have fallen behind in commissions that were owed from the last couple of months.

I want to sincerely say how sorry I am that this has happened and I want to assure you that we are working very diligently to get this resolved. We had some unexpected events occur with our bank accounts and the cost of our website/back office being thousands of dollars more than was quoted to us.
Bank account "problems" is typically code for regulatory issues in Ponzi circles. Unfortunately Baggett does not clarify the specific details of the banking problems he claims Changes Trading went through.
Whether or not company funds were frozen or seized too remains unclear.
We also incurred some additional unexpected expenses in July and August. The above items combined caused us to fall behind on payouts and were unable to fulfill our obligations. But let me assure you WE FULLY INTEND TO PAY ALL COMMISSIONS OWED.

Being from the field myself I fully understand how frustrating this is.
How Baggett intends to make his investors whole is of course not elaborated on.
Commissions being paid correctly, and on time is the life blood of any business like ours and it is essential to staying open.

We have always taken pride in getting our commissions paid on time and correctly we intend to get this fixed and to get back on the right track.

Over the next few weeks we will be sending out payments to you as we try and get this completely cleared up.

As for the Business Promotional Packs that were purchased. We are working on getting all of the refunds processed and sent back to those that requested a refund.

I hope that you will continue to be patient and understand that we are working to get everyone their money returned as quickly as possible.
The "Business Promotional Packs" Baggett refers to were part of the original Ponzi offering: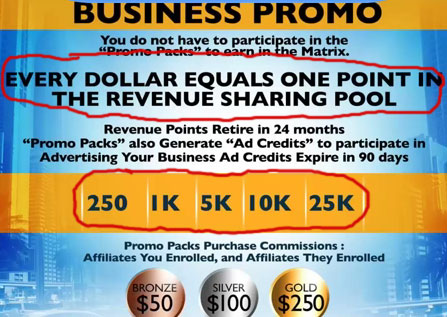 As you may have noticed we have shut down the Changes Worldwide site and replaced it with the Changes Trading site. For any business to stay open it must first be profitable.

The MLM side of our program was simply not profitable. We have been losing money for the past several months and it had to stop.

We are no longer selling any products other than the trading system and the travel program.
Much easier to operate a virtual currency platform to shuffle new investor funds than to waste your time pretending to sell a tangible dietary supplement. Ditto travel memberships, they only require the transfer of money too.
We have changed our commission program to more of direct sales, two level model. We understand that many of you would rather be involved with an MLM and that is ok.

If you decide to move on, we understand completely and wish you nothing but the absolute best and much success. Please know this will in no way affect our decision on paying you any commissions that are owed you and you will not be discriminated against for making that decision.

For those of you that would rather stay and help us by selling our incredible day trading system, we are making sure that commissions are paid within 48 hours of the payment clearing on your sale.

We have been able to do this for the past two weeks and will continue to do so going forward. I want to assure you that it is my intention to never allow commissions to fall behind again.
Well sure, until Changes Trading is hit with "banking problems" again.
We are very excited about where we are going as a company. The trading has by far been our most popular product and we feel that by shifting and narrowing the focus to this product we are on the right path to help change a lot of lives.

We are switching to a new back office system and feel confident that we will be able to have the new website and back office live by early next week.

We are also working on a marketing system for our affiliates to use to aid you in building your business. We will also be releasing the new presentation next week. Like I said, we are very excited about what the future holds for Changes Trading.

Once again I want to say how much I appreciate each and every one of you. It has been a privilege meeting and working with all of you.

God Bless,

Timothy Baggett II
Typically when a scheme experience banking problems and attempts a re-open, it does so without access to funds frozen or seized. And as a result of said problems, often the scheme is required to approach financial institutions willing to take on their risk.
More often than not these are short-lived partnerships with the institution playing dumb to collect a month or two's worth of fees, before they shut down the account. Either that or you're looking at banking options where regulation is questionable at best.
Who Baggett is now using to handle Changes Trading's accounts is not revealed. But you can bet they're just as murky as the business opportunity itself.