Kimball Parker fined $1.2 million for trading fraud

In 2013 Timothy Baggett and Kimball Parker launched Changed Worldwide. Initially a revenue-sharing Ponzi scheme, in 2014 the company name changed to Changes Trading.
Through Changes Trading, Baggett and Parker marketed a trading system pegged to an MLM compensation plan.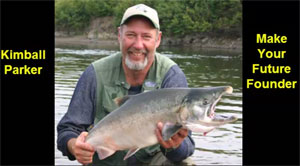 An investigation by the CFTC found that Baggett and Parker (right) marketed Changes Trading via
fraudulent misrepresentations and omissions designed to mislead customers and prospective customers into believing that the trading system was profitable and effective.
Upon being interviewed by the CFTC, Parker
admitted that the results on the spreadsheets-and indeed all of the trading results touted in Defendants' promotional materials-were hypothetical and simulated.
The CFTC filed legal action against Baggett and Parker last October. As per a consent order filed on May 19th, the matter has reached a conclusion.
The filed consent order is part of a settlement between Parker and the CFTC.
After stealing $498 million dollars through Changes Worldwide and Changes Trading over 2013 and 2014, Baggett stopped marketing the opportunity in November, 2014.
Parker continued to use the websites to promote the opportunity and managed to steal another $853,249.98 from affiliates, on top of affiliate losses derived from use of the non-profitable trading system.
Admitting to trading fraud and consenting to entry of a permanent injunction, Parker does not contest the CFTC's charges against him.
As part of the settlement, Parker was fined $1.2 million dollars. $853,294.98 plus post-judgement interest is a restitution payment, with the remaining $354,000 issued via a civil penalty.
Timothy Baggett and his companies Changes Worldwide and Changes trading are jointly liable for $498,600.97 of the $853,294.98 restitution amount.
Back in February Timothy Baggett was hit with a $500 million dollar default judgement.
Stolen funds returned by both Baggett and Parker are to be deposited with a court-appointed Monitor, for eventual payback to Changes Worldwide and Changes Trading victims.