The Isagenix Amazon retail racket receipts

Last week we reported on a lawsuit alleging Isagenix corporate were in on a secret Amazon/eBay retail racket.
A few days after news of the lawsuit broke, Isagenix co-founder Jim Coover appeared on a leadership call to deny the allegations.
Today we examine evidence that suggests otherwise.
Before we get started, the parties you'll see in the screenshots below are as follows:
Bryan Lund – Co-Plaintiff and in the screenshots anything on the right
Scott Christensen – Co-Plaintiff with Lund
Jay Bennett – Isagenix's third top earner when Lund was recruited, then rose to top earner within the company
Isagenix corporate – namely Isagenix's Compliance Department
Jennifer Rodriguez – part of Bennett's immediate downline and introduces herself as "Jay's assistant"

As per Lund's and Christensen's complaint, Lund joined Isagenix on the proviso Isagenix corporate was on board.
This began in October 2017: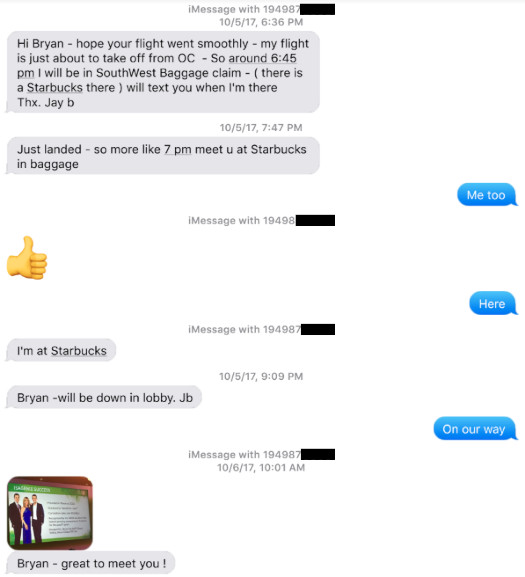 As detailed in the complaint, the first attempt at selling Isagenix on Amazon and eBay came to an abrupt halt a few months later.
At Bennett's insistence, and representation he'd smoothed things over with Isagenix corporate, the original plan was restarted in early 2019 (around the date of Jennifer Rodriguez reaching out above).
In introducing herself, Rodriguez suggested one of her responsibilities was making sure Bennett's downline maintained product orders.
This was done to ensure Bennett continued to qualify for commissions: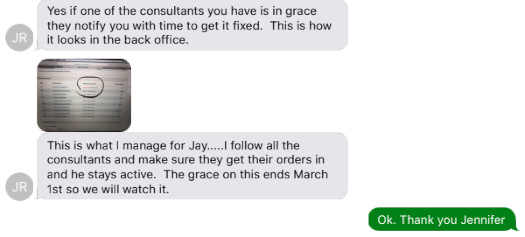 The Amazon racket ruse saw Rodriguez, on behalf of Bennett, create a bunch of customer and distributor accounts to order product through: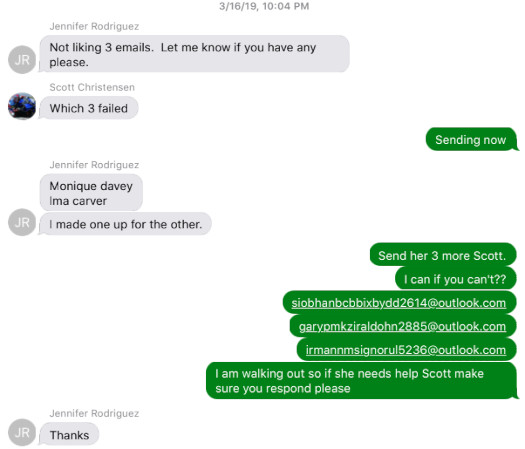 Email addresses and phone numbers used to generate these accounts appear to have been created on demand: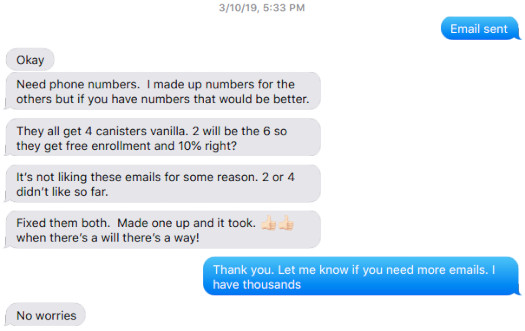 The names of the accounts, at least in part appear to be real people. To that end contracts were drawn up governing who got paid what: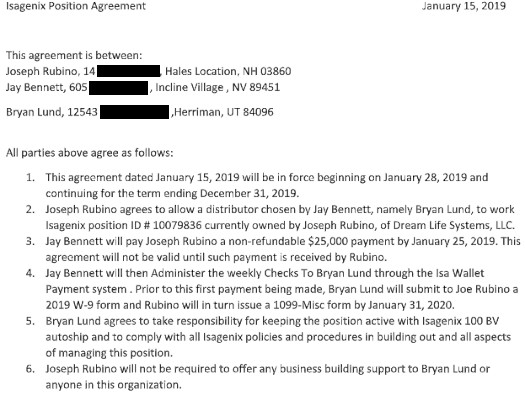 As per the terms of the confidential agreements, patsies allowed Bennett to use their created Isagenix accounts to push Amazon racket product through.
In exchange, Bennett paid them a non-refundable initial payment of $25,000. Another $25,000 was paid when the account was promoted to Executive.
The terms of the contracts were for eleven months. For the duration of the contract, Bennett was then responsible for paying Lund weekly Isagenix checks.

Initially, individual delivery addresses were used to ship Isaganix products ordered through these accounts to. Lund then organized collection of the product.
Using this method, thousands of dollars were spent ordering Isagenix products: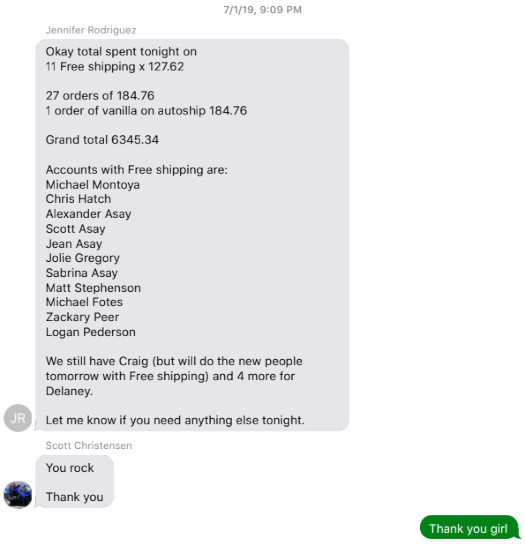 VISA gift cards were used to purchase the product. The suspicious nature of the transactions was sometimes enough to trigger VISA's in house security: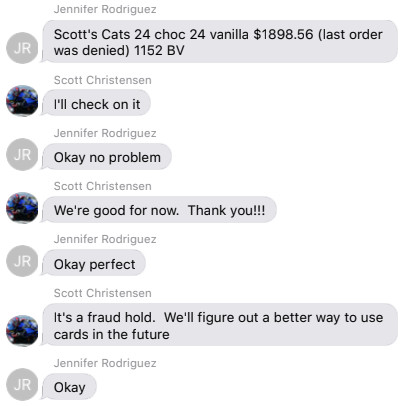 At one point Lund joked about selling a Ferrari to continue funding the racket: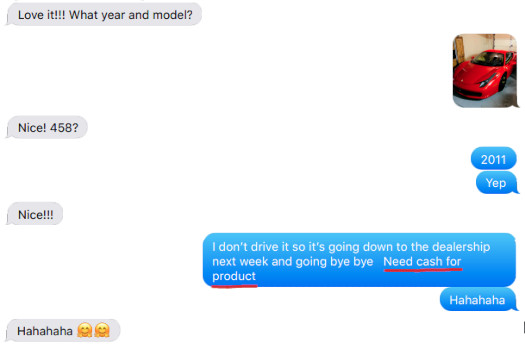 Picking up thousands of dollars in orders from multiple addresses proved cumbersome.  Eventually Lund came to the realization that, if he was to continue, it was be on the proviso one address would be used.
Bennett smoothed the request over with corporate, resulting in racket orders being sent to the same Utah address (click to enlarge):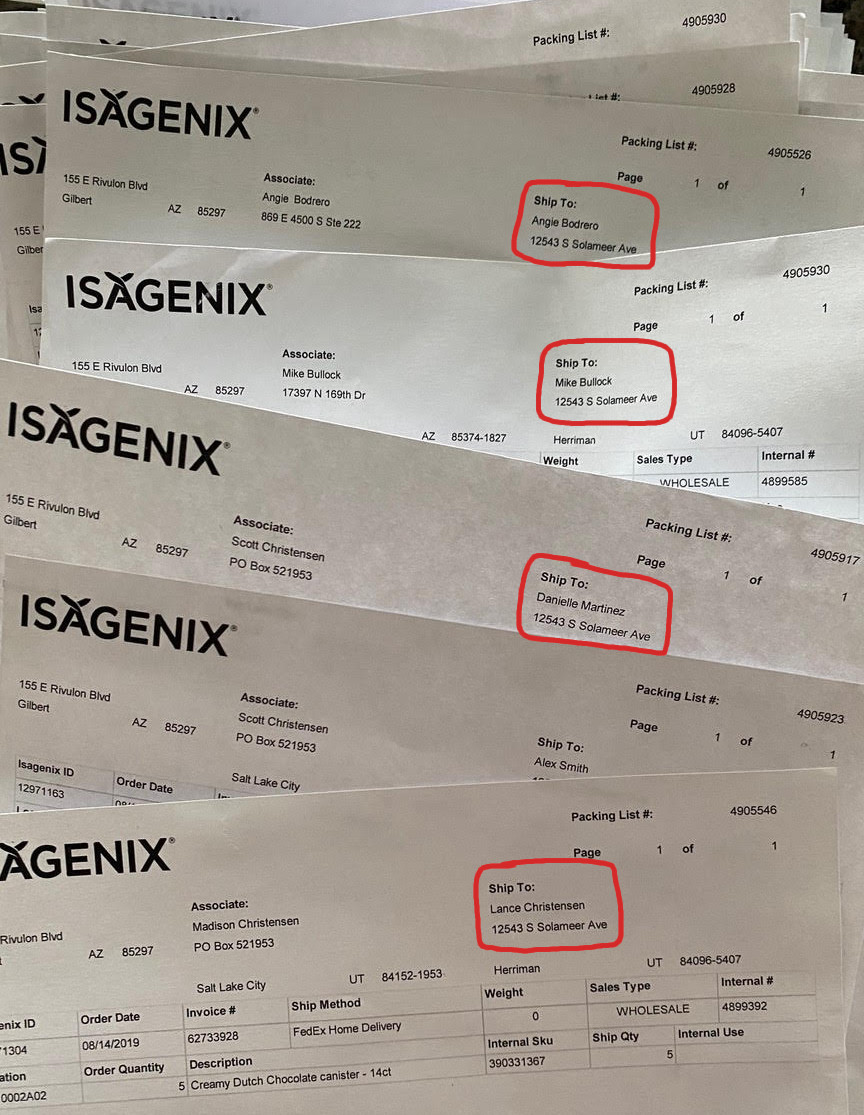 Bennett also smoothed over the need for gift cards, allowing Rodriguez to order products across multiple accounts through one credit card.
Lund claims this went on for seven months, and that he has thousands of same-address invoices.
It's important to note that this is not possible without an override on Isagenix's end.
That brings us to communication between Bennett and Isagenix corporate, which began as early as October 2017: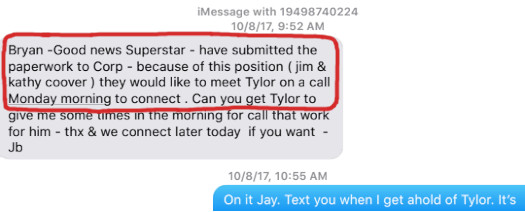 Note that the above example is from the first failed Amazon racket attempt. Bennett however continued to smooth things over with Isagenix compliance the second time around:

For reasons unknown, on or around August 2019 Isagenix's Compliance Department wanted out of whatever arrangement Bennett had going.
This prompted an August 28th email to Scott Christensen, who worked with Lund, from Kymberly Valenzuela, Director of Isagenix Global Compliance.
The email pertained to verifying details of the bogus accounts Jennifer Rodriguez had set up for the racket.
As you know, we have worked with you extensively over the last few months to bring the accounts within compliance.

In addition, we need your assurance that the products are not ending up on Amazon or similar sites.

If we do become aware of products being sold on such sites, we will terminate the associated accounts.

After Friday August 30th, Isagenix will be removing duplicate credit cards from all accounts other than the individual account holder and will be blocking access to accounts we are not able to confidently validate in the manner indicated above.
Jay Bennett was CC'd in on the email. In a followup September 6th email to Lund, Bennett stated;
the company is shutting your positions down – it's out of my control – wanted you to get clarity on compliance direction – ( read below ). Jb
Beyond that, Lund couldn't get an answer as to what went wrong.
Despite the evidence provided above, Jim Coover maintains "there is no truth" to Lund's and Christensen's allegations.
Isagenix has never actively promoted products on Amazon or encouraged others to do the same.
The validity of Coover's statement above is thrown into question by an Amazon seller response from iServe.

In response to a query on how they were getting away with selling Isagenix products on Amazon, iServe stated they were "an authorized seller partnering directly with Isagenix".
That was July 2019, during the time Bennett's own Isagenix Amazon racket was operating.
iServe stating they were partnered directly with Isagenix suggests an agreement with corporate.
iServe is an Utah based Amazon seller with 42,834 ratings.
The company's address is shared with Pattern, who claim to be a
leading player in ecommerce intelligence, sales optimization, marketplace management, and global expansion.
If Isagenix had an agreement with iServe, it appears they no longer do. Although they clearly once were, at the time of publication iServe are not selling any Isagenix inventory on Amazon.
Isagenix dismantling Jay Bennett's Amazon racket saw Lund and Christensen terminated as distributors.
Bennett, an individual defendant in the lawsuit, is still a top earner within Isagenix. To the best of my knowledge neither Bennett or Rodriguez were reprimanded for their conduct.
How widespread the practice of creating and managing bogus customer/distributor accounts is within Isagenix's top earners in unclear.
One of the allegations raised in Lund's and Christensen's lawsuit is that Bennett told them
the top 10 Isagenix distributors had been approved for internet resale as long as they did not allow other distributors to be aware and "kept it under the radar".
Jim Coover has stated Isagenix intends to file a motion to dismiss the filed complaint.