Jay Bennett removed from Isagenix top earner lists?

Fallout from Isagenix's Amazon racket might have seen it cut ties with former top earner Jay Bennett.
Each month Isagenix publishes a list of top earners. The documents are a month or so behind, with March being the latest lists.
For February 2020, Jay and his wife Siv ranked ninth across Isagenix's "top 10 platinum businesses":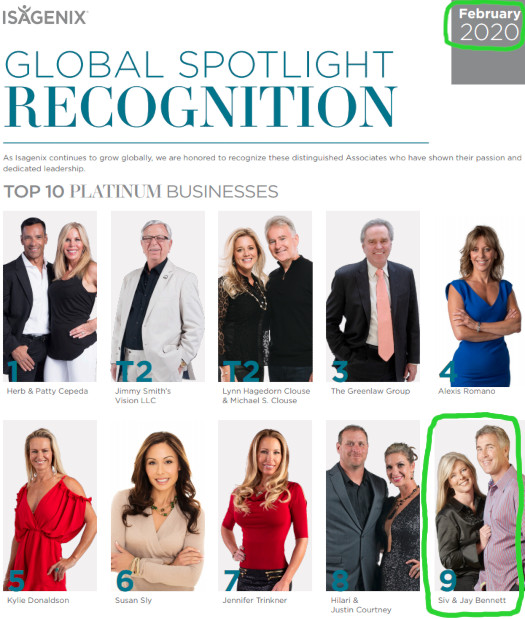 The March 2020 top 10 platinum business document hasn't gone up yet, but Bennett is nowhere to be found on Isagenix's March 2020 top 200 individual income earners list: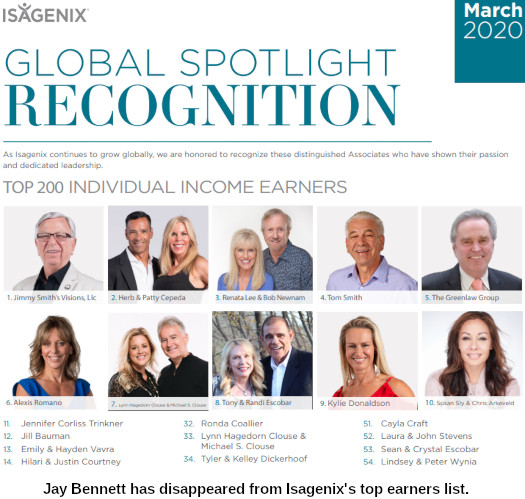 It would seem strange for Bennett to go from ninth largest Platinum business to out of the top 200 in a month, without intervention from Isagenix corporate.
Whether this means Bennett has been terminated or Isagenix is hiding Bennett's income is unclear.
Bennett's last Facebook post is dated February 15th, in which he boasted about "true residual income":

As far as I know Isagenix corporate haven't issued any recent public statements regarding Bennett.
Bennett's involvement in Isagenix's Amazon racket was revealed in a recent lawsuit, filed by former partners Bryan Lund and Scott Christensen.
Bennett, Lund and Christensen executed a plan to resell Isagenix products on Amazon. In order to get around Isagenix's ecommerce prohibition, Bennett represented Isagenix corporate were on board.
Isagenix co-founder Jim Coover has denied any involvement.
While the racket propelled Bennett to Isagenix's number one earner, Isagenix Compliance shut the scheme down last July.
Bennett promptly ceased all communication with Lund and Christensen, with the pair alleging they are out of pocket $170,000.