TelexFree lose injunction appeal, caught out lying

Despite anonymous authors hitting press release spam sites over the weekend to  announce TelexFree had won their appeal on Friday, an actual decision was handed down early this morning.
Not surprisingly, TelexFree lost.
The Court of Acre decided to keep the Telexfree blocked payments, as well as the accession of new publishers to the system.

The judge who made the decision is Samoel Evangelista, 2nd Civil Chamber of the Court of Acre (TJ-AC), with the decision being valid throughout Brazil and abroad.
TelexFree now have the option of filing a second appeal, within which they have five days to do so. With the appeal rejection marking the second time a decision had been rendered against the company based on evidence presented by public prosecutors, I'd guess a second appeal unlikely.
And if one is filed, even more unlikely that it will be granted by the judiciary.
With the appeal being rejected, focus is now on the Acre Public Prosecutor's Office to file a criminal case against TelexFree within 30 days of the original injunction granted last week.
Again, with two judges already signing off on an injunction against the company based on evidence the prosecutors have presented, TelexFree is unlikely to be able to defend itself of charges relating to it being a Ponzi scheme.
According to Judge Thais Kalil, how TelexFree earnings are paid out was advantageous to the prosecutor's argument, in that adding publishers to the network is of more importance than actually trying to sell the VoIP product.

"The issue is that the earnings will be exhausted when the main source of revenue of the group (new affiliate registrations) stops. Many (affiliates) do not even have the opportunity to recover their initial investment (minimum U.S. $ 339) and this is detrimental", the judge wrote.
TelexFree themselves seem to be hinging their entire defense on the fact that they have a product. Mistakenly the company seems to believe that paying out existing investors with new investor money is fine, so long as you add a product to the mix.
When that argument didn't hold up Carlos Costa, TelexFree's Director of Marketing, announced in a YouTube video that TelexFree had put it's "faith in god".
Unfortunately that didn't hold up in court either, with Acre Public Prosecutor's labelling TelexFree 'the greatest scam in the history of Brazil' in court.
Horst Fuchs, TelexFree's lawyer, recently revealed that the company had over 600,000 affiliates globally. 70,000 of these affiliates reside in the Brazilian state of Acre, where the injunction against the company was granted.
Speaking of Carlos Costa, in a double-blow to TelexFree today it was also revealed that the company had been spinning porky pies in relation to rumoured investment insurance agreements.
In what appears to have been a marketing stunt that has now horribly backfired, shortly after the Acre injunction was granted last week Costa appeared in another YouTube video.
In the video Costa (who for some reason is wearing a suit a few sizes too small), held up what was presented as a contract between TelexFree and insurance company Mapfre, guaranteeing TelexFree affiliate's investments: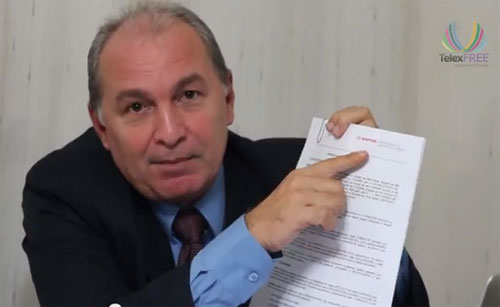 In the video Costa makes a big deal over the contract, placing much emphasis on "the insurer accepting the contract" and "guaranteeing 100%" TelexFree's affiliate investments.
The contract has been accepted. Your business will be ensured. You and Telexfree will also be 100% safe.

You think Mapfre insurance would do business with something that was not 100% legal? Of course not. So you can see here the legality of our company.
After being contacted by the Brazilian media however, Mapfre released the following statement:
Mapfre Insurance advises that does not have any business relationship or partnership with companies and Telexfree Ympactus Comercial Ltda [ corporate name of Telexfree ].

The dissemination of information that is suggesting a contractual obligation of the Group's insurance companies with these companies is not true.
Mapfre additionally advised that they were considering taking 'legal action for misuse of its brand and eventually for all damages caused'.
Turns out TelexFree merely sent an insurance proposal to Mapfre, which they accepted for review. Accepting the proposal documents was enough for Costa, who then took to the airwaves to announce it as a done deal.
Mapfre later rejected the proposal, stating that they 'don't even offer the type of guarantee sought by the company (TelexFree) and  Costa'.
Attempting to backtrack from the exposed lie, TelexFree blamed its affiliates for spreading misinformation and putting out the following statement on its Facebook page:
Dear promoters, it is necessary to make clear that the video produced and broadcasted by Mr Carlos Costa, Director of Marketing for TelexFREE, to inform about the existence of a negotiation with the MAPFRE insurance needs to be correctly interpreted.

We emphasize the following point: the TelexFREE (Ympactus Comercial Ltda) is in the final stages of negotiations with two national expression and international insurers and the process has already been approved by SUSEP.

One of the insurers is MAPFRE. The hiring process has several stages and, thankfully, is in the last, which is why it was possible to disclose the fact.

It so happens that some promoters are so hasty and unauthorized building and informative posters on blogs and facebook profiles with the image of TelexFREE and MAPFRE, which may cause inconvenience and problems precisely in this final phase.

We ask, therefore, immediately cease such practices and who have already posted, do the immediate withdrawal, respond by reflexes.

We believe that we can count on sobriety.
Despite Mapfre publicly announcing they'd rejected the proposal, TelexFree seem to be under the impression that receiving a proposal marks the "final stages" of negotiation, and that a contract between the company and Mapfre is still on the table.
And blaming their affiliates? Yeah, because Carlos Costa waving a fraudulent contract around declaring that it had been signed and everyone's investments were now "100% guaranteed" is clearly the work of TelexFree's affiliates.
Looking forward, despite reassurances that TelexFree's business outside of Brazil will continue as normal clearly the rejection of the appeal today indicates otherwise. With the injunction freezing company assets and bank accounts, along with those belonging to executive management, money flow and operations abroad will no doubt be affected.
Whether or not and how much of TelexFree's revenue reserves have been kept offshore has not been made public.
In the meantime, TelexFree just recently published a follow-up announcement on their Facebook page declaring that they expect 'everything to return to standard as soon as possible'.
How business operations will return to normal in Brazil with a business-stopping injunction currently in place was not clarified.