Global Payroll Gateway processor drops TelexFree

In yet another blow to TelexFree's non-Brazilian operations, today Global Payroll Gateway announced that they were dropping the company.
Global Payroll Gateway's announcement comes on the back of weeks of commission delays for TelexFree's affiliates, with the company itself failing to pay affiliates for close to a month now.
Meanwhile, those that have been paid commissions have relied on their uplines to pay them directly out of their TelexFree backoffice funds. These transfers are of course made on the faith that TelexFree will reimburse its top affiliates for the money paid out at a later date.
On their website, Global Payroll Gateway advise that they use "government insured trust accounts" and "work with" Visa. Mastercard and American Express logos also appear on the site.
In Global Payroll Gateway's email, sent out to TelexFree's affiliates sometime in the last twenty-four hours, no official reason is given for their decision. The company only states they 'can no longer support TelexFree' and that affiliates should 'contact TelexFree directly if you have any questions'.
One possible reason?
Today's global, electronic economy is becoming more regulated all the time to fend off everything from the funding of terrorism to the movement of illicit money, such as proceeds from illegal drugs sales and cyber-hacking of financial institutions.

Much of the requirements worldwide today extend beyond simple Know-Your-Customer ("KYC") and Customer Information Program ("CIP") regimes.

GPG maintains strict accordance with the USA Patriot act and a wide variety of other international financial regulatory and banking regulations.

GPG is very careful to follow all international regulations and laws concerning Anti-Money Laundering, Identity Protection and Payroll in general.
As for a replacement payment processor, Global Payroll Gateway notified affiliates in their email that
TelexFree will be transitioning all worldwide commission payouts to the new TelexFree E-Wallet system, powered by International Payout Systems (IPS).

You should expect a welcome email from the new TelexFree E-Wallet system by tomorrow, Friday 9/13.
With the ongoing delays of GPG commission payments to affiliates, it is likely TelexFree were advised GPG would no longer support them some time ago.
Traffic wise (Alexa) International Payout Systems appear to be a much smaller company that GPG.
Update 19th October 2013 – International Payout Systems have been in touch and advise that they use the domain "globalewallet.com" as their "end user site". The GlobaleWallet website has an Alexa rank of 6,145, which is higher than that of Global Payroll Gateway.
At the time of publication I used the Alexa rank of "i-payout.com", which I believed to be International Payout Systems' website.
For reference here are the Alexa ranking of all three domains at the time of this update:
Global Payroll Gateway ("gpgway.com") – 18,730
International Payout Systems ("i-payout.com") – 132,572
International Payout Systems (end user website, "globalewallet.com") – 6145
/end update
On their website IPG write
International Payout Systems, Inc. (i-payout) is a leading provider of global payment solutions for multi-level marketing companies, direct sales associations, unions, and the legal industry.

Established in 2007 and US based, i-payout has a long-standing reputation as a trusted and respected partner providing consistent service and flexibility.

Our partnerships comprise a network of the largest most reputable global banks and established alternative payment solutions.
Amongst other MLM companies featured as clients on the IPG website are World Ventures and Empower Network. Logos for Bank of America, Mastercard, VISA, the BBB and the DSA.
I checked the Direct Selling Association's website and was unable to find International Payout Systems or "i-payout" as a supplier member.
On the affiliate side of things, TelexFree's top US affiliates scrambled to close off their Facebook support group. For reasons not immediately clear, the Facebook group "TelexFree Universal Group" public access was removed shortly after GPG's announcement.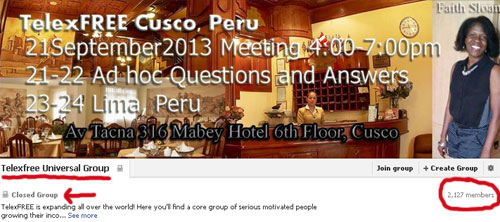 TelexFree Universal Group numbers over 2,000 TelexFree affiliates and is used by affiliates as a primary non-official communication platform. In the lead up to GPG's announcement the group was flooded daily with complaints about delayed commission payments from GPG and mounting affiliate downline anger and frustration.
With TelexFree currently facing civil charges and criminal investigations in Brazil, including regulators floating the possibility of money laundering and embezzlement charges, one would hope International Payout Systems know what they're potentially getting themselves into.
Footnote: The Global Payroll Gateway email, as sent out to TelexFree affiliates, can be read in its entirety below:
Greetings,

Global Payroll Gateway (GPG) can no longer support TelexFree. Therefore TelexFree will be transitioning all worldwide commission payouts to the new TelexFree E-Wallet system, powered by International Payout Systems (IPS).

You should expect a welcome email from the new TelexFree E-Wallet system by tomorrow, Friday 9/13.

All requests from TelexFree starting with September 3rd will be processed by this new system. All past transactions that were loaded into GPG will be processed by GPG.

Please contact TelexFree directly if you have any questions.

Thank you,

Global Payroll Gateway