Paymony Review: Digital currency Ponzi scheme

There is no information on the Paymony website indicating who owns or runs the business.
Launched in late 2013, the Paymony website domain was registered on the 28th of November 2013 however the domain registration is set to private.
Paymony does have an "About Us' section on their website, but only the following vague marketing copy is provided:
The Paymony is a company of Andpry Inc Group focused on developing products and technology services, partners in Silicon Valley (Silicon Valley – California – USA) having a differential ease of usage.

All marketing is done electronically, where we enjoy the Relationship Marketing as main channel, generating a distribution fair and equitable.

Formed by experts of wide experience in the areas of technology, marketing, knowledge management, information architecture, usability and web solutions.
Right.
As always, if a MLM company is not openly upfront about who is running or owns it, think long and hard about joining and/or handing over any money.
The Paymony Product Line
Paymony has no retailable products or services, with affiliates only able to market affiliate membership to the company itself.
"Mining technology" (in the context of mining digital currencies) is mentioned frequently throughout the Paymony site, but appears to have little to nothing to do with the business opportunity.
The Paymony Compensation Plan
The Paymony compensation plan revolves around affiliates depositing money with the company, with residual commissions primarily paid out using a binary compensation structure.
Recruitment Commissions
Paymony pay out recruitment commissions when a new affiliate joins and deposits money with the company. 10% of the initially invested amount is paid out as a commission, which translates into a payment of:
Mining Package ($300) – $30
Virtual Farm Package ($1500) – $150
Paycoin Package ($15,000) – $1500
Binary Commissions
As new affiliates are recruited into Paymony, they are placed into a binary compensation structure. A binary compensation structure places an affiliate at the top of two binary teams, left and right: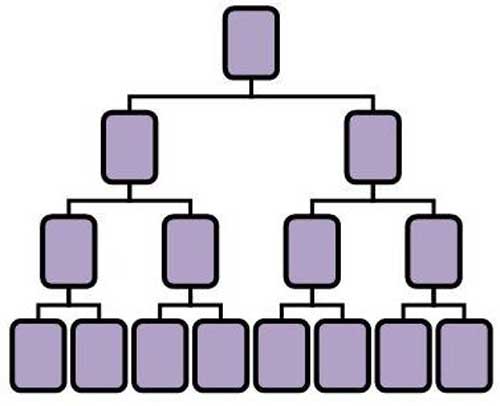 These binary teams are filled via the recruitment of new members, either directly or indirectly via the recruiting efforts of an affiliate's up and downlines.
As affiliates in the binary invest in Paymony's three "packages", they accumulate Business Volume (BV) for their binary team. At the end of the month, 50% of the BV from the team that generated the lesser total BV is paid out to the affiliate.
Eg. If the left team generates 5000 BV and the right team 3000 BV, 50% of 3000 BV is paid out to the affiliate ($1500), with all 3000 BV flushing off the right team and 2000 BV being carried over to the next month.
BV is allocated as follows:
Mining Package ($300) – 100 BV
Virtual Package ($1500) – 500 BV
Paycoin Package ($15,000) – 5000 BV
Percentage Bonus
The Paymony compensation plan material I cited for this review was in Portuguese so I'm not 100% sure how it works, but there's a performance bonus that pays up to 5%.
What the bonus pays out on (matching binary commissions?) isn't clear but it's tied into affiliates accumulating BV in their binary teams. The bonus starts at 0.5% at 6000 BV and caps out at 5% for 25,000,000 BV.
Joining Paymony
When an affiliate joins Paymony, they have to purchase one of four packages:
Partner – $50
Mining Package – $300
Virtual Package – $1500
Paycoin Package – $15,000
The "Partner" package appears to be basic affiliate membership, and is also charged when an affiliate purchases any of the other three packages.
Note that outside of generating BV within an affiliate's own binary, I'm not sure what the benefit is of purchasing the upper tier packages (this wasn't explained in the Spanish compensation plan material I cited).
Conclusion
With no retailable products or services and 100% of the money flowing into Paymony sourced by affiliates, however they pay out the commissions is going to fail on the compliance front.
As it stands, affiliates buy in with one of the packages, on the expectation of a greater than 100% ROI, paid out via the binary. A pyramid scheme element exists in that affiliates are also directly compensated when personally recruited affiliates invest in packages.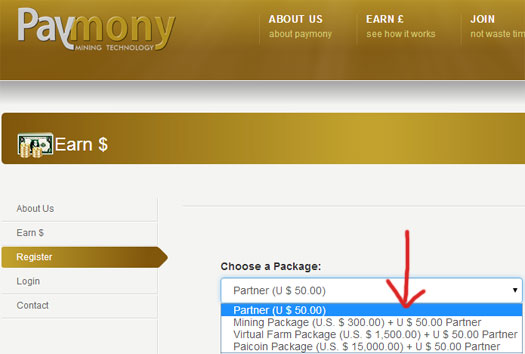 Slap on a "mining technology" facade and that's pretty much Paymony summed up.
You "paymony", the person who recruited you keeps it.
Looking at the Paymony website, it appears the scheme is heavily targeting Brazilians: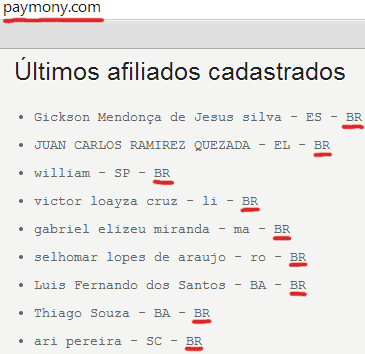 Putting two and two together, I'd classify Paymony as one of the TelexFree reload scams currently doing the rounds. Don't expect too much from Paymony in the long-run.