TelexFree claim no affiliate data, fined again

Following the filing of an appeal that was designed to stall legal action against TelexFree in Brazil, the company was fined R$10,000 ($4200 USD) for acting in "bad faith".
Additionally Judge Borges also ordered the company hand over 'data relating to the registration and operation of the accounts of each of the affiliates, including twelve months of retroactive data'.
TelexFree were given ten days to comply, however as of January 14th the company had failed to submit any affiliate data to the court.
Explaining why they hadn't handed over the data, TelexFree 'argued that they had no access to information about the registrations and transfers accounts of the promoters of (the company)'.
Yes, you read that right. TelexFree are claiming they have "no access" to TelexFree affiliate data.
This excuse is made all the more amusing given that TelexFree owner, Carlos Costa, appeared in a YouTube video days before the initial order claiming to be surrounded by books containing said affiliate data: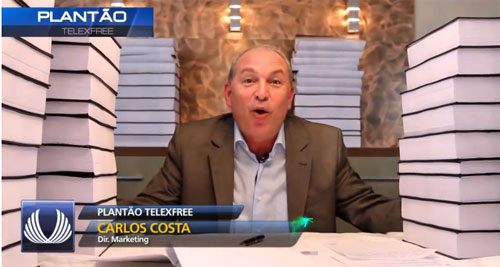 TelexFree claiming not to have the data would mean they were lying about having the data. Far more likely though, and reasoning Judge Borges seems to have agreed with, is that once again TelexFree are stalling.
Judge Borges rejected TelexFree's excuses and once again fined the company (specifically owner Carlos Wanzeler) R$10,000.
Documents submitted subsequently by (MP-AC) Prosecutor's Acre revealed that one of the partners, responsible for creating the telexfree.com domain on the internet, would have access to this data.
The company has another five days to hand over the password to access TelexFree's affiliate data, and 10 days to 'submit other documents concerning the company'.
It is believed Judge Borges is demanding TelexFree's entire affiliate database because it will clearly reveal the company continuing to sign up Brazilian affiliates.  Facing fines of R$100,000 ($42,300 USD) per Brazilian affiliate signed up or paid out, this in turn explains why TelexFree are reluctant to hand over the information.
The affiliate database might also help with potential money laundering issues between Brazil, the US and TelexFree's offshore bank accounts.
Globo reached out to TelexFree lawyer Roberto Duarte for comment, but were told 'the company will not (discuss their) position on the case. We will not talk about what happened'.
Telling porky pies has unfortunately become a recurring theme within TelexFree management, with Carlos Costa having previously been caught out lying about Ponzi insurance contracts that didn't exist.
And just two days ago Steve Labriola, TelexFree's International Marketing Director (think Zeek Rewards' Dawn Wright-Olivares), instructed affiliates to "disregard" any mention of a US regulatory investigation into the company. A message some TelexFree affiliates have taken to heart.
Ponzi queen and apex TelexFree investor Faith Sloan's response to Marques' investigation revelation was
How would Alessandra Marques, of the Acre Public Prosecutor's Office know what she is alleged to know if she is not a USA government insider?

Why would the USA tell Alessandra Marques, of the Acre Public Prosecutor's Office they are investigating TelexFREE?
I don't profess to gauge Sloan's literacy level but the answer to these questions was clearly evident in Alessandra Marques initial statement, as reported by Globo:
There is an investigation by authorities in Brazil and the United States over the actions of Telexfree.

There is a Brazilian Federal Police (investigation) in relation to the company, and research is occuring in Brazil and the United States.

I do not know how (the investigation) is progressing, but it exists. And it is natural that exists because (TelexFree) sends money abroad.

In addition other (agencies), such as the IRS, are also investigating.
Why would the Acre Public Prosecutor's Office be in contact with US regulators? Try the fact that they are spearheading legal proceedings against TelexFree in Brazil. With charges leveled at the company including money laundering, it should be a no-brainer why the Acre PP's Office would be in contact with US regulators.
TelexFree are registered in the US state of Massachusetts and use i-Payout for their e-wallet transactions. The company accepts deposits from affiliates and transfers money firstly through the US, and then to bank accounts held in undisclosed locations.
The notion that Marques wouldn't know of a US investigation because she's a "non-American", well that's about as flimsy as TelexFree arguing they have no access to their own affiliate data.
One point of contention is the mention of the IRS. In the Globo article this is translated from "Receita Federal", which is the Brazilian equivalent.
Given the context of the article, that being US and Brazilian co-operation I'm inclined to state that Marques was simply using the Brazilian term for their tax regulators in reference to the US.
Nonetheless I'm aware of at least one Brazilian reporter attempting to clarify this (amongst other things) with Marques, but as of yet they haven't been able to get a statement.
Regardless, even if you discount the IRS, Marques clearly reveals the existence of a US-based investigation. And when it comes to Ponzi busting in the US these days, although one agency's name might be on papers filed in court, now more than ever it's a joint-effort between multiple agencies.
The Financial Fraud Enforcement Task Force, who amongst other things investigate Ponzi schemes such as TelexFree, consists of the Secret Service, Homeland Security, the FBI, all the states Attorneys General, the IRS and virtually every Federal, state and local law enforcement agency.
Just last month the Department of Justice reiterated their stance on Ponzi schemes going into 2014. The DoJ issued a press release containing statements from the US Attorney's Office, the Secret Service and the IRS Criminal Investigation Division:
"We will continue to work with our law enforcement partners to take down greedy scam artists who think nothing of stealing the savings of hard working people," said U.S. Attorney Tompkins.

"As today's technology continues to evolve, cybercriminals use these advances and enhancements to perpetrate an expanding range of crimes," said Secret Service Assistant

Director of Investigations Paul Morrissey.

"As we have seen with this case, even with the increasing complexity of online Ponzi schemes, it remains difficult for criminals to remain anonymous.

The Secret Service continues to seek new and innovative ways to combat emerging cyber threats.

Our success in this case and other similar investigations is a result of our close work with our network of law enforcement partners."

"This case shows that the appearance of success can be a mask for a tangled financial web of lies," said Chief Richard Weber of the IRS Criminal Investigation Division. "The underlying structure can fall apart at any time and leave many investors in financial ruin.

Criminal Investigation is committed to investigating Ponzi schemes in an effort to protect the financial well-being of the American public."
The "case" referenced by Paul Morrissey is that of Zeek Rewards, a $600M Ponzi scheme that, in a lot of ways, is similar to TelexFree.
Both schemes' accept/accepted thousands of dollars of funds from affiliate investors and use/used the funds to pay out existing investors.
Both Zeek Rewards and TelexFree also down-played and attempt/attempted to mask the significance of this core investment business model mechanic by attaching (or attempting to in the case of Zeek Rewards), a series of unrelated third-party products and/or services to the model.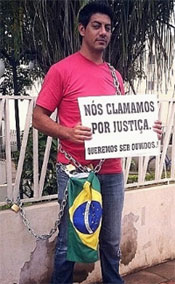 Meanwhile as it becomes increasingly evident that TelexFree have all but given up in Brazil and US affiliates run around trying to convince people the US isn't interested in investigating Ponzi schemes, you then have the increasingly desperate Brazilian affiliates.
A resident of São Carlos, a city in western Santa Catarina, began an indefinite hunger strike on Wednesday the 15 along the railing of the Forum of Rio Branco, Acre, to which he chained himself.

The goal is to recover the £25,000 he invested in Telexfree.

Aerci Arreal Olm, 33, is not alone: ​​most of the 700 people he recruited into Telexfree also have claims of financial losses.

"We had a number of people who received not even £1", Olm said in an interview with iG.
You'll have to forgive me but sympathy for Ponzi pimps is in rather short supply here at BehindMLM.
Meanwhile Faith Sloan ends her "Marques is not an 'merkan'" rant with some advice I actually agree with:
Ladies and Gentlemen!! You know who you are. Please stop emailing me, facebooking me, skyping me and phoning me about rumours related to TelexFREE.

Go find out where the official transcript or audio of the alleged interview is. Or maybe try calling the radio station yourself. Look for references to DIRECT VERIFIABLE sources in terms of TelexFREE being investigated by the IRS.
One "direct verifiable source" would be the IRS themselves which, like Sloan, I wholly encourage TelexFree affiliates to get in contact with. It's probably worth contacting other members of the Financial Fraud Enforcement Task Force too for comment.
If they ask you what TelexFree is, be honest and tell them the truth.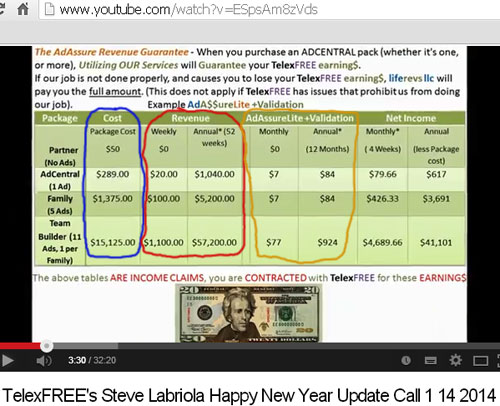 As per the slide above, tell them TelexFree is a company registered in Massachusetts that you deposited  $289 – $15,125 (or more) into, on the promise and expectation of a $1040 – $57,200 (or more) annual return. A return paid out of funds deposited by subsequent investors.
Oh and don't forget to mention TelexFree also pay you directly for convincing others to deposit funds into the scheme too.
Feel free to leave a comment below telling us how that goes… and be sure to thank Faith Sloan for the advice too.
I'm sure she'll appreciate any official correspondence from "directly verifiable sources" being forwarded on. Just make sure they're American though, as Sloan evidently hasn't quite grasped the concept of foreign government agencies working together with the US.
Kind of ironic when you consider TelexFree use a communcation service to mask their AdCentral investment scheme.